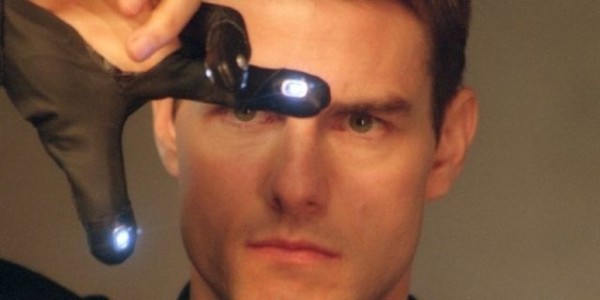 Nowadays, it's not enough to just watch a movie and enjoy it.
No, to truly consider yourself a fan, it's customary to follow the entire cast on Instagram, snark people on a dedicated Subreddit and post a 2,000-word blog detailing the intricate sub-plots.
In addition to this, you can also help the world understand your passion for cinema by incorporating nifty easter eggs around your home and office. With that in mind, these are the best gadgets you can pluck from the silver screen and place into your heart.
Isn't it annoying when you find yourself at the peak of a steep climb without the tools to rappel yourself down the mountain face?
Hey, we've all been there. But it doesn't have to be this way, with the pneumatic grapple launcher shown above prime to get you out of any potential jam.
Remember when Sean Connery used a similar device to fly from the casino in Diamonds Are Forever? Well, this will essentially let you do the same thing, except you'll be slowly negotiating your way from the car into your bedroom window.
2. THIS BOND-STYLE SPY PEN
Sure, the prospect of a miniature HD camera inside a pen is creepy as hell, but it's the kind of thing James Bond consistently gets away with. And when was the last time he got in trouble? Never, that's when.
At just £25, it's also a potential Christmas gift to hand someone you may suspect is actually a secret agent. If you notice they start carrying it around and using it all the time, you'll have sealed the truth.
3. A SELF-DRIVING CAR THAT LETS YOU RELAX
Self-driving cars have long been a staple of the movie industry, with carefully co-ordinated shots and camouflaged clothing preventing you from clocking the stunt driver trying to remain small.
Fear not, though, because you can bring this to life without having to star in a third Total Recall remake. That's right, Tesla, with the Model S, is leading the way in the autonomous car game, with many more manufacturers expected to drop their alternatives before the end of the decade. Just make sure you save up, yeah?
4. MINORITY REPORT INSPIRED GESTURE CONTROLS
If you watched Minority Report when it first dropped back in 2002, you may have thought gesture controls would be pretty big by now.
With Xbox's Kinect pretty much catapulting people's base expectations for this tech, though, not many realise you can actually control almost anything — including your computer, of course — through your hand and a device like the Gest.
Dimming the lights has never been so satisfying.
5. IRON MAN SUIT, BECAUSE, C'MON
Some people opt to wear as little clothing around the house as possible, but those same people are quitters. Whether you've spent all the working day in a suit matters not when you can change into the coolest possible thing in the multiverse.
Even if you don't fancy facing any arch-nemesis' within your own home, you can always keep this life-size suit in full display in your open wardrobe to spark some conspiracy theories.
6. YOUR VERY OWN BB-8
Not all gadgets on this list will see you become a basement-level superhero or spy — sometimes you just want some wholesome, branded toys to quell your fandom.
Well, what better way to do so than have a functioning BB-8 rolling around your house courtesy of Sphero. Of course, the novelty will wear off pretty quick and you'll have seared a hole into your back pocket north of £100, but it's worth having this gadget employed simply as a desk accessory.
Or you could wait until a full-sized replica is released in the future. Your call.
7. OUR HOVERBOARD DREAMS ARE REAL