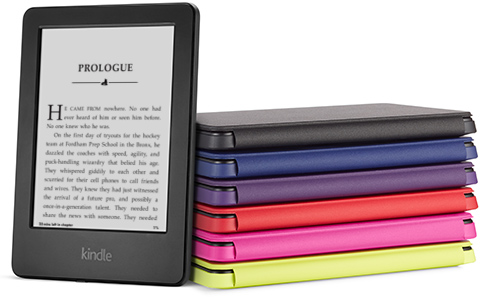 Ebook subscription service Oyster is dying, and it's taking my hope of avoiding Amazon right along with it.
The reading service debuted in 2013 and raised $14 million in January 2014. Now most of its team has reportedly joined Google, where they will work for the Play Books division of Google's series of content-focused services. The team will begin to "sunset the existing Oyster service" some time in the coming months.
That's a shame. Oyster was easily the best reading software across multiple platforms, and it was a frontrunner in the effort to find a "Netflix for books" that could make reading as convenient as binge-watching a television series. It was also one of the only companies that made it easy not so support Amazon.
As I wrote when Oyster added a storefront to its mobile apps earlier this year:
My job as a reporter is to be objective, within reason. But as a consumer, I would prefer not to support a company that treats its workers like cogs in a machine, whether that's by screwing them over with non-compete agreements or trying to ensurewarehouse workers aren't paid for being friskedwhen they clock out.

Oyster won't completely replace Amazon. I doubt it plans to open warehouses around the world and work to replace all of Amazon's services by itself. Yet this new storefront shows that Amazon isn't unassailable, and gives people looking to spend their money somewhere besides Jeff Bezos' monolith another option.

The desire to avoid supporting Amazon only increased earlier this year, when the New York Times revealedhow its white-collar workers are treated. Combine that with continued problems in the company's warehouses and you have a fairly good reason, at least in my opinion, to find other businesses to support.

I had another reason to use Oyster: It was better than Amazon's Kindle app.

Part of that comes down to the lack of stuttering — the Kindle app likes to lag even when you turn just a few virtual pages — and other performance issues. It also felt better to read via Oyster because it offered "themes" with a variety of background textures instead of limited control over the typeface it used.

Then there was Lumin, an Oyster feature that debuted earlier this year to make it easier for people to read in the dark. Reading on an iPhone at night can be hard because of its backlight; Lumin went a long way toward reducing that light's effect on me, which nixed the only reason to use my Kindle before bed.

Now all that is going away. Oyster is going to shut down, and its team will likely be tasked with improving Play Books, a service I don't (and won't) use. Independent apps like Readmill have disappeared, and while I'm willing to give Scribd a try, I doubt there's going to be anything to do but go back to Amazon.

Sure, I could sign up for iBooks. But part of the reason I liked Oyster was that its app was available on multiple platforms, and iBooks is limited to Apple devices. While I'm currently inside that company's ecosystem, there might come a time when I decide to buy an Android tablet or a Windows laptop.

This won't be a hard transition. Books are often cheaper on the Kindle, Amazon's unlimited service has some more options than Oyster did, and now I could purchase a new Kindle Paperwhite to read while I'm in bed. Then I might as well buy some physical books from the company, sign up for Amazon Prime to enjoy free two-day shipping and access to Prime Movies, and go from there.

I'm sad Oyster is dying. I'm sadder that Amazon is right there waiting for me with open arms — and just how easily it will be to fall into them. No wonder the company doesn't seem to worry too much about the backlash to how it treats workers: Using it feels inevitable, like shopping at Walmart or eating fast food. No matter how long you avoid it, it's going to be right there waiting for you.