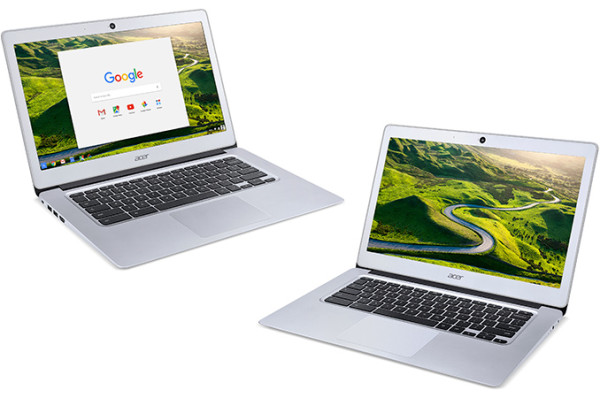 Acer this week introduced its new family of Chromebooks that wed performance with portability. The new laptops feature multi-core x86 microprocessors, 14" displays as well as aluminum chassis. Even in its most advanced configuration, the Chromebook 14 costs only $299. Acer traditionally positions its Chromebooks as solutions for students as well as customers on a budget, who need basic computing and do not want to invest a lot.
Several years ago, personal computers running Google's Chrome operating system were considered as cheap alternatives to Windows-based PCs, which is why they used affordable components and could not boast solid performance, despite the lightweight OS. Eventually, such PCs became relatively popular and manufacturers started to use more advanced ingredients, such as IPS displays or microprocessors with higher performance. Google itself introduced its Chromebook Pixel laptop in 2013 (and updated it in 2015), targeting premium buyers. The Chromebook Pixel is one the most advanced and powerful Chromebooks ever made thanks to its Core i7 "Broadwell" processor, a display with 3:2 aspect ratio as well as an aluminum body. Google's Pixel demonstrated to other PC makers that it is possible to build premium Chrome OS-based notebooks and they followed with more advanced Chromebooks. The new Acer Chromebook 14 is not as powerful as the Pixel, but it is clearly a step into its direction with a high-resolution display as well as an all-aluminum chassis.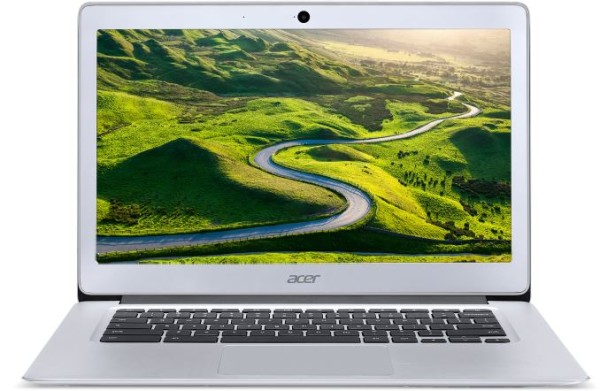 The Acer Chromebook 14 (CB3-431) features, as the name suggests, a 14" IPS display with 1920×1080 or 1366×768 resolution as well as 170-degree viewing angles and an anti-glare coating. Unlike the Chromebook Pixel, Acer's new laptops have 16:9 aspect ratio with all of its advantages for video viewing and disadvantages for Internet surfing. The model with higher resolution can work on one battery charge for 12 hours, whereas the Chromebook 14 with 1366×768 resolution boasts with up to 14-hour battery life on a single charge.
The Chromebook 14 laptops are based on Intel Celeron "Braswell" processors with two (Celeron N3060) or four (Celeron N3160/N3150) cores featuring the Airmont micro-architecture and up to 1.60 GHz clock-rate, Intel's Intel Gen 9 graphics core with 12 execution units as well as up to 6 W TDP. Unlike Google's Chromebook Pixel as well as Acer's Chromebook 15, the Chromebook 14 cannot integrate a high-performance CPU featuring Broadwell micro-architecture, but that was certainly a trade-off between the price and portability.
Acer Chromebook 14 Specifications
Acer Chromebook 14 full HD
Acer Chromebook 14 HD
Screen Resolution
1366×768
1920×1080
CPU
Dual-core Intel Celeron N3060 or Quad-core Intel Celeron N3150/3160
Graphics
Intel HD Graphics 400/405 (Gen 8, 12 execution units)
RAM
2 GB or 4 GB LPDDR3
Storage
16 GB or 32 GB of eMMC storage
Wi-Fi
2×2 MIMO 802.11ac Wi-Fi module
Bluetooth
Bluetooth 4.2
USB
2 USB 3.0 ports
HDMI
One HDMI output
Other I/O
Microphone, stereo speakers, audio jack
Thickness
17 mm / 0.66″
Weight
1.55 kilograms / 3.42 pounds
Price
$299 for the launch model
Acer equips its Chromebook 14 laptops with 2 GB or 4 GB of LPDDR3 RAM (which is a good news for battery life), 16 GB or 32 GB of eMMC solid-state storage as well as a dual-band 2×2 MIMO 802.11ac Wi-Fi module with Bluetooth 4.2. The systems also feature a 720p webcam, a 3.5-mm mini jack, a microphone, stereo speakers, two USB 3.0 ports as well as an HDMI output.
The Chromebook 14 from Acer is 17 mm thick and weighs 1.55 kilograms, which is in line with many portable laptops. Acer claims that its fanless cooling system is enough to cool-down Intel's Celeron CPU with a 6 W TDP, which is why the Chromebook 14 has no fans at all.
Acer did not say much about the price of its Chromebook 14. The launch model will be available next month with a Full HD display, 32 GB storage and 4 GB RAM starting at $299.99 in the U.S. and $399.99 (CAD) in Canada. Other Chromebook 14 models will sport lower amount of storage and RAM as well as a lower-resolution screen, but also a longer battery life. Their prices are unknown, but will clearly be different in different countries.