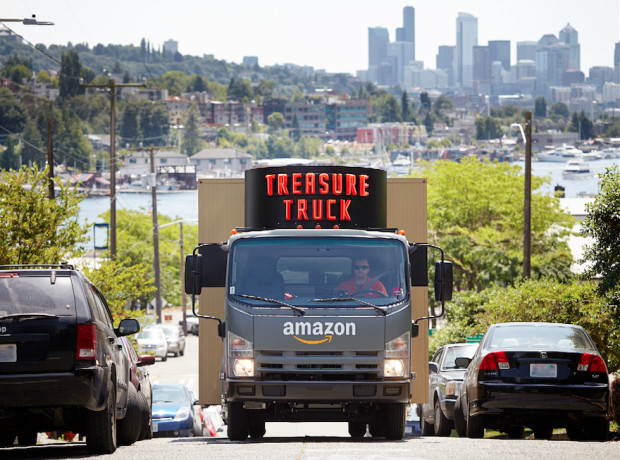 Update, 7:30 a.m.: After announcing the long-awaited launch of its Treasure Truckrolling deal-mobile in Seattle this morning, the company sent a follow-up message saying it was just a test: "Sorry for the miscommunication. We're still testing our systems. Paddleboards are not for sale today. Stay tuned!"
Following the original delay of the launch two months ago, this is quickly reaching the status of the most-bungled product launch in Amazon history, repeatedly building up expectations and then disappointing the loyal Amazon customers who would otherwise be interested in the launch.
@Seattle_JC yeah, it's bad enough @treasuretruck sent out texts at 7am, but for them to send out invalid information on top of it… Not cool.

— Matt Dewey (@mattfromseattle) August 27, 2015
Annd…. Someone at @Amazon just got fired. #TreasureTruck false start!

— KB (@kb_is_here) August 27, 2015
At this point, Amazon has basically lost all credibility on this project. Given the original hype, the first delay, and now this additional mistake, the company owes its customers an explanation: What caused the delay, and why hasn't the Treasure Truck launched as expected? We've made this point to an Amazon spokesperson this morning and will update this post if we hear back.
In messages sent at 7 a.m. Pacific to people following the Treasure Truck in the Amazon mobile shopping app, the company said, "Amazon Treasure Truck has launched! Today only: paddle boards for $99 — don't miss out, quantities are limited." The message explained how to buy the offer through the Amazon app.
However, it started to become clear that something was amiss when the Treasure Truck section of the app continued to say "COMING SOON," with a link to learn more in an FAQ section.
The Treasure Truck, announced in June, is supposed to let users of Amazon's mobile app browse the special deal of the day on the Treasure Truck, choose to make the purchase and then select a pre-determined location around Seattle where the truck would be stationed for easy pick-up. Amazon built up the buzz for the program by driving the truck around its hometown for most of a week, before abruptly postponing the rollout on the eve of the launch.