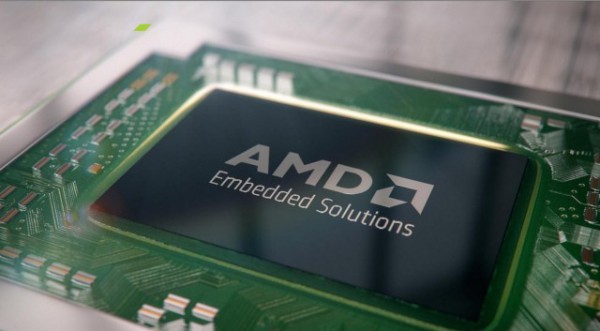 When AMD, Intel, or Nvidia launch new hardware, they almost always focus on the high-end of the consumer market. Low-end parts and server/workstation solutions typically follow at later dates. This time around, however, AMD is shaking things up and introducing support for DDR4 in a new embedded SoC, codenamed Merlin Falcon. The new chip leverages the Excavator CPU and the same basic silicon as AMD's Carrizo, but with additional validation and testing for the embedded market, including support for its L2 cache and RAM.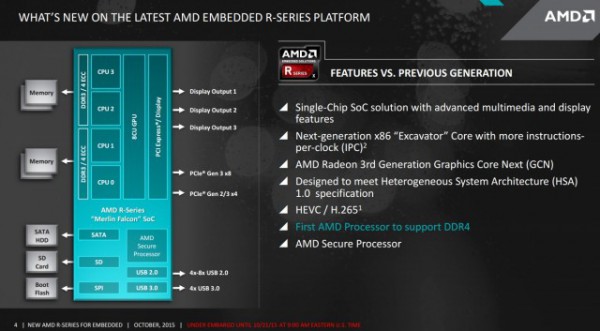 According to the company's BIOS and Kernel Developer's Guide for Excavator-class parts (Family 15h Models 60h-6Fh), Carrizo was designed to support either DDR3 or DDR4 in the same unified northbridge. This raises the question of why the company is only rolling out DDR4 support in the embedded market? According to Colin Cureton, senior manager of AMD's embedded product management team, it comes down to lifecycle support and Carrizo / Carrizo-L's market position. Embedded hardware is typically expected to operate for at least five years, with 7-9 years being relatively common. Right now, the consumer market is still mostly based on DDR3, but that will change over the next few years as DDR4 productions and clock speeds ramp up. If you're buying hardware today and want cheap RAM four years from now, DDR4 makes more sense.
The other reason AMD stuck with DDR3 for Carrizo was to make it easier for OEMs to design flexible systems. Carrizo and Carrizo-L now share a common form factor, a substantially overlapping power envelope, and use the same kind of memory. Carrizo-L, however, is based on AMD's Puma+ CPU core, which is basically the Jaguar core from 2013 with a few additional changes and power tweaks. Since that chip doesn't support DDR4, AMD opted to stick with DDR3 across its mobile and desktop stack.
We should note it's not clear how much additional benefit AMD would have actually gotten from DDR4 in any case. While more bandwidth is broadly better for integrated GPUs, our Kaveri tests when that chip was launched indicated that it's not an absolute. We saw better performance with lower-latency DDR3-2133 than high-latency DDR3-2400. It's possible that the power envelopes AMD wanted to sell into and the cost premiums attached to DDR4, it simply didn't make sense to bring a DDR4 Carrizo to market — at least not yet. With Zen delayed to 2017, it's possible we could see such a part next year.
When AMD built Carrizo, it focused on making the chip smaller and on cutting its overall power consumption. Those are traits that should serve Merlin Falcon well, as shown in the slide below: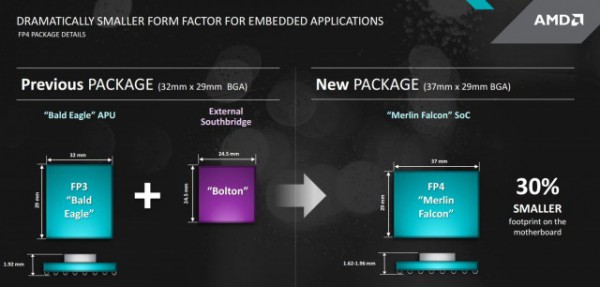 The older solution required two separate chips and was 1.92mm tall; the new package can limbo into a minimum height of just 1.62mm. The total chip area for the older two-chip solution was 1528 mm sq, while Merlin Falcon is just 1073mm sq.Like AMD's full desktop parts, Merlin Falcon will include full support for HSA and can leverage a complete Linux open-source stack. All of the typical features of Carrizo's integrated GPU, including multiple display-outs, hardware decode support for H.264 and H.265, and HSA 1.0 support are also included. The SKUs themselves are shown below: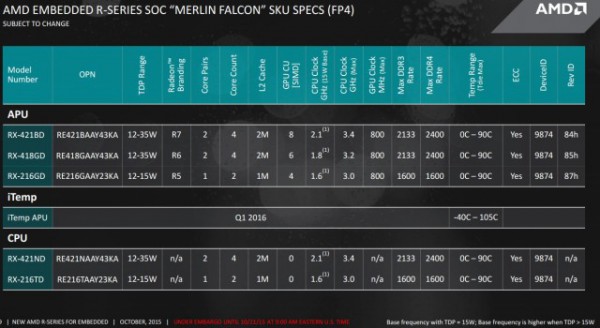 There aren't many surprises here. Like AMD's mobile Carrizo, Merlin Falcon focuses on the 12-25W power envelope, with chips available in dual and quad-core configurations, as well as a CPU-only version of the core with somewhat higher clocks. Overall performance is covered on the next slide — like Carrizo, Merlin Falcon is far more power efficient within the same TDP envelope than Kaveri was.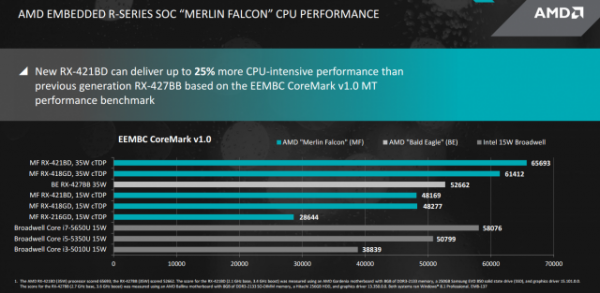 In the graph above, the blue lines are Merlin Falcon products while the single grey line is AMD's previous Hierofalcon SoC. AMD's measured performance in CoreMark is fairly competitive with Intel's 15W Core i3 and Core i5 processors, but whether or not Coremark maps well to embedded workloads isn't a question we've spent much time studying. Overall, AMD wants to position these devices as suitable for pachinko systems, lottery terminals, communications infrastructure, medical imaging devices (where HSA's capabilities could come in handy) and security and retail signage.
Unfortunately, AMD wasn't able to point to any major customer announcements for these products, but that's not uncommon in the embedded space. Embedded hardware, by its very nature, tends to be invisible. At the same time, given AMD's overall financial condition, the company needs every scrap of sales revenue it can find — we've asked for details on any upcoming wins or new customers and will update this story if we hear back.