Rhythm games have moved on from the likes of the original Amplitude. Released back in 2003 for the PlayStation 2, the original Amplitude (itself a sequel to the game Frequency) had you chasing high scores as you mellowed out to some trance, electronica, or techno music and pressed buttons in sequence on a controller.
Since then, rhythm games have changed: Rock Band 4 harnesses the power of a digital jukebox to get groups of people together; Guitar Hero Live replicates the feeling of being an MTV junkie; Audiosurf feels like a nod to the computer age's ability to let us listen to any song, anywhere, any time. A remake of a game like Amplitude couldn't be more behind the times. People may still want to get high scores and get better at rhythm games, but that aspect has taken a backseat to simply enjoying the music the games offer in new ways.
And yet, the new remake/sequel to that game, also called Amplitude (available January 5 on PlayStation 4 and PlayStation 3) works just well enough that I enjoyed seeing the ghost of rhythm games past, and it reignited my desire to try a song again and again just to get the external validation of seeing three silver bars at the score screen.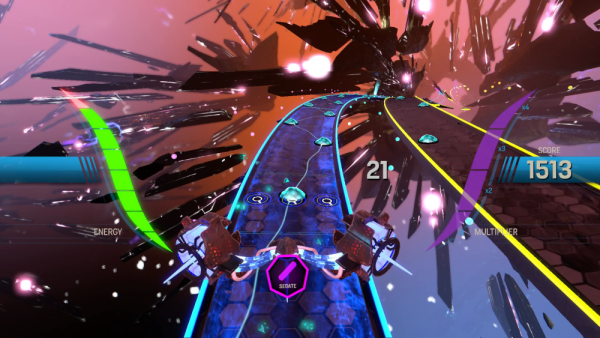 What you'll like
An old comfort
Amplitude's concept is simple. Instead of playing a single instrument in a song, as you would in Guitar Hero or Rock Band, you play all of them, hopping from one instrumental track (like synth, guitar, or vocals) of a song to another after clearing a short segment of each.
Although you can only hit three notes per track (left, center, and right), and you only hit one note at a time, hopping among the different tracks in each song stresses a skill most other rhythms games don't: using your peripheral vision. Once you get into the higher tier of songs or start playing on higher difficulties, you'll have to glance at a nearby track and see what the first note there is before hopping over if you want to get a high score, since you won't have enough time to switch parts, look at the track, see what note you have to play, and then hit that first note. You can also gain power-ups from playing certain sets of notes correctly, and maximizing their use means waiting for the right time to deploy them.
Juggling all of these concepts at once is Amplitude's most satisfying pleasure, and when everything clicks, you get the wonderful feeling of not only hitting every note in a segment but being able to ably switch between tracks without missing a note. Even better, making choices about what instrument to play next means you never play the same set of notes every time, meaning you'll get more mileage out of each song on the tracklist.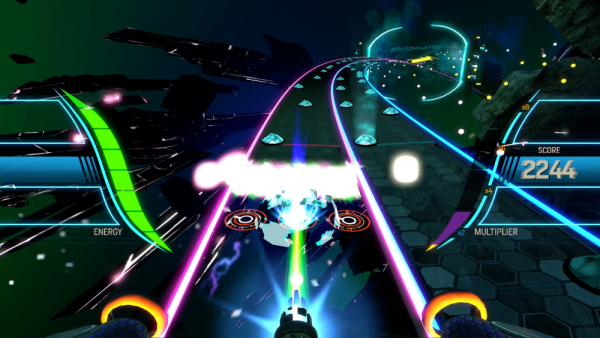 The campaign feels empty
Creating a concept album feels like a story device more in line with music games, since it delivers a story through the actual music rather than through cutscenes outside the songs themselves. But in practice, playing through this 15-song concept album didn't feel too different from simply playing the album's fifteen songs in a row on Quickplay. Because the story is in the songs themselves, you get the same tale about two people hoping to revive a comatose patient through a neural experiment either way. I don't have a problem with this, but it makes separating the album through a separate option pointless.
In a few ways, playing through these songs in the Campaign mode is worse. You can only play bonus songs if you do well enough on each four-song section, and you need to clear every song with three silver bars in order to unlock the campaign's "true" ending (which isn't much of one, by the way). You can't go back and replay a song after moving on to the next one, however, which means that you'll probably have to start the whole album over at some point. The visuals in the last two songs also become distorted and harder to play, and while these effects fit what was going on in the story, it made those songs more frustrating to play. I played through the campaign once just to see it and never touched it again.
Conclusion
Controller incongruities aside, Amplitude works as both a look at what rhythm games used to be and as testbed for some interesting new ideas (even if they don't all work). It doesn't offer a new instrument you can pretend to play or change how we think about music games, but it doesn't have to do any of that. It's content to give you a solid, lasting sense of satisfaction from pushing buttons in the right order and hearing some good music.
And that's all I really wanted.
Score: 74/100