One big reason you don't find many audio editing options on Android is due to the operating system not being great when it comes to latency (aka when audio is slightly delayed during recording). But with the launch of Open Labs' new Stagelight app on Android, that should get a bit better.
Stagelight initially launched as a Windows audio editing app that could be used by everyone from casual music makers to professionals, an alternative to GarageBand for those without a Mac. It provides an easy interface to create or mix tracks, and even offers original sound libraries (for a fee) from popular artists such as Linkin Park and Timbaland, both of whom are part owners. You can import audio you've recorded and pretty quickly test different beats and sounds from those libraries within the Stagelight platform. Therefore, the move to Android was a natural next step that was previously held back by the last few versions of the OS not being ideal for recording, according to Open Labs founder Cliff Mountain.
"When we first started testing Stagelight on Android we realized there was 0.5 to 2 seconds of latency on some devices," Mountain told me. "If you can imagine trying to tap out a beat, you couldn't tap and keep up in time because the output latency would throw you off."
In simpler terms, it would be like trying to learn an entirely new song with a band whose individual members were between one and two seconds behind what you were playing. But with release of Android Marshmallow, that isn't the case. Open Labs worked with both Google and Intel to fine tune Stagelight's ability to perform on par with other pro audio editing apps.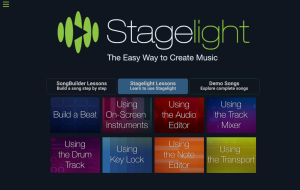 A list of all the lessons Stagelight offers for people that aren't familiar with making their own tracks.
The Stagelight Android app, which launches today, is initially available as a free download, much like its Windows application. The free version will let users create new tracks, and offers tutorials for those who aren't very familiar with how to make a song on the platform. Premium versions of Stagelight range from $10 to $100 and allow users to save tracks, share or upload music to sites like SoundCloud, use better looping tools, gain access to larger sound libraries, and more.
Even more than fixing the latency issues, Mountain said bringing Stagelight to Android will help further the company's goal of getting people more comfortable with making music.
"We want to free the music. We know people have music inside them," Mountain said. "When you walk into a room full of people and ask who enjoys music, everyone raises their hand. But if you ask how many enjoy making music, it's usually only a subset… because there is a [preconceived] idea that producing music is difficult. It doesn't have to be."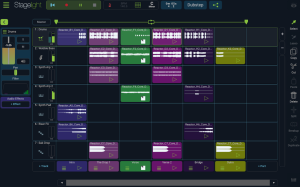 Building a track on the Stagelight platform.
For Americans, this might not be as much of an issue — or maybe my worldview is biased having grown up in Nashville "Music (Business) City," Tennessee (and having many friends graduate college with a degree in recording industry management). Internationally, there is a much bigger opportunity for a good music creation/editing on Android, especially for Stagelight, which is available in 127 countries. That's also something Open Labs part owner Joe Hahn of Linkin Park agrees with, telling us via email that the band: "…has 63 million fans on Facebook and most of those fans are international. We know from research that most people outside of the U.S. use Android phones, so we encouraged Open Labs to develop Stagelight for Android so that everyone has a chance to use this amazing music tool."
Open Labs said eventually it would like to add more features that allow users to share their work, as well as the ability to save audio editing projects to the cloud to make better use of Android's mobility.