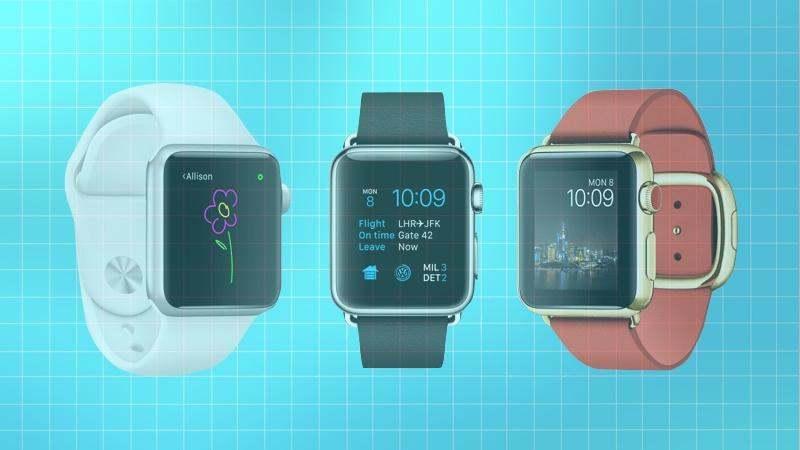 When Apple announced its much-anticipated Apple Watch back in September 2014, people got very excited about the concept of an Apple-themed smartwatch. Fast forward to today, the Apple Watch has been on sale for quite some time and with 2016 drawing ever closer, people are starting to think about the next-generation Apple Watch, the Apple Watch 2. When will the Apple Watch 2 launch, and what new features can we expect? In this article, we round up all the rumours we've heard regarding the yet-unannounced Apple Watch 2 (yes, they've already started!). Also, we list the features we're hoping Apple will include in the second Apple Watch, and why they would improve users' experience.
This article was last updated to include reports regarding a potential 'fully blown medical device' and how this could be the Apple Watch 2.
Apple Watch 2 release date rumours: When will the Apple Watch 2 be announced?
Though there is no solid release date for the second generation Apple Watch 2, we expect it to be announced in March 2016 with an April 2016 launch, as Apple follows a yearly cycle with many of its devices – iPhones are always announced in September, etc. However, with this being said, one analyst claims that we may be seeing an Apple Watch a bit later – possibly not until May, June or even later in 2016.
A report published by analysts at Mizuho Securities claims that many consumers are waiting for the Apple Watch 2 to be released before buying, and suggests that the Apple Watch 2 will be when Apple starts to make some serious money. The company surveyed more than 1,600 people in September to gauge their interest in watches, with one fourth of iOS users intending to buy a smartwatch at some point in the next 9-12 months.
The most recent rumour regarding the release date of the Apple Watch 2 comes from China – more specifically, the chairman of Quanta, Barry Lam. Quanta manufactured the first-generation Apple Watch, and we expect they'll also be the manfuacturers of the second-generation device, so when the chairman announced a general release date window at an investors meeting, people paid attention. According to reports, Lam claims that we'll be seeing limited stock of the Apple Watch 2 near the end of Q2 2016, with more stock becoming available in Q3 2016. Based on this, it looks like the Apple Watch 2 will have a possible June 2016 release date, which falls in line with the analyst claims above.
Apple Watch 2 rumours: Apple Watch 2 could feature a suite of health sensors
In an interview with The Telegraph, Tim Cook hinted that the company may make a medically approved device, but it wouldn't be the Apple watch. Cook explained that the disruption that FDA accreditation would cause to the product release cycle, which ultimately put him off having the Apple Watch vetted for full-blown health use. Although with this being said, it hasn't completely put him off the idea of building a product for use in the medical world:
"We don't want to put the watch through the Food and Drug Administration (FDA) process. I wouldn't mind putting something adjacent to the watch through it, but not the watch, because it would hold us back from innovating too much, the cycles are too long. But you can begin to envision other things that might be adjacent to it—maybe an app, maybe something else."
Ahead of its official launch, there was a lot of talk regarding the Apple's wearable and specifically, that it'd be loaded with health sensors. So far that's not proven to be the case, with heart-rate and activity tracking offering a standard level of fitness tracking, but nothing more. Even though Cook has stated that it'd be a different device, is this just a way of throwing us off the scent of the upcoming Apple Watch 2? It looks like it could come with a full suite of health sensors, which is something we'd welcome.
Apple Watch 2 rumours: Battery life
There was great speculation about the battery life of the Apple Watch on the run up to its (second) announcement. Apple put this worry to bed, claiming that the Apple Watch has an "all day battery life" but would still have to be charged each night, much like the iPhone. The issue with "all day battery life" is that you have to charge it almost every evening, which isn't always possible.
Looking at rivals like the Pebble Time Steel, which has a pretty amazing battery life of around 10 days, it makes the Apple Watch battery seem a bit disappointing. Yes, the Pebble Time Steel uses a less power hungry display, but even a five-day Apple Watch battery life would be better than having to charge it every night.
It also opens up more functionality in the Apple Watch, mainly with regards to sleep tracking. With a longer battery life, users could wear the Apple Watch to bed and get accurate stats about their sleep – information that's pretty popular, judging by the success of apps like Sleep Cycle.
According to a rumour picked up by gforgames, Apple is working with LG and Samsung to produce thinner OLED displays for the second generation Apple Watch to accommodate a larger battery. The larger battery should provide the Apple Watch 2 with a longer battery life, though the report doesn't specify just how long it might last. The report also claims that the Apple Watch 2 will bring no real changes to the screen size, resolution or overall design of the watch, with Apple not jumping onto the round smartwatch display bandwagon any time soon.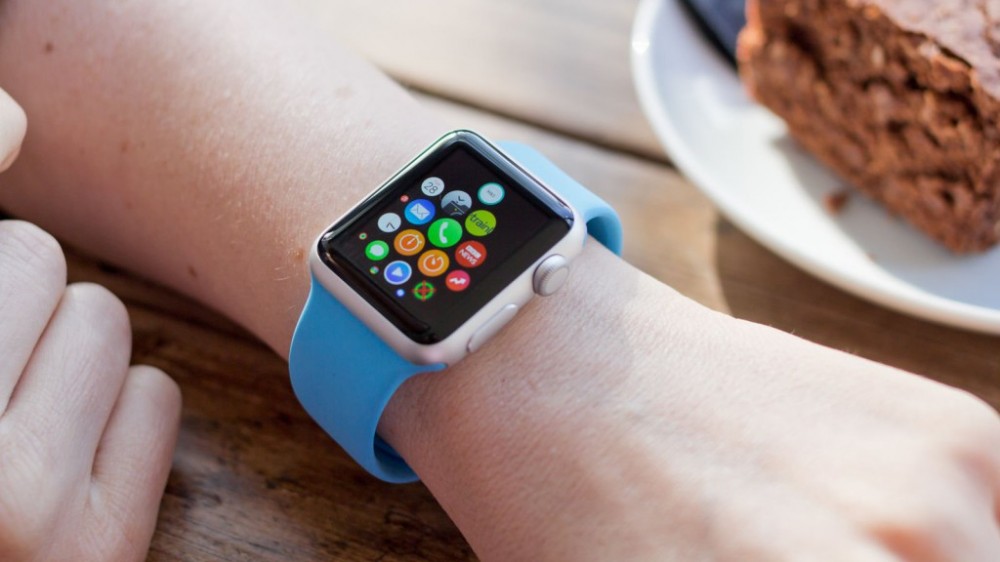 Apple Watch 2 rumours: FaceTime camera
According to sources, Apple is planning to add a FaceTime video camera to the second-generation Apple Watch, which will enable users to make and receive FaceTime calls via their wrists. The new FaceTime camera is said to be integrated into the top bezel of the Apple Watch 2, though we're not too sure how many people would actively FaceTime via a Watch.
Apple is already working on using the Apple Watch for FaceTime, as the recently released watchOS 2 brings support for FaceTime audio calls. Does that indicate that it'll soon move onto video calls?
9To5Mac does note, though, that Apple trials many prototypes of its products before settling on the final one, so the FaceTime camera might not make it into the final model that makes its way into stores.
Apple Watch 2 rumours: Less reliance on iPhone
Apple plans for the second-gen Apple Watch to have more functionality when it's separated from an iPhone, and has apparently named the project "tether-less" internally. As it stands, the Apple Watch can only support activity tracking, music playback and mobile payments without a paired iPhone, with many other features including text messaging, emailing and using third-party apps impossible without an iPhone for the Apple Watch to communicate with. The release of watchOS 2 brought the ability for third-party apps to run natively on the Watch, but the apps still requires an iPhone for to send and receive data.
However, the with the Apple Watch 2, Apple is reportedly looking to make it more capable when your iPhone isn't connected, simply by adding a new wireless chipset into the wearable. What difference will this make to the Apple Watch experience? While it probably won't be able to handle data-heavy requests (such as software updates), other tasks could be handled without the assistance of an iPhone.
The new wireless chipset should also enable a heavily requested "Find my Watch" feature similar to "Find my iPhone" which is said to utilise Wi-Fi router triangulation technology, as opposed to GPS.
Apple Watch 2 rumours: New designs
Apple is also said to be exploring more variations of the Apple Watch, beyond the Sports, Steel and Edition tiers available with the first-gen Apple Watch. It's said that the company is planning to introduce new models that should sit between the most expensive steel Apple Watch (£949) and the cheapest Apple Watch Edition (£8,000).
It's looking to attract customers willing to pay between £1,000 and £8,000 for an Apple Watch, however it's unsure as to how the new tiers will differ from current models. It's been suggested that the new tier could feature more advanced bands or new materials including tungsten, palladium, titanium or even platinum.
Those are the only rumours we've seen so far about the Apple Watch 2's features, but we'll update this article when more emerge. However, we do have a number of features on our Apple Watch 2 wishlist, as listed below.
Apple Watch 2 wishlist
The thing is, with pretty much every Apple product, the first generation has always been a bit disappointing when compared to its second generation. Take the original iPhone, for example; it couldn't record video or even copy and paste when it was launched. It wasn't until its third generation that the iPhone got video-recording capabilities.
It's the same story with the original iPad – once the iPad 2 and iPad 3 came out, app support for the original iPad started to dwindle before Apple eventually pulled the plug on the device and its OS updates altogether.
With this in mind, we started to wonder about what potential features could be included in Apple's second-generation Apple Watch. Waterproofing? Smart straps? We've come up with ten features that we'd love to see on the Apple Watch 2, which you can find below.
Apple Watch 2 wishlist: Qi wireless-charging capabilities
The new form of wireless charging used by the Apple Watch is a great feature; it snaps into place using magnets and leaves no unattractive port on the watch. The only issue is that if your battery runs out while you're away from home, Apple Watch chargers will be hard to come across.
An ideal situation would be for the Apple Watch to support Qi charging, a wireless charging standard that's becoming increasingly popular, with companies like Samsung including the technology in its latest flagship phone, the Galaxy S6. While wireless charging pads aren't as popular as cables, there's more chance of you coming across one on your travels – McDonalds, for example, has said it is installing 600 Qi hotspots in 50 restaurants for the public to use.
Apple Watch 2 wishlist: Smart Straps
Smart straps are a fantastic idea, which Pebble realised and implemented in the Pebble Time and Pebble Time Steel. Pebble are letting developers and manufacturers alike create their own smart straps that connect to the watch via a smart accessory port.
What's the big deal? Smart straps have the potential to make a good smartwatch great; from a battery pack strap that gives your watch extra battery power, to a strap that has built-in LEDs that flash whenever you get a notification. You could even go one step further, and cover the strap in LEDs for a truly unique design.
Fitness fans could have a workout strap with extra sensors that improve the health and fitness functionality of the Watch. The possibilities are there: Apple just needs to allow the manufacturers the freedom to create!
Apple Watch 2 wishlist: Built-in GPS
One feature that's missing from the first generation Apple Watch is built-in GPS. Apple has dictated that the Apple Watch can't really be used without the support of an iPhone, and one of the reasons for this is so that it can piggyback on the iPhone's GPS.
For health and fitness tracking purposes, you can take the Apple Watch out with its accompanying iPhone and after around 20 minutes of steady running your Apple Watch will learn your stride length. (We explain how to do this here: How to make the Apple Watch a more accurate fitness tracker.) Thereafter it will be able to produce a reasonably accurate representation of your workout without the need of an iPhone.
This is an effective solution for fitness fans, but it doesn't really help other applications that benefit from GPS – what if your iPhone runs out of battery and you need to use the Maps app? It doesn't seem very practical to us, and it's a feature that we really hope to see in the next generation of Apple Watch.
Apple Watch 2 wishlist: Manual calibration for Workout app
While we're on that subject, here's a simple tweak that would enable fitness fans to make the Apple Watch a more accurate tracker without having to calibrate it with the iPhone's GPS.
If you open the Workout app and select an indoor run, the Apple Watch knows that you're on a treadmill, and treadmills do their own tracking. Wouldn't it make sense for the Apple Watch to ask you at the end of an indoor run if its measurements are accurate?
If the estimation is way off, you could easily tap 'no' and enter the distance you've covered according to the treadmill. This would be valuable data to help the Apple Watch to learn your running style and stride length, without the minor inconvenience of taking the iPhone out for a run.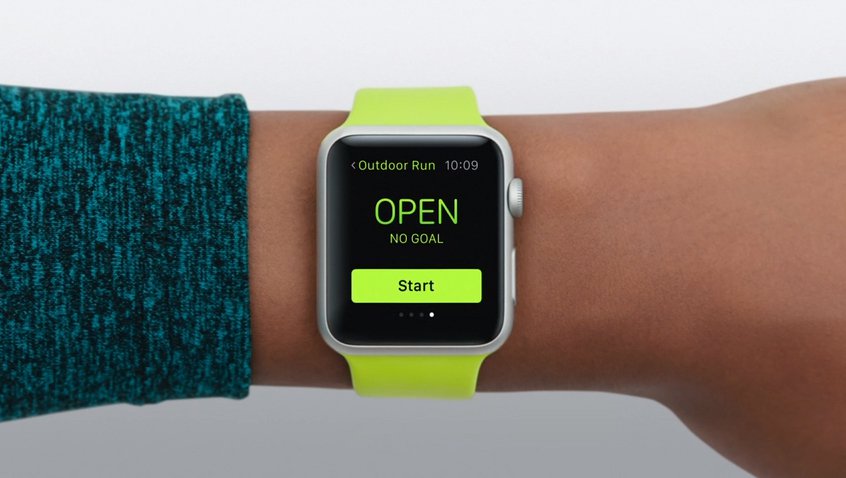 Apple Watch 2 wishlist: Better water proofing
The first-generation Apple Watch does have some level of water resistance, although it's far from impressive – which is surprising for Apple. The Apple Watch falls under the IPX7 designation, which means that it should be okay in the rain or shower (which Apple doesn't recommend anyway) but anything more could cause damage to the device.
(In fact, a lot of daring early buyers have taken their Apple Watches swimming without any problems. But with Apple advising against this course of action, you're taking a big risk and wouldn't have a leg to stand on if you took the waterlogged device back.)
A watch should be able to resist more than that – we're not saying go diving 50m down with your Apple Watch on, but it should be able to withstand aquatic activities like swimming. A more water-proof Apple Watch also means that you generally have less chance of a water-damaged Apple Watch.
Apple Watch 2 wishlist: Circular display
There are two visually different kinds of smartwatch currently on the market: square and circular. The former is the form factor that the Apple Watch has adopted, and while it looks stylish and has the fashion industry excited, we hope that Apple creates a circular variation for those of us that appreciate the design of a traditional circular watch.
Smartwatches like the Moto 360 and LG G Watch R look like traditional watches with completely digital, circular displays and are extremely popular – we doubt that's a coincidence.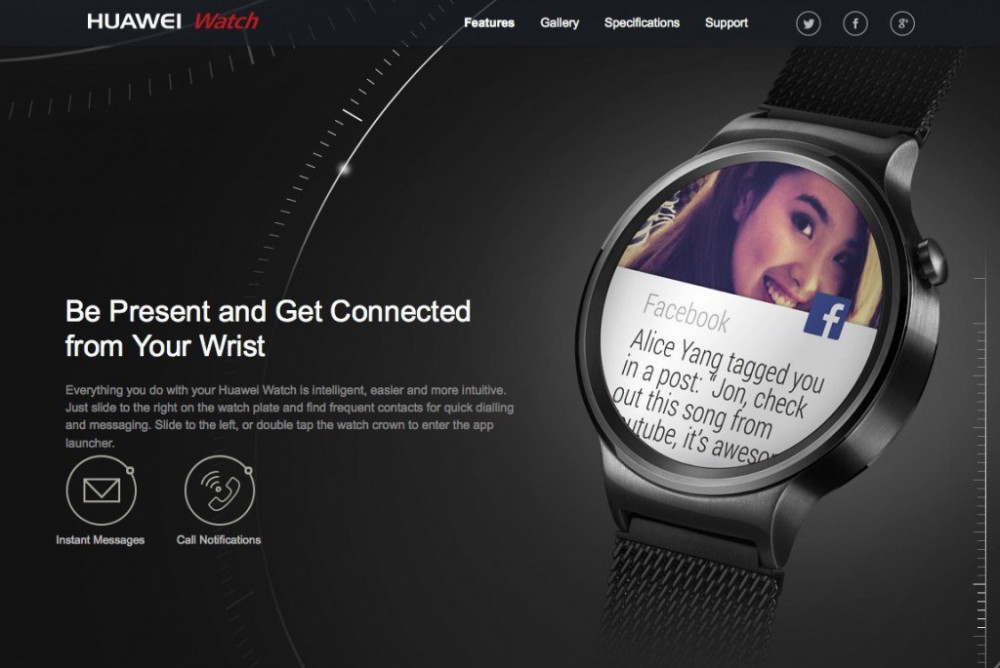 There are UI issues with a circular display, namely getting text to fit on screen properly. Ironically, this is an issue that Huawei showcases on its Huawei Watch page. We think this is more due to Android Wear being used by a variety of smartwatches, all with different sized and shaped displays. If Apple were to create a circular display, we think the UI would reflect the decision because it's designed specifically for that hardware.
Apple Watch 2 wishlist: Thinner design
The current Apple Watch measures in at 10.5mm thick, and while this is pretty impressive compared to other smartwatches, watch blog Hodinkee complained that "the Apple Watch doesn't fit under my shirt cuff without serious effort, if at all".
After comparing the thickness of the Apple Watch to the Asus ZenWatch, which has a 9.4mm depth, we'd have to assume that Apple would shave some precious millimetres off the Apple Watch for a second-generation device.
Apple Watch 2 wishlist: Gold-plated option for Watch Sport and Watch
Last but not least, we'd love to see a gold-plated option on the Watch Sport and Watch models of Apple Watch. Gold is a great, striking colour that looks gorgeous on the Apple Watch, but seems to be limited to the seemingly "rich with money to burn" category.
Apple may be dubious about including a cheap Gold plated option, especially as it takes value and exclusivity away from the Watch Edition collection. While this may be true, we think that the hype around the Edition will die down soon after launch, leaving Apple to launch a more affordable Gold counterpart in later generations.