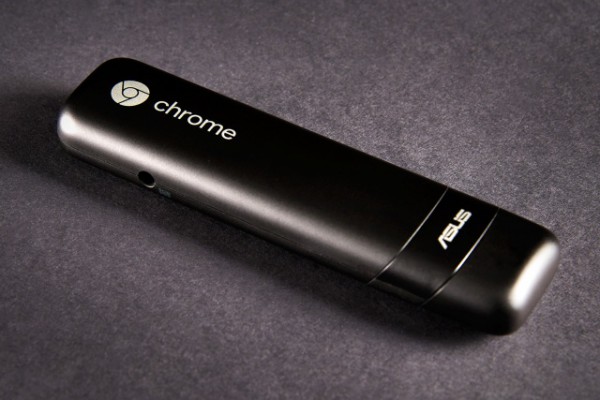 As manufacturers continue to improve on Intel's reference design for the original Compute Stick, it only makes sense that other platforms want in on the action. There's already been miniature Android-powered computers, but the lightweight, web-based Chrome OS hasn't found its way into the fray – until now.
Asus' Chromebit is a small form factor PC running Google's Chrome OS, an operating system that's essentially a Chrome browser with some expanded file management and app capabilities. It's powered by a Rockchip SoC with a quad-core 1.8GHz CPU and a Mali GPU, with 2GB of RAM and 16GB of eMMC storage.
All of this is sold at a pleasantly affordable $85, less than the Windows 10-powered Intel Compute Stick and similar competitors. Can Chrome OS make the jump from affordable laptops to the big screen, or does it mobile origin show through?
Well-rounded
Asus manages to find a little bit of room to stand out in a form factor that doesn't allow for a lot of creativity. The rounded edges and dark port interiors help the Chromebit blend in behind a monitor or television, and build quality is high. The device looks and feels more durable than Intel's rickety Compute Stick.
It's light, at just 75 grams, which will help keep the device from bending or stressing out an HDMI port once plugged in. If that's still an issue, the Chromebit includes an HDMI extender. Power is provided by an AC adapter instead of a USB port, like some other stick PCs.
The Chromebit includes USB 2.0, Bluetooth 4.0, and 802.11ac Wi-Fi. Setting it up is as easy as hooking up the power and HDMI, and connecting a Bluetooth keyboard and mouse, or plugging one into the USB port. Log into a Google account, and the Chromebit is off and rolling.
Rock on
The Chromebit is powered by a Rockchip RK3288, a quad-core chip with a clock speed of up to 1.8GHz. That's paired with a quad-core Mali-T624 for graphical rendering, and 2GB of memory.
1080p video streams and plays smoothly, even if it isn't the only tab open. Multi-tasking does make the Chromebit sweat a little bit. While tabs might stall for a second or two when there are too many open, the experience is mostly smooth, and wait times for tabs to change are short and consistent.
That's thanks in large part to the lightweight performance requirements of Chrome OS. While a full desktop version of Windows 10 might be too much for the Rockchip, Chrome on its own runs smoothly, especially without a lot else going on in the background.
That performance is in stark contrast to some of the Intel Atom-powered systems we've reviewed lately. Even when running Chrome OS, those systems tend to experience noticeable slowdowns with just a few tabs running. Streaming works fine, but only if it's the only task for the system to handle. This Rockchip processor gives entry-level Atom a run for its money.
Unfortunately, doing so also causes the fanless Chromebit to heat up at an alarming rate. The top side of the device reaches 120 degrees Fahrenheit at peak usage, which would be uncomfortable if it was meant to be held during use. Thankfully, it's not, and that temperature is nowhere near hot enough to damage the Chromebit or the device it's plugged into.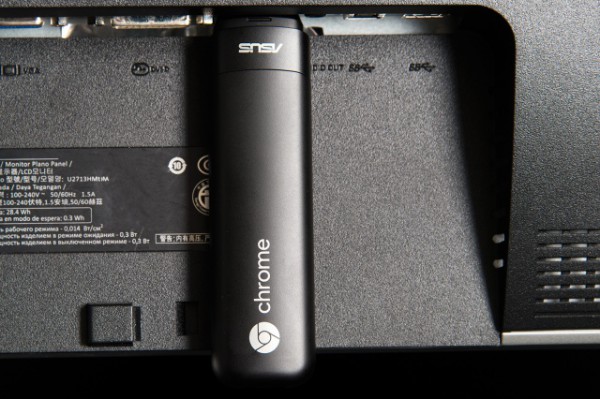 The Chromebit is efficient when it comes to power draw. At idle it pulls just 1.5 watts, and hovers around 3.5 watts under normal use. Stress the Chromebit, and that number rises to just under 8 watts, but doesn't go above that mark. These figures put it in line with Intel's Compute Stick and well below the average laptop.
Conclusion
At the end of the day, there are two important factors that set the Asus Chromebit apart from other competing mini computers. The first is the Mali GPU, which helps pick up the slack in video playback, light gaming, and quick tab switches — an area where low-price computers often suffer. The other key victory is Chrome OS.
While some are likely to dismiss the browser-based OS, even its detractors would be hard pressed to argue with its utility here. Today's stick PCs struggle with modest performance, and Windows 10 only drags down those which attempt to run it. Chrome OS' functionality is more limited – but most additional tasks you might accomplish in Windows will be too much for a stick PC to handle. That means supports for Microsoft's OS isn't much of an advantage.
Comparing the $85 Chromebit to other systems in the category is tricky. Its specifications are close to other, less expensive RK3288-powered mini PCs, but those competitors look shoddy by comparison. They also run Android, and its UI doesn't translate well to keyboard and mouse use. The Chromebit is significantly cheaper than the Intel Compute Stick at $150, and although it lacks support for Windows, forgoing it contributes to the Chromebit's lower price tag and better performance.
While PC manufacturers act like these small devices are traveling around in people's backpacks, in my experience they're more commonly used to smarten up an older TV, or serve as a basic PC for a very light user. In those situations, the Chromebit is a slam dunk. The lightweight OS allows access to streaming services and casual couch browsing, but is still quick to handle basic productivity. It's hard to go wrong with this bargain-priced computer.
Highs
Pocket-sized design
Good connectivity
Quick performance
Streams 1080p video smoothly
Lows