We fell in love with 2013's 10.1in Asus Transformer Book T100TA because it was, by far, the best value laptop/tablet hybrid on the market. This year's T200TA uses the same formula but stretches to an 11.6in screen, dropping in a newer processor and adding more storage in a bid to appeal to buyers who want to get some proper work done, but who also want to kick back on the sofa with a large tablet. Unlike many other tablets running Android or iOS, it runs full Windows 8.1, meaning all your treasured desktop applications should run.
First impressions are very positive. The tablet portion of the Transformer Book T200TA is coated in Asus' signature dark blue, with textured concentric circles. It looks slightly at odds with its silver and black keyboard dock, but the combination isn't offensive. There's a certain knack to clipping the tablet into the dock because there's no visual marker to tell you where exactly the various ports on the bottom edge of the tablet lines up with the dock. You can also only effectively dock the tablet on a hard surface because trying to do it on a bed or on your lap means there isn't enough force to get the mechanism to properly engage.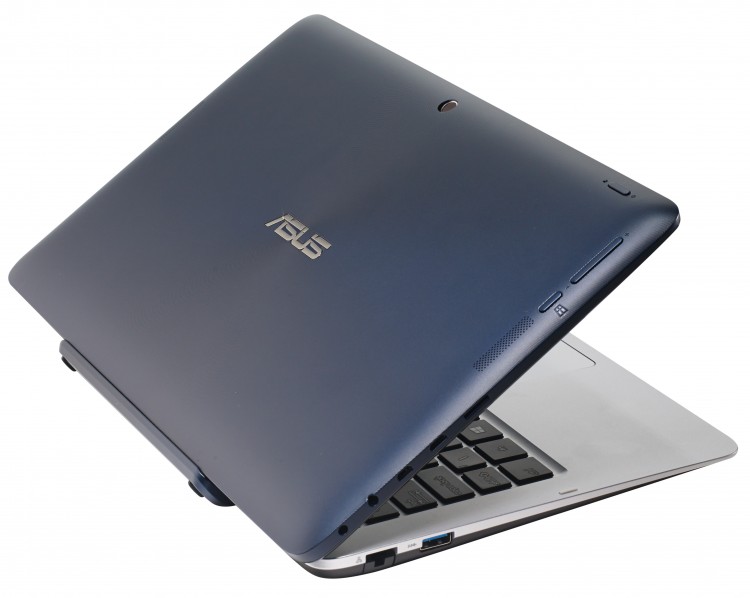 As a tablet, it's a little unwieldy. At 780g and 11.6 inches diagonally it really isn't something you would want to hold in one hand while standing up. Instead, it feels much more like a living room device for using on the sofa while watching TV, or sitting in bed watching Netflix or BBC iPlayer. The stereo speakers are on the back of the tablet, and they're exactly where your hands go when you're holding it in landscape mode. They at least produce loud sound, but with more devices managing to incorporate front-facing speakers, it would have been nice to see them here. Also included are Micro HDMI and Micro USB ports, a combination 3.5mm headset port and a microSD card slot.
You get only a 32GB SSD inside the tablet, which isn't a lot of storage. You can expand this by up to 64GB by inserting a microSD card. When docked, things are better with an additional 500GB hard disk available. If you have a large collection of movies or TV shows that you want to watch on the tablet alone, you'll have to make sure they're stored on the SSD or microSD card.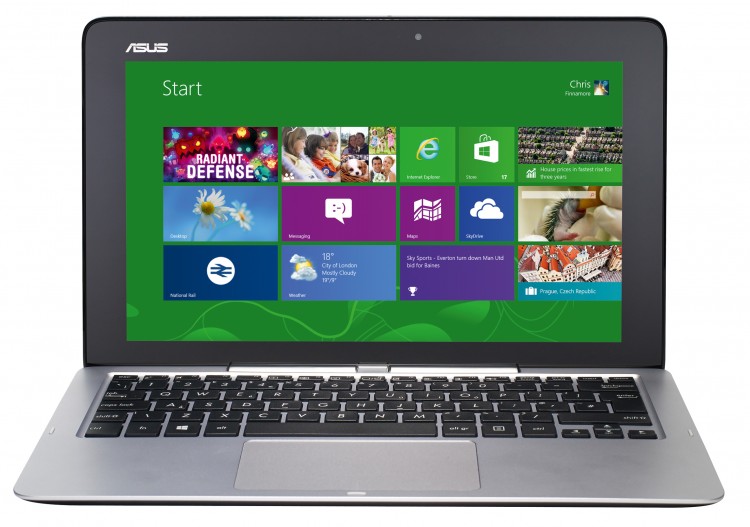 The screen is an IPS panel, but it's a cheap one. This means colour accuracy isn't particularly good at 62.8 per cent. It's at least reasonably bright at 298cd/m2 and has reasonable contrast levels of 870:1. Colours are slightly muted, so you won't get lush, vibrant colours from your photos, but for general media consumption it should be fine. Its resolution is only 1,366×768, so you will have difficulty running multiple programs side-by-side.
The 760g keyboard dock is surprisingly well built. It has two USB ports, one of which is USB3, as well as a 100Mbit/s Ethernet port. This is in addition to the 802.11n Wi-Fi found in the tablet portion.


When it comes to typing, the dock's keys are quite springy and don't have a huge amount of travel to them, but they enable relatively comfortable and accurate typing all the same. We'd have no qualms doing a day's work on this device.
A day of work is within the reach of the Transformer Book T200TA's battery. In our moderate usage battery test it lasted 8h 21m. There's no second battery in the keyboard base, so once you've run out, you'll have to connect the lightweight charger.
An Intel Atom Z3775 processor powers the Transformer Book T200TA. It's a quad-core chip based on Bay Trail architecture with a base clock speed of 1.46GHz and a maximum frequency of 2.39GHz when demand requires it. It's a low-power chip paired with 2GB of RAM, so performance is relatively leisurely once there are multiple programs open. For basic web browsing tasks, watching videos and word-processing you'll have no issues. In our multimedia benchmarking tests it managed an overall score of 23, scoring 23 for image processing, 27 for video rendering and 21 for multitasking. Advanced 3D games are beyond the reach of the integrated Intel HD Graphics, but more basic titles such as Halo: Spartan assault and Jetpack Joyride run smoothly.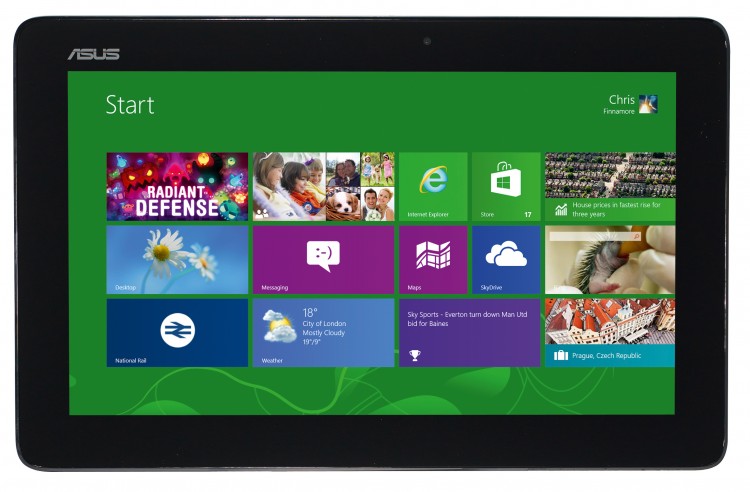 The Asus Transformer Book T200TA is an excellent compromise between tablet portability and laptop practicality. It's ever so slightly too big to be considered a replacement for your 7in or 9in tablet, but it's a good alternative for living room-based entertainment. If you're going to buy a cheap laptop for a bit of work and media consumption, the T200TA is the best choice.