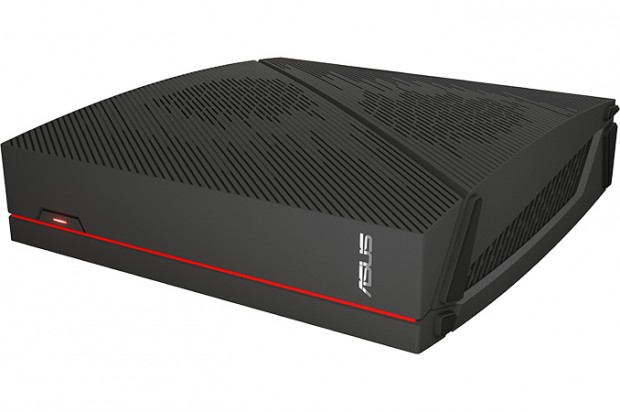 ASUS at CES has introduced its new game console-like PC that weds relatively high performance, compact dimensions and a moderate price tag. The new VivoPC X packs Intel Core i5 CPU and NVIDIA GeForce GTX GPU into a 5-liter chassis.
Traditionally, ASUS has positioned its Vivo-series computers as miniature PCs for mainstream tasks, whereas ROG systems were designed for gamers and multimedia enthusiasts. With the release of the VivoPC X, the computer maker changes that positioning and offers an SFF gaming-grade system under the Vivo brand. The reasons for the decision are simple: sales of small form-factor PCs are growing and so are sales of machines for gamers. ASUS wanted to address both markets with computers at more or less mainstream prices and the VivoPC X is a result of this decision. The mini PC is positioned below the ROG GR8 II and its performance is lower, however, ASUS thinks that the combination of price and performance will satisfy many people looking for a console-like gaming PC.
The ASUS VivoPC X M80 is based on the Intel Core i5-7300HQ (4C/4T, 2.5 GHz/3.5 GHz, 6 MB cache, HD Graphics 630, 45 W) mobile processor, the Intel HM175 PCH as well as NVIDIA's GeForce GTX 1060 graphics processor with G-Sync support. Since many gamers demand to have the performance of an SSD and capacity of a hard drive, the system will be equipped with a 512 GB M.2 SATA SSD as well as a 2 TB HDD with 7200 RPM spindle speed. The PC also comes with 8 GB of DDR4-2133 memory. To cool down the system components, ASUS uses a custom cooling system consisting of a blower for the GPU and a large aluminum heatsink for the CPU.
ASUS VivoPC X Specifications
M80
CPU
Intel Core i5-7300HQ
Quad Core
2.5 GHz/3.5 GHz
6 MB cache
HD Graphics 630
PCH
Intel HM175
Graphics
NVIDIA GeForce GTX 1060 with GDDR5 memory
Memory
 8 GB of DDR4-2133
Storage
512 GB SSD (SATA)
2 TB 2.5″ HDD (7200 RPM)
Wi-Fi
IEEE 802.11ac Wi-Fi + BT 4.1
Ethernet
GbE
Display Outputs
2 × HDMI 2.0b
1 × DisplayPort
Audio
5.1-channel audio
USB
4 × USB 3.0 Type-A (5 Gbps)
2 × USB 2.0 Type-A
Other I/O
–
Dimensions
75.94 mm × 259.8 mm × 279.9 mm
2.99 × 10.23 × 11.02 inches
PSU
230 W
OS
Windows 10
When it comes to connectivity, the ASUS VivoPC X has four USB 3.0 Type-A ports, two USB 2.0 headers, Gigabit Ethernet, an IEEE 802.11ac Wi-Fi with BT 4.1 module, three display outputs (two HDMI and one DisplayPort), 5.1-channel audio with Sonic Suite software enhancements and so on.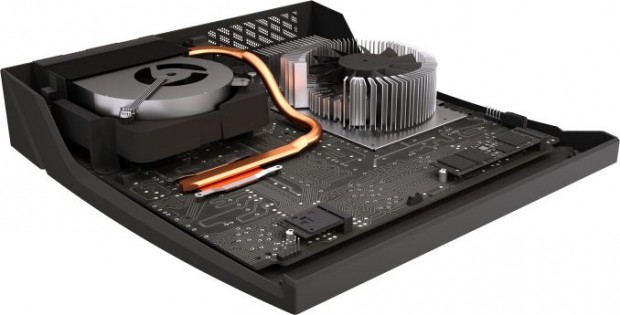 The computer uses mobile PC components in a bid to keep its physical size small and power consumption low: its volume is about five liters and its power consumption is less than 230 W (it uses an external power brick to feed itself). Meanwhile, usage of such components also means that its future upgrades will be rather complicated if possible at all (for example, the GPU is soldered to the motherboard and is thus not upgradeable).
The ASUS VivoPC X will be available in March, 2017, for $799.