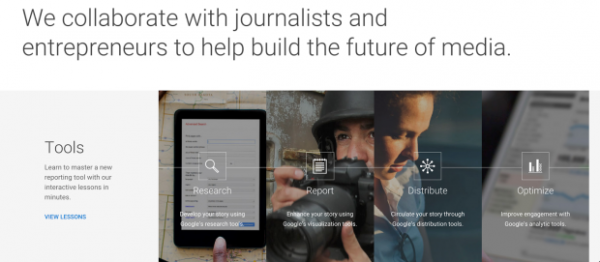 Google introduced a new initiative called News Lab today, aiming to give journalists more access to Google data, plus tools and training to use that data to make great stories. News Lab is a centralized spot for journalists to find information on tools like Google's Maps, Alerts and Public Data Explorer.
While News Lab was officially announced today, its new tools have been rolling out this entire month. A revamp of Google Trends put an emphasis on real-time data so journalists could use that information in breaking-news stories. News Lab partnered with Storyful to establish YouTube Newswire, which showcases verified, newsworthy content.
The new group has already partnered with major news organizations to show off the utility of its tools. A collaboration with CNN shows where presidential candidates are being Googled. An interactive graphic on climate change was used in reporting a Washington Post piece.
The new website has online tutorials to help reporters maximize their use of Google services. Even Search has a few lessons, including how to use advanced search and reverse image search. Lessons are short, so reporters can quickly get through them as they need access to the tools.
News Lab is also partnering with news organizations to bring more data and technology to the newsroom. The purpose of most programs is to improve how technology is used in everyday reporting, but also explores how technology and access to data can be used to create new media companies. News Lab partners include the Center for Investigative Reporting, WITNESS Media Lab and startup accelerator Matter.