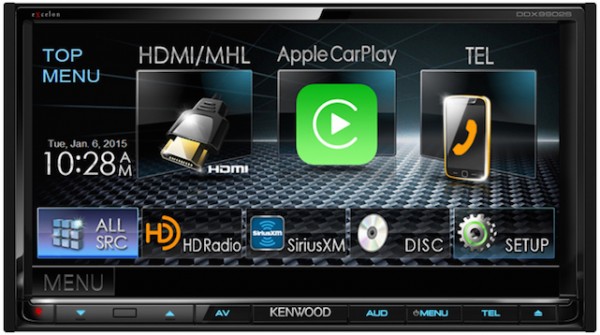 A TUAW reader wrote to us yesterday bemoaning the lack of new products from Apple other than upgrades of previous devices. Among the things he thought were missing were HomeKit products and CarPlay devices. Well, there have been plenty of HomeKit-related announcements at CES 2015, although they're not from Apple – the company simply created the HomeKit framework for others to create products for. The same is true of CarPlay, and there have been a couple of interesting announcements in that arena today.
First, Kenwood announced it will be coming into the aftermarket CarPlay market with the horribly-named DDX9902S multimedia receiver. No pricing or availability information has been provided, but the company is displaying its CarPlay-compatible unit (which also supports Android Auto) at CES.
The unit supports not only regular smartphone connectivity features like Bluetooth pairing for music and phone calls, but also supports Pandora and iHeartRadio out of the box. HD Radio and Sirius XM Radio will be available as well.
Kenwood's announcement follows that of Pioneer in October. Alpine has also announced a head unit supporting CarPlay.
The second CarPlay announcement for today is that Volkswagen will support both CarPlay and Android Auto in their automobiles later this year. VW appears to be keeping its options open, as they'll also supporting a smartphone-agnostic MirrorLink app in the US. These three dashboard overlays will run on a base platform in the Volkswagen vehicles, allowing those purchasing cars to choose between the overlays depending on their needs.
Volkswagen also plans to release a new parking assist technology soon, saying that drivers will be able to monitor semi-autonomous parking from the sidewalk by using a smartphone as a remote control.