For some reason, I didn't know until this point that you can change the start orb in Windows 7 to something other than the default one! Considering I use Windows all the time and customize just about everything, it's pretty sad I didn't know about this!
Anyway, there are a few nice freeware programs that you can use to customize the start orb with some crazy looking graphics.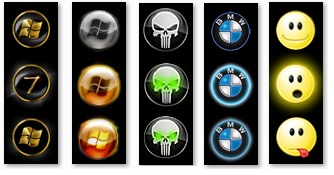 Nice! Of course, the only thing with these types of customizations is that it requires system files to be changed. Normally, things go fine and all is well, but sometimes things can go awry and you could end up with a corrupted Windows machine that you can't log into anymore! So be careful when using this software and make sure you have a backup of everything before trying it.
Door2Windows Start Orb Changer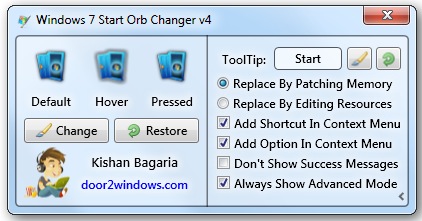 This free program seems to have the most options for changing the orb. You can change the default, the hover image and the pressed image. You can also choose between patching memory or editing resources to change the orb. You can download it here:
http://www.door2windows.com/windows-7-start-button-changer-change-your-windows-7-start-button-with-one-click/
Start Button Changer by TheWindowsClub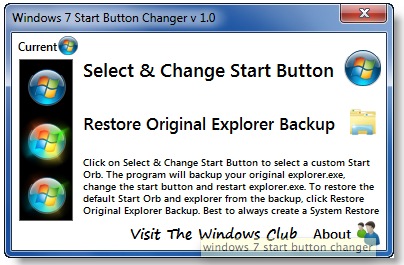 The guys over at The Windows Club always release some really useful utilities, one of those being the start button changer. It's free and they have instructions on how to use the program properly and what to do if something goes wrong. You can download it here:
http://www.thewindowsclub.com/windows-7-start-button-changer-released
So those are pretty much the only two programs out there that let you change the start orb and I think they are both written by the same person! Anyway, you will also need to find a good start orb image unless you are a pro at Photoshop. Here are some links to free start orb images:
http://browse.deviantart.com/customization/skins/windows7/startorbs/
http://browse.deviantart.com/customization/skins/windows7/startorbs/?q=Bar
http://www.vikitech.com/3193/50-start-orbs-for-windows-7
http://www.sevenforums.com/themes-styles/34951-custom-start-menu-button-collection.html
If you go to DevianArt and just search start orb, you'll also find a lot of individual artists who have created start orbs that you can download for free. And that's pretty much it! If you like to customize your Windows 7 desktop, this is probably one of the better customizations since you see that start button all the time! Enjoy!