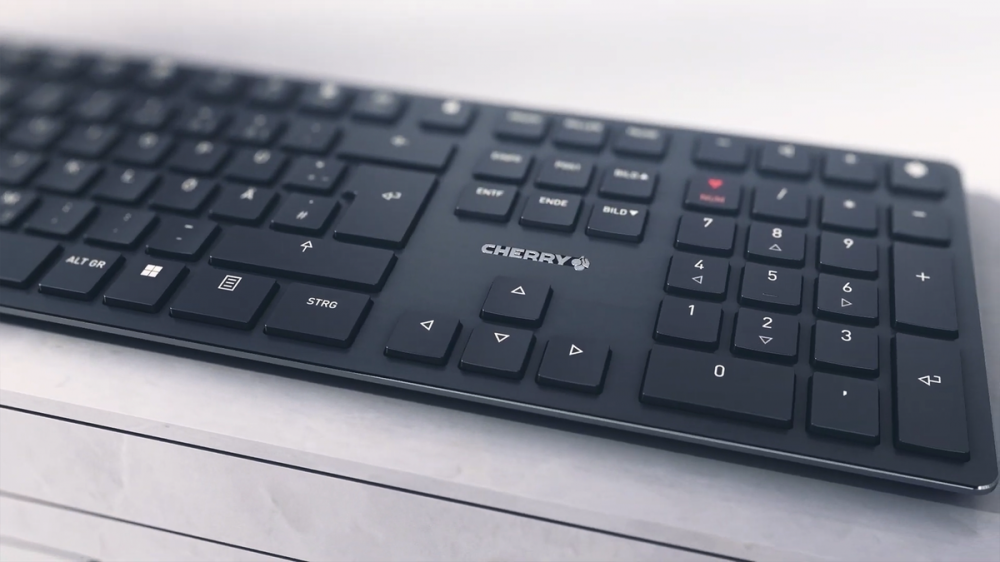 If you're a mechanical keyboard enthusiast, there's a good chance that you're familiar with Cherry's MX Ultra Low Profile (ULP) switches. These keyswitches appear in several ultra-thin keyboards, including the popular Corsair A100 AIR. But now, Cherry is selling an ultra-thin keyboard of its own.
Available today, the Cherry KW X ULP is just 3.5mm (0.13 inches) thick and sports a productivity-oriented, full-sized design. It uses Cherry's MX ULP switches, which are about 70% smaller (and much quieter) than traditional mechanical switches. Still, these low-profile switches retain a tactile feel with 1.8mm of total travel (0.8mm of pre-travel) and a 65 cN operating force.
The keyboard chassis is anodized and milled aluminum, while the keycaps are polycarbonate and have a white LED backlight. All of the latching keys (caps lock, num lock, scroll lock, etc) contain a color LED to indicate whether they're active or not, and an exclusive CHERRY button at the corner of the keyboard changes color in accordance with its battery life.
As for connectivity, the Cherry KW X ULP can connect to your PC over Bluetooth 5.2, USB-C, or 2.4GHz RF (via an included USB receiver). You can also use these connectivity options to simultaneously pair (and switch between) four devices—two over Bluetooth, one over a USB-C cable, and another over the wireless USB receiver.
You can also use the Cherry Keys software to customize the KW X ULP. Cherry notes that you can reassign function and "special" keys, create shortcuts to websites and files, program complex macros, and bind multimedia functions to individual keys.
Cherry promises a battery life that lasts for "several weeks," but does not provide any specifics. In any case, I assume that this keyboard offers a decent battery life, as it doesn't have a ton of crazy bells and whistles (like RGB lighting and all that). It's truly just a slim, high-quality mechanical keyboard.
Unfortunately, the Cherry KW X ULP ain't cheap. It launches today for $250. If you're looking for a productivity-oriented slim mechanical keyboard, this is certainly a notable option, though I do suggest comparing it to Corsair's K100 AIR.
Source: Cherry