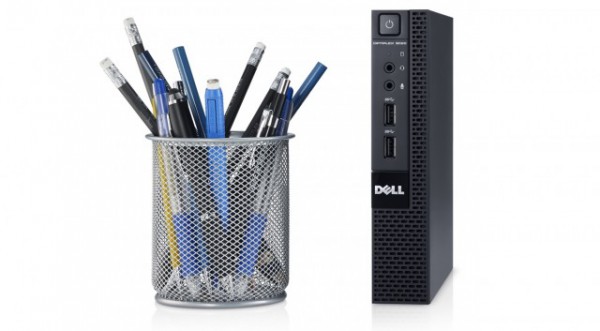 Need a tiny PC that can still handle a heavy workload? Check out the OptiPlex 3020 Micro desktop PC from Dell. It's thin, light, and it doesn't compromise on performance. The best part? You can save over $350 off the sticker price when you use today's coupon code.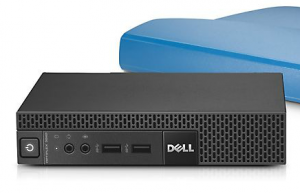 So, what kind of specs are we looking at? The OptiPlex 3020 has a fourth generation quad-core 2GHz Intel Core i5-4590T CPU, integrated Intel HD Graphics 4600, 4GB of DDR3 RAM (1600MHz), and a 500GB 7200RPM hard drive. And since it has a VGA port and a DisplayPort on the rear, you'll be able to plug into just about any monitor or HDTV. DisplayPort-to-HDMI adaptors cost 15 bucks or less when you buy on Amazon, so you won't have to spend much to get up and running on your existing gear. And if you need more storage, it comes with two USB 3.0 ports and six USB 2.0 ports. Adding external storage or additional peripherals is a breeze.
Because this miniature desktop PC is so small, the storage options are incredibly diverse. On the product page, Dell showcases six different optional mounts that you can buy to easily expand your desk space. From a behind-the-monitor setup to a VESA wall mount to a slimline vertical stand, a clutter-free desk is well within your reach.
Out of the box, this model has Windows 7 Professional (64-bit) installed, but a license for Windows 8.1 Pro (64-bit) is included too. Even better, you can upgrade to Windows 10 Pro (64-bit) for free until July of 2016. If you want to take advantage of the latest and greatest features out of Redmond, it's well worth a little bit of your time to go through the upgrade process.
Typically, this configuration retails for $812.86, but Dell is currently selling it online for just $529. And if you apply the coupon code "100BIZDEAL during the checkout process, you'll immediately save an additional $100. Take advantage of Dell's free shipping option, and you're only paying $429 (plus any applicable taxes). This is a limited time offer though, so don't hesitate.