Like its new protagonist, Emily Kaldwin, Dishonored 2 has a lot to live up to. She, of course, is the youthful Empress of the Isles and the daughter of its most feared and notorious assassin – Corvo Attano. Dishonored 2, meanwhile, is the sequel to a game many hold dear as a classic in a line stretching back to the glory days of Looking Glass Studios, when the likes of Thiefand System Shock redefined what a first-person action game could be.
And thankfully, neither disappoints. Emily is as strong and versatile a lead as her illustrious father, while Dishonored 2 is a worthy follow-up. Just be aware that both play differently, and that those looking for a simple, wham-bam action game might be better off looking elsewhere for their thrills.
You don't, of course, have to play as Emily. After the optional tutorial and a quick scene-setting prologue you have the choice of playing on as the Empress or as her protector, Corvo, giving you a choice of characters, capabilities and play styles to explore. Corvo works pretty much as he did in the last instalment, with the same basic line-up of powers (though some have been adjusted), and the kind of strength and athleticism you'll remember from his escapades in Dunwall.
If you spent hours blinking from balcony to balcony, bending time, possessing rats and flinging swarms of rodents at your enemies, playing as Corvo once again will be like jumping back into the driving seat of your old car.
Emily is different. Sure, the actual mix of first-person stealth, supernatural powers, ranged weapons and swift swordplay doesn't change completely, but the minute-by-minute experience is transformed. Emily can't match Corvo's rock-hard constitution, but she's tough, smart and fast.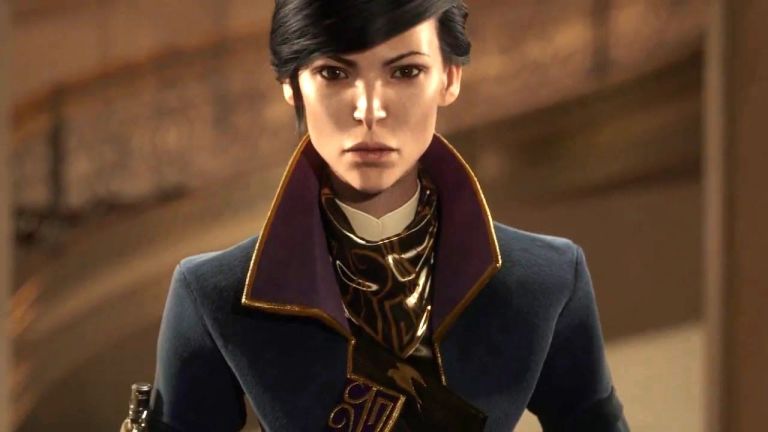 On gaining supernatural powers from the Outsider – one of several characters returning for the sequel – she gains her own version of Blink, called Far Reach, but while it has a longer range and additional pulling and grabbing uses, it's not a teleport and it can't shift Emily unseen. She can't slow down time and those possessions and mini rat swarms are off the menu.
Instead, Emily gets a range of more complex and interesting powers, enabling her to create her own double to act as a decoy or battle for her with Doppelganger, while with Domino she can link enemies together so that the fate of one becomes the fate of all. She even gets her own version of Dark Vision to spot security systems and guards behind walls plus the ability to mesmerise and enthral humans and animals. Take the Shadow Walk ability and she becomes a slighter shadow of herself, harder to spot and capable of squeezing through small openings.