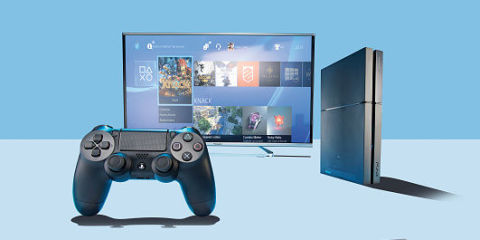 Finally! They've taken their sweet time about it – but at last, the latest generation of consoles have come down in price and actually have a bunch of games worth playing.
Better still, with PlayStation VR on the horizon, as well as games like No Man's Sky and Uncharted 4, there hasn't been a better time to buy a PS4.
So break out your well-worn credit card, and let Digital Spy run down what you'll need to go along with your console of choice – from accessories to games…
1. PS4 BUNDLE- 500GB, WITH STAR WARS BATTLEFRONT – £268.85
As you might have noticed, Star Wars is massive right now. And it turns out there's no better way to break your console in than tearing through the forests of Endor on a speeder bike, or trudging through the deep snow of Hoth and slicing rebels up with Darth Vader's lightsaber.
One of the first things you'll want to do when you buy a new PS4 is to see what it's capable of, and Star Wars Battlefront is an impressive graphical showcase. It's also a lot of fun, so there's that.
If Star Wars isn't your thing, you can get a Call of Duty: Black Ops 3 bundle for the same price, or an Uncharted: The Nathan Drake Collection bundle for slightly more.
2. PLAYSTATION PLUS – 1 YEAR MEMBERSHIP – £39.99
That Star Wars Battlefront bundle you just bought? It's no good without a PS Plus subscription. You have to pay for online gaming these days. Welcome to the future.
It's not all doom and gloom, though. You get at least two games a month for free with a PS Plus subscription, and it sometimes uncovers gems you would never have considered before. Hello, Rocket League. And if you have a PS3 and a PS Vita, you get free games on those, too.
3. EXTRA DUALSHOCK 4 – £37.99
The DualShock 4 is a great little controller, but there's no point in having just one, is there? There's a bunch of downloadable games that are fantastic in splitscreen, from Minecraft to Rocket League.
And even if you don't play couch co-op very often, it's a good idea to get a spare pad. If the DualShock 4 has one flaw, it's that the rubber on the thumbsticks is about as durable as a paper umbrella. Speaking of which…
4. ORB CONTROLLER THUMB GRIPS – £2.89
When the day finally comes that your DualShock 4 thumb grips have worn into dust, have these handy to act as a quick replacement.
It's much cheaper than the price of a new controller, and they're probably more durable too.
5. SONY PLAYSTATION WIRELESS STEREO HEADSET 2.0 – £49
You get a little earpiece with a mic attached with your console, but that really doesn't cut it if you're serious about online gaming.
If you want to chat while you play online without sacrificing the audio quality of the game, the official earphones are about your best bet for an entry-level headset. If you're loaded, get these Turtle Beach cans for £174.99.
6. BLOODBORNE – £31.99
A Lovecraftian world of near perpetual moonlight and blood-soaked cobbles, Bloodborne'sYarnham is one of the most oppressive game worlds ever. It's a feeling that bleeds into the gameplay, too, demanding quick reflexes and concentration to survive.
It's not for people who are scared of a challenge, but those willing to push through will be rewarded with one of the best gaming experiences of 2015.
7. UNTIL DAWN – £18.99
Scream, Final Destination, Saw – Until Dawn lets you control the cast of your very own teen horror movie. It's much more clever than it first appears, though, riffing off movie tropes, and subverting them.
It's up to you how it all turns out. Everyone can survive if you're careful, and everyone can die if you're not. The lives of this cast of the (mostly awful) young adults are in your hands.
8. DRIVECLUB – £18.99
DriveClub might have been plagued by bad press at launch, following delays and the eventual release of an incomplete game, but it's a different beast now.
It's one of the best racers to grace the new machines, straddling the line between sim and arcade driving. Oh, and it's one of the best looking games we've ever laid our eyes on.