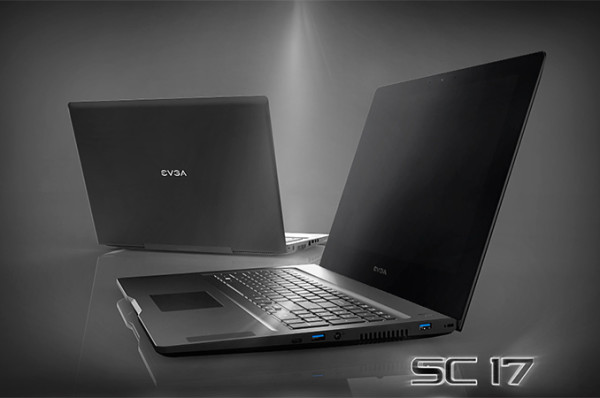 EVGA this week officially introduced its SC17 laptop designed for demanding gamers, which combines rather high performance with UHD display. The system features an Intel Core i7 microprocessor with unlocked multiplier, a high-end NVIDIA GeForce GTX graphics adapter, a combination of fast and capacious storage devices as well as a 4K display Two key features of the system are its ability to fine-tune microprocessor's voltages in a bid to maximize overclocking potential as well as GPU overclocking support.
The EVGA SC17 laptop was designed by the company's engineers completely in-house in a bid to offer functionality not available on other high-end notebooks. While EVGA is primarily known for its video cards and motherboards, keep in mind that that the company hired engineering team from Epox, a legendary maker of mainboards for enthusiasts, sometimes in mid-2000s (in fact, Andrew Han, a co-founder of EVGA, was also a co-founder of Epox), and thus has a lot of experienced talent when it comes to platform development. As a result, the EVGA SC17 sports a fully-fledged UEFI BIOS, which gives users control over many aspects of system's performance, including CPU voltages, memory timings and so on. In fact, even the GPU can be overclocked from the BIOS, which is not a feature that you can typically find on notebooks. For those, who want to get maximum out of their systems, there is even a "clear CMOS" button on the chassis in order to reset settings in case of a malfunction. For users, who do not want to hevaily tweak their PC, the SC17 supports EVGA Express OC (EOC) technology that lets to easily overclock the system to gain performance, or downclock it to prolong battery life, with a press of two button.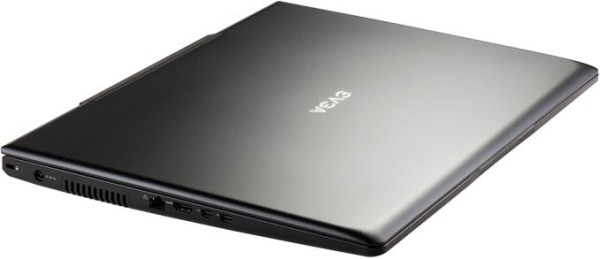 EVGA's new gaming laptop is based on the Intel Core i7-6820HK processor (four cores with Hyper-Threading, 2.70 GHz/3.60 GHz frequency, 8 MB L3 cache, HD Graphics 530, 45 W TDP) with unlocked multiplier, which was designed with overclocking in mind. The SC17 notebook is also equipped with NVIDIA's GeForce GTX 980M graphics processing unit with 8 GB of GDDR5 memory, 32 GB of G.Skill's DDR4-2666 memory, a 256 GB M.2 SSD with NVMe protocol (PCIe 3.0 x4 interface) as well as a 1 TB hard drive with 7200 RPM spindle speed. Just like other high-end laptops, the EVGA SC17 sports a full-HD webcam, built-in speakers with subwoofer, a Gigabit Ethernet controller, a IEEE 802.11ac Wi-Fi + Bluetooth 4.2  module, one USB 3.1 type-C port, two USB 3.0 ports, mDP as well as HDMI display outputs and so on.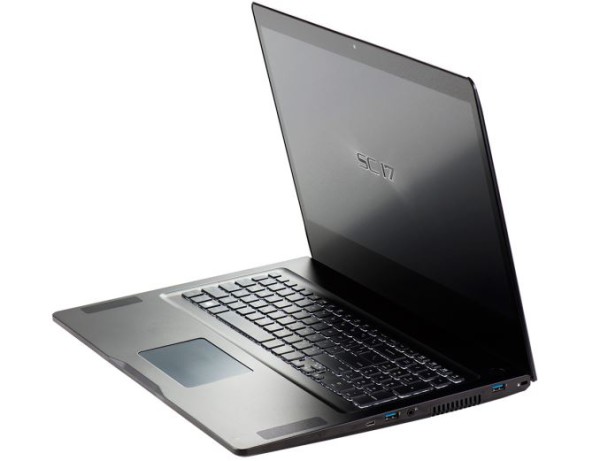 EVGA's engineers remained loyal to their overclocking origin and incorporated a rather advanced cooling system with two fans and eight vents into the SC17. The cooling system is designed to ensure that the Core i7-6820K and the GeForce GTX 980M receive enough cool air even when they are overclocked. It should be noted that NVIDIA is not particularly enthusiastic about mobile GPU overclocking these days, meaning EVGA would have had to do some extra work to offer this for customers.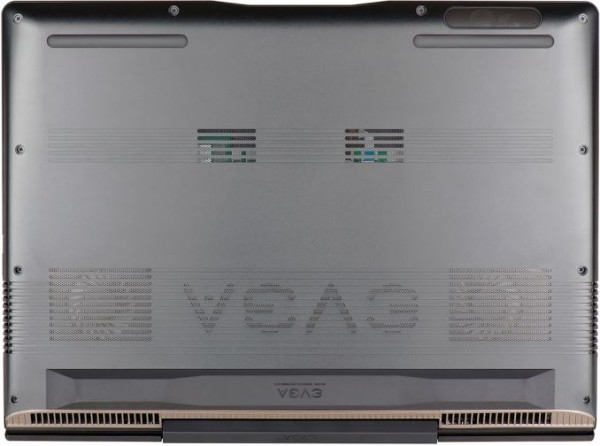 Another important aspect of the EVGA SC17 is its 17.3" display. The 4K (3840×2160) screen is based on an IPS panel by Sharp. It is unknown whether Sharp has applied its IGZO backplane technology to the panel to make for better power efficiency but it's a reasonably fair bet given the display size and resolution.
EVGA's SC17 should offer performance levels comparable to good gaming PCs featuring Intel's Core i7 "Skylake" CPU as well as NVIDIA's GeForce GTX 970 GPU. This should be enough not only for mainstream gaming, but also for VR gaming, something that may be interesting to many people these days. Despite of rather high performance, the SC17 is not too bulky or heavy: it is 1.05" (26.9 mm) thick and weighs 3.69 kilograms (8.14 pounds), which is low compared to many other 17" notebooks.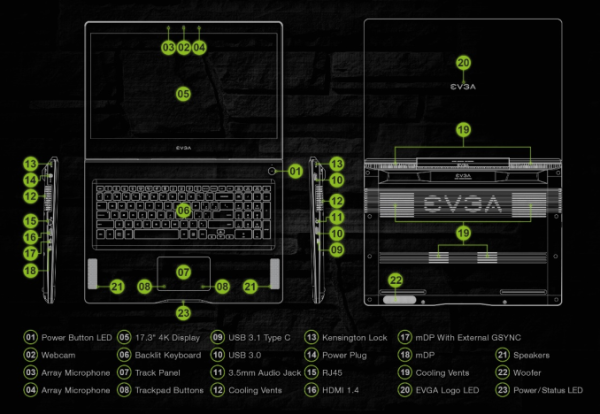 While EVGA this week officially introduced the laptop, it did not reveal when exactly it plans to start selling it, but expect the mobile PCs to arrive in the coming weeks. The price of the notebook in the default configuration is $2699.99, which is not very high given the unlocked Core i7 processor as well as the GeForce GTX 980M inside.