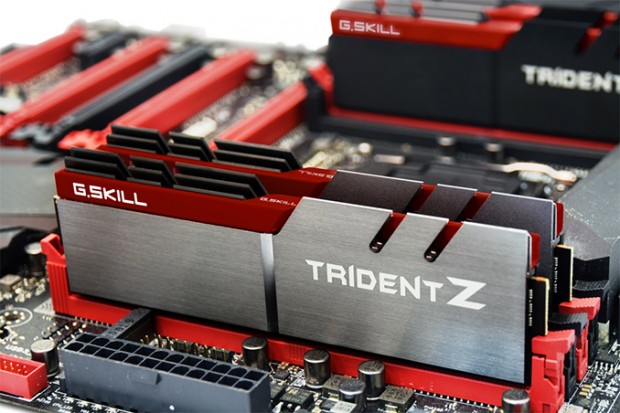 G.Skill on Wednesday introduced its new high-end DDR4 memory modules tested for compatibility with Intel's new Core processors featuring the Kaby Lake microarchitecture. The new Trident Z modules come in 8 GB and 16 GB sizes and are rated for operations at data rates beyond 3600 MT/s per pin.
For Intel's Kaby Lake and Z270 launch, G.Skill now offers various dual-channel kits with 16 GB (2×8 GB), 32 GB (4×8 GB, 2×16 GB) and 64 GB (4×16 GB) capacities designed to run in DDR4-3600, DDR4-3866, DDR4-4000, DDR4-4133 and DDR4-4266 modes at 1.35 V or 1.4 V (the top-of-the-range kit only). Due to rather high data rates, the new Trident Z kits come with rather looser CL17, CL18 or even CL19 timings. The modules support XMP 2.0 technology that simplifies setting of correct sub-timings on platforms that support this feature.
For about a year now G.Skill has been using Samsung's 8 Gb B-die ICs for its high-end DDR4 memory modules. Keeping in mind that companies tend to be cautious with new platforms and memory controllers, it is not surprising that the new DIMMs designed for the brand new CPUs are based on familiar chips made using 20 nm process technology.
G.Skill's Memory Modules Designed for Intel's Kaby Lake Platform
Speed
CL Timing
Voltage
Kit Configuration
Kit Capacity
DDR4-3600
CL17 19-19-39
1.35 V
2×16 GB
4×16 GB
32 GB
64 GB
DDR4-3866
CL18 19-19-39
2×8 GB
4×8 GB
16 GB
32 GB
DDR4-3866
CL18 18-18-38
2×16 GB
32 GB
DDR4-4000
CL18 19-19-39
2×8 GB
4×8 GB
16 GB
32 GB
DDR4-4133
CL19 19-19-39
2×8 GB
16 GB
DDR4-4133
CL19 21-21-41
4×8 GB
32 GB
DDR4-4266
CL19 19-19-39
1.4 V
2×8 GB
16 GB
Initially G.Skill will offer Kaby Lake-optimized memory modules with its regular aluminum heat spreaders, but eventually the company will expand the lineup with DIMMs featuring RGB lighting and other enhancements.
G.Skill has tested its new memory modules (DDR4-4133 32 GB kit to be exact) on the ASUS ROG Maximus IX Formula motherboard and the Intel Core i5-7600K processor to ensure compatibility with the new CPUs, but everything should work on other Kaby Lake/Z270 configurations that plan to support high speed memory.
Newegg already sells G.Skill's Kaby Lake-optimized 16 GB DDR4-4266 memory kits (F4-4266C19D-16GTZ series) for $229.99. Other modules will hit the market shortly from now and more retailers will follow.