When it launched its initial line-up of Haswell-E based processors and the companion X99 chipset, Intel's motherboard partners hit the ground running with some fairly exciting products. At the time of the launch, we featured a few offerings in our review—you can check them out right here. But, as is sometimes the case, the second wave of products based on a particular technology are sometimes more exotic and may offer features not found on the first release.Such is the case with the motherboards we're going to show you here from Gigabyte. Although they're based on the same chipset, the Gigabyte X99-SOC Champion and X99-Gaming 5P are actually quite different. One of the boards is a non-nonsense hot-rod of sorts, targeted at hardcore overclockers, while the other is loaded to the gills with features galore.
First up, let's take a look at the Gigabyte X99-SOC Champion. Gigabyte debuted this motherboard back at the Consumer Electronics Show, and since its introduction, it has been used to break a number of Haswell-E overclocking records. We'll show you the X99-Gaming 5P  as well, a little later, and then dig in with some numbers…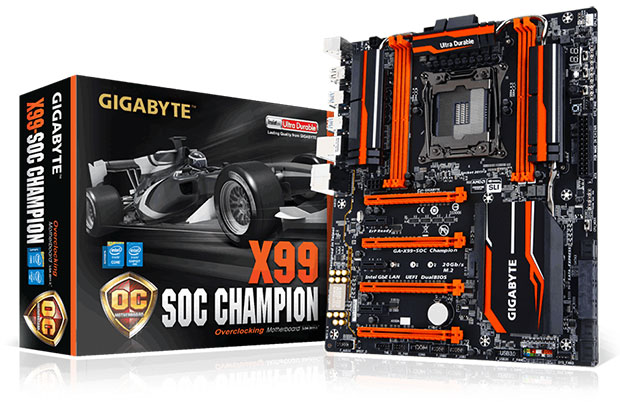 Gigabyte X99-SOC Champoin

Specifications & Features
Supports New Intel Core i7 Processor Extreme Edition

Support for DDR4 XMP up to 3400MHz

Genuine All Digital Power Design with IR Digital PWM & IR PowIRstage ICs

Exclusive GIGABYTE OC Features

Server level Chokes

Gold Plating for CPU socket, Memory DIMMs and PCIe slots

Extreme 4-way SLI and CrossFire support

Turbo M.2 connector for up to 20 Gb/s data transfer

SATA Express support for 10 Gb/s data transfer

Intel gaming networking

2x copper PCB design

Realtek ALC1150 115dB SNR HD Audio with Built-in rear audio amplifier

Long lifespan Durable Black Solid caps

APP Center including EasyTune and Cloud Station utilities

Thunderbolt Ready

GIGABYTE UEFI DualBIOS

Pricing: $274.99 available at Amazon

---
In terms of its main features and specifications, the X99-SOC Champion has just about everything most consumers looking for an X99-based motherboard would need. Gigabyte has, however, intentionally omitted any non-essentials. This board is targeted at the overclocking crowd, which tends to disable unused features to minimize the chance of a problem during extreme overclocking. Gigabyte even whacked a quartet of DIMM slots from the board to optimize and better isolate the traces for the remaining four. Gigabyte also used surface-mounted connectors for the DIMM slots that are on the board, claiming that they further improve signal integrity.
We'll get up close and personal with the board itself on the next page, but before we do, let's take a look at what Gigabyte bundles with the X99-SOC Champion.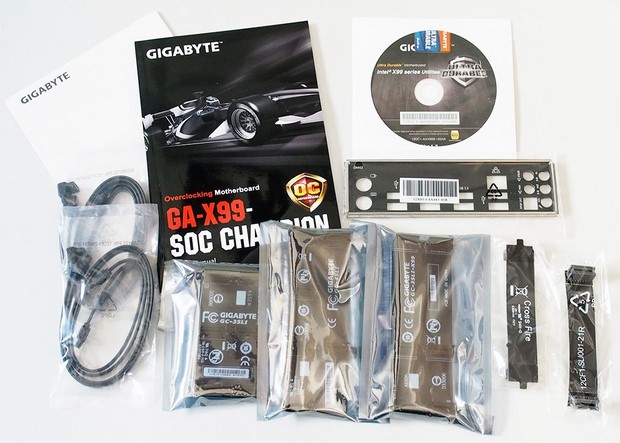 Included with the board itself, you'll find a user's manual and installation guide, a driver disc, an IO shield, four SATA cables, a CrossFire bridge connector, and a bunch of SLI bridges, for two, three (2), and four-way SLI. One of the three-way bridges is configured with a large space between a couple of its connected should you want to employ the lowest slot on the board. The inclusion of that extra bridge will probably only appeal to a small percentage of you, but it's a nice touch on Gigabyte's part to ensure buyers can leverage as many slots as possible with a three-way GPU setup.