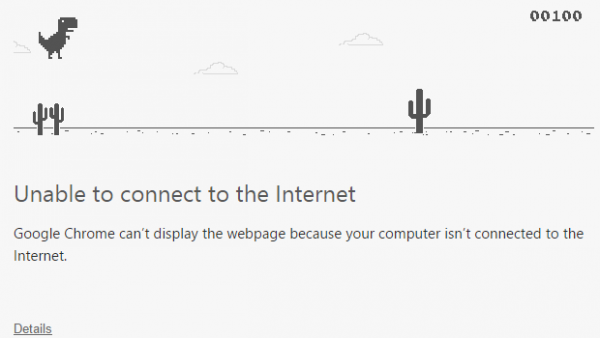 Google Chrome Canary version of Google Chrome-the targeted especially at developers- incorporating all the innovations that ordinary users will see later in Google Chrome, in its latest update hides a curious game for those times when you do not count on Internet .
If you use Google Chrome, surely more than one occasion and have seen the typical dinosaur indicates that it has not been able to connect to the Internet. In the latest version of Google Chrome Canary, when this error screen appears, you will only have to press Space to enjoy a game in the style of running endless . The game (which you can see in the screenshot illustrating this article) has a mechanism as simple as once you have gained access to it, you only have to press the space bar to jump the dinosaur, aiming dodge cacti that appear as this progresses. The further you get and dodge cacti, the more points you get.
It certainly is a most curious move by Google, which aims to make the wait until we get the internet connection is much less frustrating and more enjoyable .