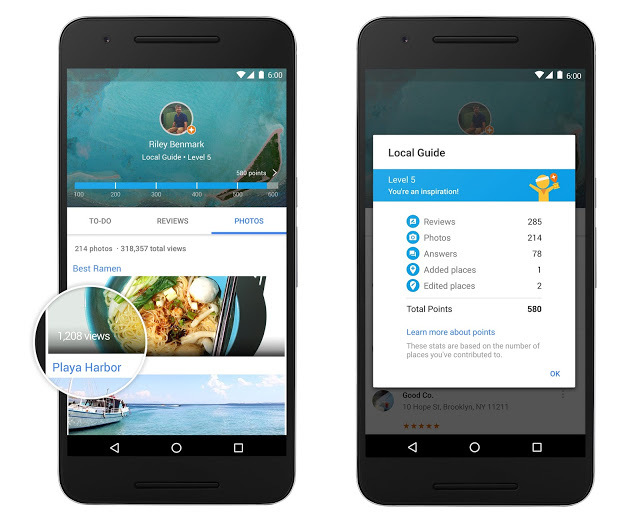 Google today is expanding its Local Guides program – the company's answer to Yelp's Elites, which encourages and rewards users for providing information on area businesses, including reviews, photos, and other details. That program has now received a significant update involving a new points system that allows guides to also earn points by correcting business information and answering questions, among other things. Plus, Guides will be able to track their work and progress in a new "Contributions" tab integrated directly within the Google Maps app on iOS and Android, says Google.
Before officially launching Local Guides in early 2015, Google ran a related effort called "City Experts." Those early adopters were later transitioned to the Local Guides program instead.
Like Yelp Elites, the goal with the rebranded program has been to increase the number of high-quality business reviews on its site by rewarding users who take the time to write thoughtful content. While not quite as exclusive as Yelp Elites – anyone who writes a certain number of reviews seemed to be allowed in – Guides also receive special badges, invites to parties, and other gifts.paypal.com
This summer, Google expanded beyond reviews when it began testing a feature that solicited food photos from area restaurants from its Local Guides.
Today's further expansion now formalizes that effort, but also officially introduces other ways for Guides to earn points, including by adding new places to the map, fixing outdated information, and answering simple questions about the business. The changes were introduced earlier this week to Local Guide participants by way of an email, but only publicly announced today.
For Local Guides, the update means they have more ways to earn more points and level up, increasing their rewards potential. But the reward for Google itself is much higher: it has essentially crowdsourced the process of editing business information in Google Maps.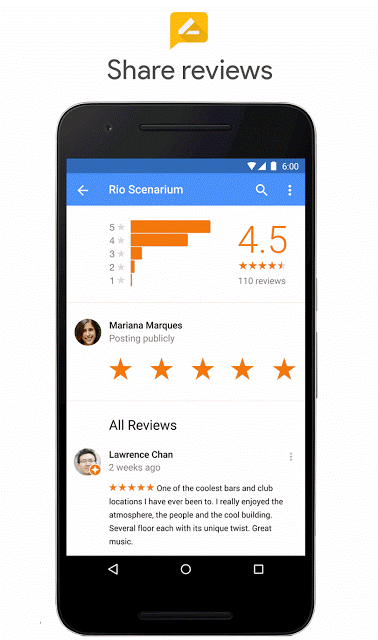 Not only can Google ask Guides to correct or edit factual information – like whether the store address is correct, or what the store hours are – they can also answer more nuanced questions, like "is it quiet here?" or "is the place family friendly?" This information directly feeds into Google Maps' restaurant recommendations section, which this fall was updated to offer curated restaurant suggestions based on similar data. Guides are also prompted to correct bad information and upload photos.
Each contribution is worth one point, so now there's the possibility of receiving up to 5 points per place. (But Guides don't get extra points for uploading additional photos, Google notes. Whether you post one photo or five, it's still one point, that is.)
Along with the increased ways to contribute, Google has also rolled out a new points system, which introduces a new level: Level 5.
Level 1 users (0-4 points) can enter contests where they might win Google devices. Level 2 users (5-49 points) get early access to new Google products and features. Level 3 users (50-199 points) show up in the Google Maps app with the Local Guides badge. Level 4 users (200-499 points) receive a free 1 TB upgrade on Google Drive.
And finally, Level 5 users (500+ points) will be invited to attend Google's inaugural summit in 2016 where they'll be able to meet other Guides, tour the Google campus, and learn more about Maps.
After joining the Guides program, you'll be able to track your points, current level and to-do list, in the Google Maps app directly. Here, you'll also be able to see how many views your photos receive, in case you're doing all this for the ego boost and warm fuzzies, and not the prizes.
The expansion is a smart move for Google. Its Google Maps application is one of the most-downloaded mobile apps in the world, where it maintains a top 10 or top 15 position on the iOS and Android app stores. By turning a portion of its over a billion users into Maps editors and contributors, Google has the potential to collect a massive amount of business information without relying on the businesses themselves to take charge of their own profiles. For now, Google is still working to collect the basics, but over time, it could use this system to ask other questions as well as well as perform additional analysis on top of the data it receives.
However, the challenge for Google going forward is to make sure that the contributed information remains quality and is accurate, which can be harder to do when you invite anyone and everyone to participate. With better benefits like free Google Drive storage and the chance to win devices, users may be tempted to make edits just to earn points, even when they weren't necessary. Google hasn't said how it will handle data verification, only thatthose who submit false or misleading information could be banned from the program.