What's better than one new Nexus smartphone? Two, if you're Google.
The Mountain View, California-based tech giant on Tuesday unveiled a pair of phones: the Nexus 5X from LG and the Nexus 6P from Huawei. The devices were shown off at a Google event in San Francisco.
Both the Nexus 5X, which starts at $349 (£339, AU$659), and the Nexus 6P, which starts at $499 (£449, AU$899), are available for early order today but won't ship until October.
Though Nexus smartphones have never been blockbusters, they're critical in promoting Google's Android operating system, mobile software that powers more than 80 percent of the world's smartphones and tablets. Each Nexus smartphone launches with the latest version of Android and serves as an example of the software's latest and greatest capabilities.
The Nexus brand holds sway with Android enthusiasts, who believe the devices run the purest version of the software, free of extra bells and whistles from handset vendors and wireless carriers. Creating a Nexus smartphone for Google is a boon for vendors like Huawei because they share in the buzz that surrounds a high-profile product.
The smartphones will be the standard-bearers for Android 6.0, also known as Marshmallow. There's typically a lag between when the Nexus phones appear and when other mainstream smartphones, including Samsung's Galaxy Note 5, LG's G4 or HTC's One M8, get the latest software. In addition to coming preinstalled on the new Nexus 5X and 6P, Android 6.0 will start rolling out to other Nexus phones as an update next week. The new version of the operating system includes Google's Android Pay mobile payment technology, improved privacy and power-saving features, and the new personal-assistant feature Google Now on Tap.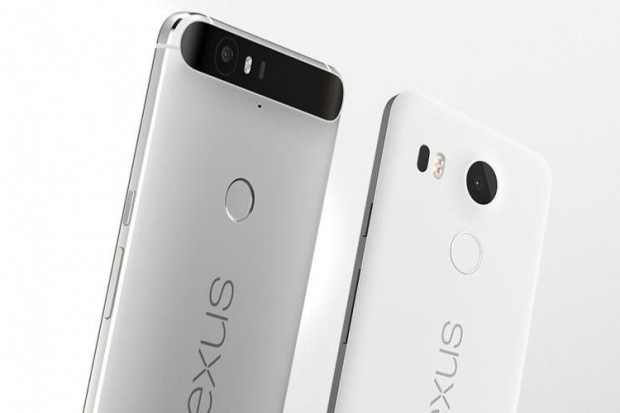 Google typically builds a Nexus device in partnership with a major smartphone or tablet vendor, in the past working with the likes of Samsung, Motorola and HTC. This year, it's Huawei's and LG's turn.
New features
Both the Nexus 5X and Nexus 6P get a fingerprint sensor on the back of the device. Google calls it "Nexus Imprint," and it works with Android Pay, a service that lets you pay at the register with your phone, akin to Apple Pay.
The handsets also get upgraded 12.3-megapixel rear-facing cameras, which can shoot better photos indoors, record super-high-resolution 4K video, and create animated GIFs, similar to Apple's Live Photos feature. As for front-facing cameras, the Nexus 6P gets an 8MP version, the Nexus 5X a 5MP device.
Each phone also comes with a 64-bit Qualcomm processor, as well as the new USB Type-C input, a thinner and faster way to connect to a power outlet or computer for data transfers. And both phones will be available on Google's Project Fi wireless service, which combines Wi-Fi and cellular signals from multiple carriers to ensure your phone a constant data connection.
The Nexus 6P has a metal body and a 5.7-inch display. The slimmer body gives the larger-screened device the svelte feel of a 5.5-inch phone, said Dave Burke, a vice president of engineering for Android.
"You get an amazingly immersive experience without the phone feeling too big," Burke said.
The Nexus 5X, meanwhile, is the spiritual successor to the Nexus 5, a phone loved by Android fans because of its mix of affordability and quality. It will come in carbon black, quartz white and ice blue. The Nexus 6P will come in graphite (which looks black), frost white and aluminum (silver).
Both smartphones are available today for preorder at the Google store in the US, UK, Ireland and Japan. The phones will come with a 90-day free subscription to Google Play Music. Also available is Nexus Protect, a warranty covering two years of mechanical breakdowns or accidental damage. It costs $69 for the Nexus 5X and $89 for the Nexus 6P.
A prize for partners
For Huawei, a partnership with Google could go a long way toward building up the Chinese vendor's credibility in the smartphone world. The company has produced a number of high-end smartphones, such as the Ascend Mate S, but few have made it into mature markets such as the US.
Instead, Huawei's brand is synonymous with low-end phones in the states. The company has attempted to build its brand by selling its higher-end smartphones directly to consumers in the US, but it's up against a lot of marketing noise from other vendors. The buzz associated with a Nexus smartphone could help Huawei win some new fans, or at least get folks to properly pronounce its name.
It's a strategy that helped LG. The company, which perennially plays second fiddle to Samsung at home in South Korea, used its Nexus smartphones as a springboard to elevate its own family of products. Its flagship G4 smartphone is considered a competitive premium product, though its sales aren't in the realm of Apple's, or even Samsung's.  Last year with the Nexus 6, Google introduced its first big-screen phone, known as a phablet because it shares the traits of a phone and tablet. Built by Motorola, the device had a 5.96-inch display.   But the Nexus 6 didn't resonate with consumers like its predecessors, the Nexus 5 and Nexus 4, both built by LG. That was partly because of the large screen size, analysts said. Google also broke from its focus on affordability with the device's initial retail price of $649, in line with the typical premium smartphone. The Nexus 5 had sold for $349.  Google has to be hoping for better from its new Nexus smartphones.