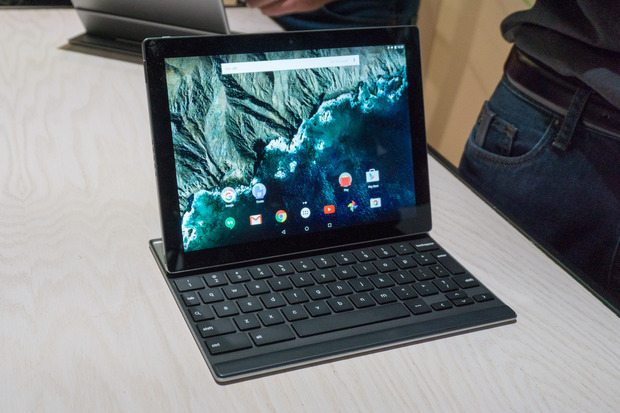 Google's new tablet isn't a Nexus, and it's ready for serious work. But will that keyboard suffice?
Android is ready for work. Google's productivity apps (Docs, Sheets, Slides, Keep) have been polished and refined, and Microsoft's Office suite has never been better. But despite a flood of cheap Android tablets, and business tablets, and some experiments with Android convertables over the years, Android tablets have never made inroads as serious productivity machines.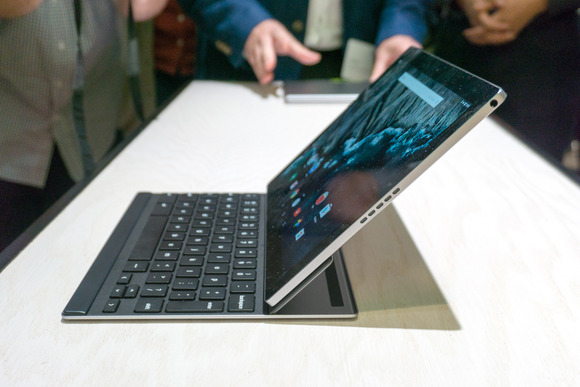 The Pixel C's magnetically-attached keyboard cover is tougher than it looks.
Enter the Pixel C. The latest hardware out of Google's Pixel division doesn't run Chrome OS, it runs Android. But it's not a Nexus—it's not built by a third-party hardware partner as a means of providing a development platform for the Android OS. It's a Pixel, entirely built by Google to provide an "aspirational" example of what products based on Google's technology can be.
Lots of power in an aluminum shell
Just as the Chromebook Pixel is one of the most powerful Chromebooks you can buy, the Pixel C is bound to be one of the most powerful Android tablets on the market. It's powered by an Nividia Tegra X1 chip with 3GB of RAM, the same as you'll find in the Shield TV console. It's got a 10.2-inch display with a resolution of 2560×1800. That's an odd aspect ratio for a tablet or laptop; it follows the square-root-of-two ratio of A-series paper.
Google was proud of the display's brightness of 500 nits, and it did indeed look bright and easy to read, though the demo room I tried it in is no analog for the outdoor sun. Color reproduction looked great, too. Performance was as fast as you'd expect of a stock Android device with such a high-end processor: Everything popped open in a flash, and scrolling was always buttery-smooth.
The tablet is sheathed in anodized aluminum, just like the Chromebook Pixel laptops. It has that same clean, simple aesthetic without the squared-off corners. It's reasonably light at about one pound, but it still felt heavier than most other premium tablets on the market these days. Packed inside is a sizable 34 watt-hour battery that Google says will last over 10 hours.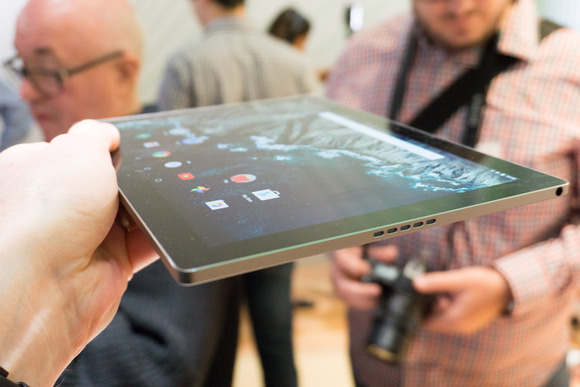 I wish the tablet portion of the Pixel C was a bit thinner and lighter, but all that battery has to go somewhere.
Judged purely as an Android tablet, it earns high marks. It feels rock-solid (if heavy) in the hands, it has an attractive display, and performance is fantastic. At $499 for the 32GB version and $599 for the 64GB model, it seems like a solid high-end tablet. If I didn't know any better, I would call it the "Nexus 10."
I would wish for it to be considerably thinner and lighter, though. The latest iPads and Samsung Galaxy Tab S tablets have spoiled me. It's a bit too large and heavy to hold in one hand while reading a book, but would make a great "rest it on your lap" tablet.
A keyboard that is cut, not cramped
But resting it on your lap isn't the use case Google has in mind. Google wants you to slap on a keyboard and use it like a laptop/tablet hybrid. You know, just like a Surface Pro or that new iPad Pro, only without the stylus.
The Pixel C keyboard will set you back an additional $149. It's such an important part of the experience that it seems sacrilegious to buy one without it. It magnetically snaps to the front of the tablet to protect it in your bag, or to the back so you have a place to stow it when using the Pixel C as a pure tablet. But let the strong magnets latch onto the wide hinged lever on the back and you can type away while holding the tablet up at angles from 100 to 135 degrees. (You can also snap it completely flat.)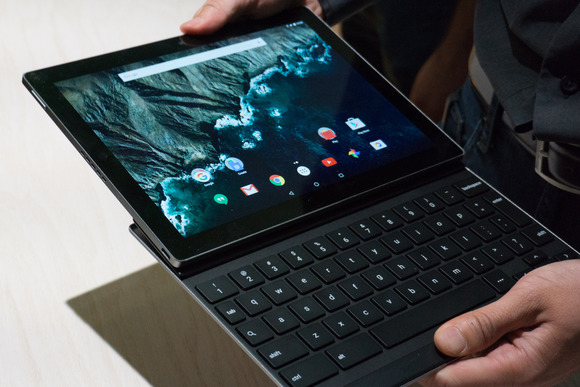 The magnetic latch works great. It's strong and simple, and works just as you'd expect it to. The keyboard itself is a different story. You can't fit a full-size keyboard on this thing without making a few sacrifices. Rather than make all the keys smaller, Google just removed some, and trimmed back others. The result is a keyboard with nearly full-size letter keys, but with some infrequently-used symbol keys missing (you'd tap the screen to select them), while other keys around the periphery have been trimmed back. The apostrophe key is skinny, and the Enter key is tall and narrow. The Tab key, usually 1.5 keys wide, is half that width.
The result is a keyboard that is easy to type on, until it isn't. The keys have good travel and bounce, with clicky tactile feedback. Once I got adjusted, I could type away as I do on my laptop. Until I had to type an apostrophe, press Enter, or hit Tab, that is. Pinky fingers are short on dexterity and precision, hence the wide keys at the edge of your keyboard. By making those keys smaller than the letter keys, instead of bigger, Google introduced an annoying number of errors in my brief typing test. Perhaps a little practice would eliminate them, but who wants a keyboard you have to retrain yourself how to use?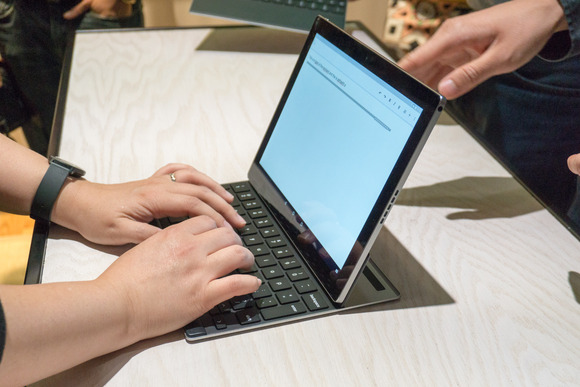 The keyboard pulls off a few other neat tricks. It connects via Bluetooth, but intelligently disconnects when the tablet isn't docked to avoid unnecessary connections from the other end of the room when you're using just the tablet. It has its own integrated battery, but it charges from the tablet via induction. As long as you stow the tablet and keyboard together, you'll probably never need to charge the keyboard at all.
Charging, mics, and speakers
Speaking of charging, Google wasn't able to provide charging performance numbers, but said the USB 3.0 Type-C port on the Pixel C can deliver a lot of power and charge the tablet up quickly.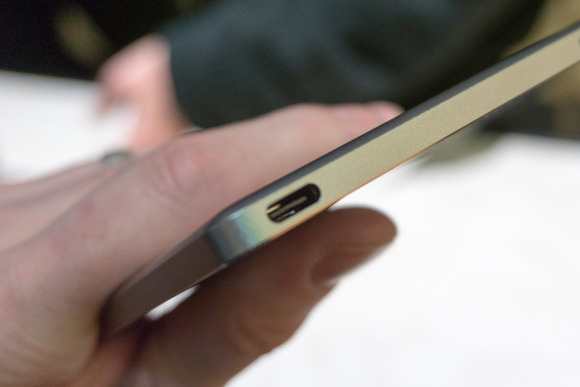 A phone is usually within arm's reach, and not far from your mouth. But a tablet, especially with a keyboard attached, often sits on a desk a few feet away. So Google placed four microphones in an array across the tablet's top edge, so you can "OK Google" from across the room. Gamers and media lovers will be happy to hear that the Pixel C has stereo speakers, though I didn't really get a chance to hear how they sound in the crowded demo area.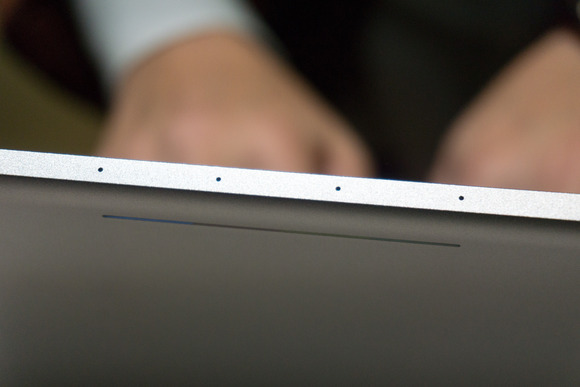 A four-microphone array should make "OK Google" reliable when you yell at your tablet from across the room.
The Pixel C is an elegant and well-crafted convertible tablet/laptop. Its entry-level price of $650 (assuming you also get the keyboard) is perfectly reasonable when compared against the Surface Pro or iPad Pro.
The choice to use Android here is wise. The plethora of native Android apps, particularly business apps like Office, makes a lot more sense for tablet aimed at productivity. ChromeOS can't do nearly as much without a keyboard. In many ways, the app ecosystem of Android instantly makes this far more useful than a Chromebook Pixel laptop.
Everyone wants to know how the Pixel C  compares to the recently announced iPad Pro or the imminently expected Surface Pro 4? Neither of these convertibles is on the market yet, and the Pixel C isn't due until later in the year either, so there's nothing to compare yet. Anyone looking for a high-end tablet that you can slap a keyboard on and get some work done, however, will have better choices than ever this fall, no matter which ecosystem you prefer—Android, iOS, or Windows.