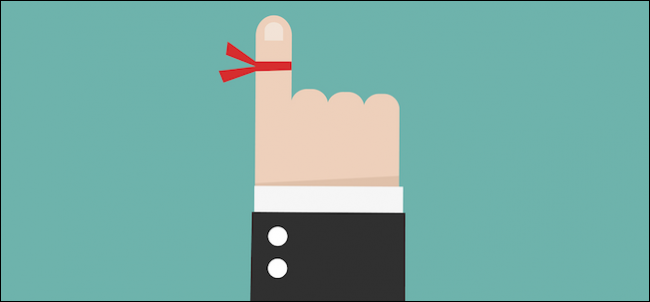 Macs and iPhones (iPads too) come with a fantastic Reminders app that automatically syncs through iCloud. Here's how to make the most of this app so you're never likely to forget something important again.
The Reminders app is super simple to use and because it syncs across both OS X and iOS platforms, if you add a reminder on your Mac, you'll be able to see it on your iPhone or iPad, and vice-versa. It seamlessly syncs everything to iCloud so you never need to replicate your efforts.
This is especially nice when you suddenly remember you need to buy milk or there's an important meeting coming up and you're sitting in front of your Mac or have your iPhone in hand. Simply add the reminder to the device and then it will be on everything that is connected to the same iCloud account.
Today, we want to take a look at Reminders on Mac and iPhone, show you how to add, edit, and share them, as well as make sure you've got everything set up so it all syncs properly.
Reminders on Mac
Reminders is already installed on your Mac so you just need to fire it up and add a few things to get started.
The Reminders app is laid out in two columns. The left column shows you your lists. Note that it says 'iCloud" at the top of your lists, meaning that anything there will be synced to iCloud.
The right column contains the contents of your lists. To add anything to a list, simply click the "+" in the upper-right corner, or click on a new line.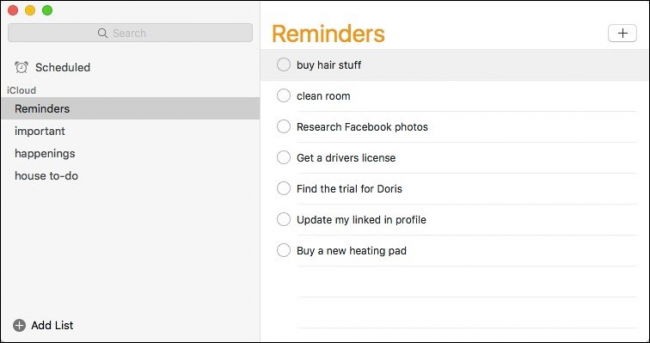 To edit a reminder, click on the text so you get a cursor, and you can then fix it if it so appears as you want.
Click on the little "i" symbol to access things like when you want the reminder to alert you and when, or whether it should repeat, and when it should end. You can also set the priority, and add any notes you find pertinent.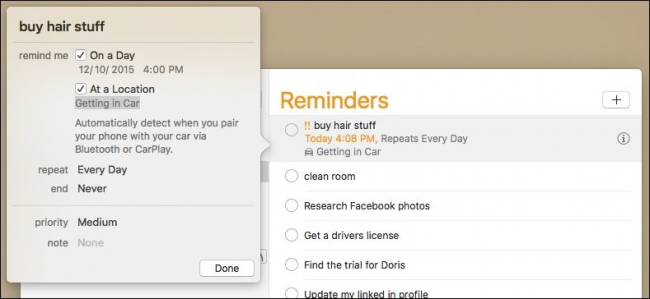 If you right-click on a list, you can, among other things, rename it, delete it, and "complete" all the reminders within it.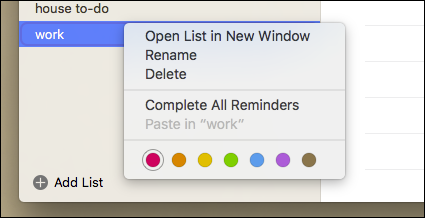 To start a new list, simply click the "Add List" button at the bottom-left corner and then give it a name.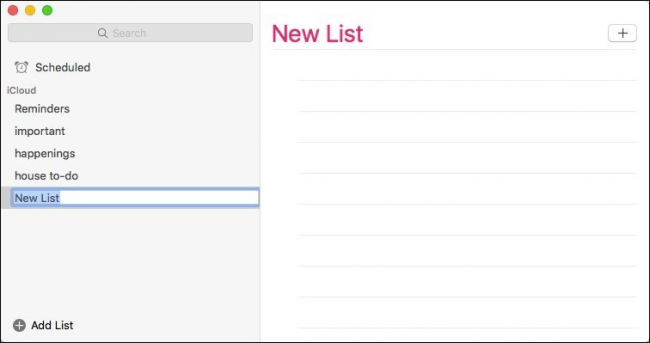 If you want to share a list, then you will need to click the little icon to the right of the list as shown in the screenshot below. Then you can add people with whom you want to share it. When you've added everyone, click "Done".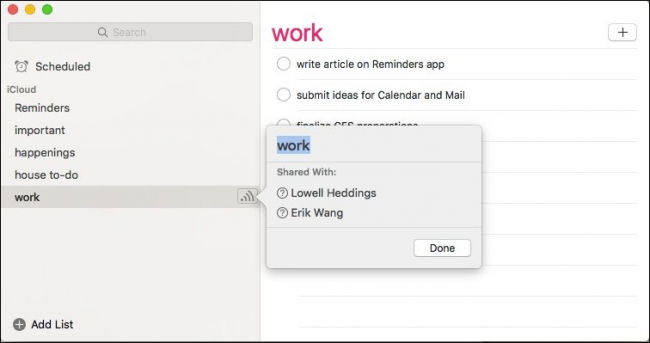 As we mentioned, everything contained in these lists will then be synced to iCloud so you can then see them on your iPhone or iPad. Let's now move on and discuss how Reminders works on the iPhone.
Reminders on iPhone
Usually when you open the Reminders app, you will probably see one of your lists. In order to access your other lists, you will need to tap at the bottom where you see them stacked (under where it says "Show Completed").

When you see your lists, it will show how many reminders are in each one, whether there are any that are overdue, and so forth. If you want to rearrange the order or your lists, tap, hold, and drag it to the location you desire.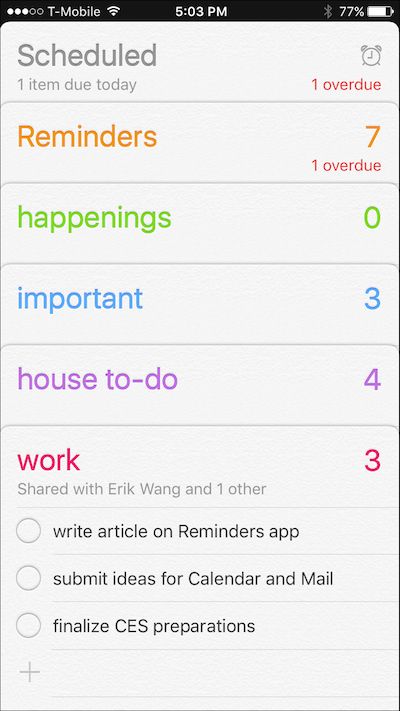 When you open a list, you'll see it's contents, and you can then add to it by tapping the "+". When you tap the "Edit" button, you can change the list's color and share it just as you can share in OS X.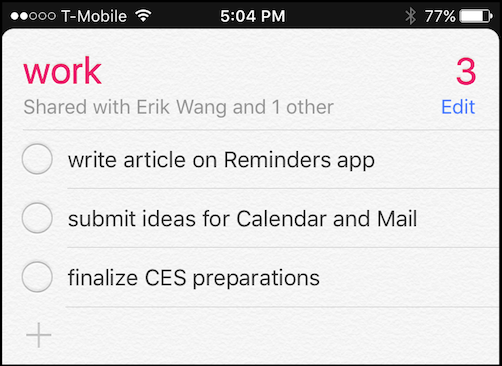 The "Share with…" screen will show you who you are sharing a list with and their status. If you tap on a name, you will be able to see their contact info and you can also elect to stop sharing with them.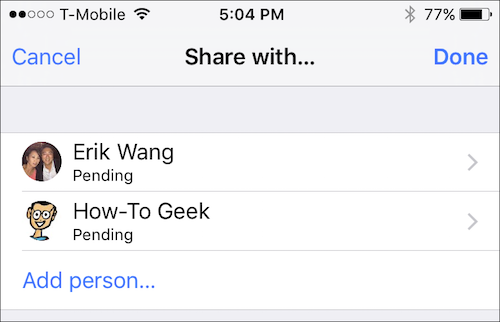 Finally, if you want to adjust how reminders sync and which list is the default, then you can open up the Reminders settings and change things.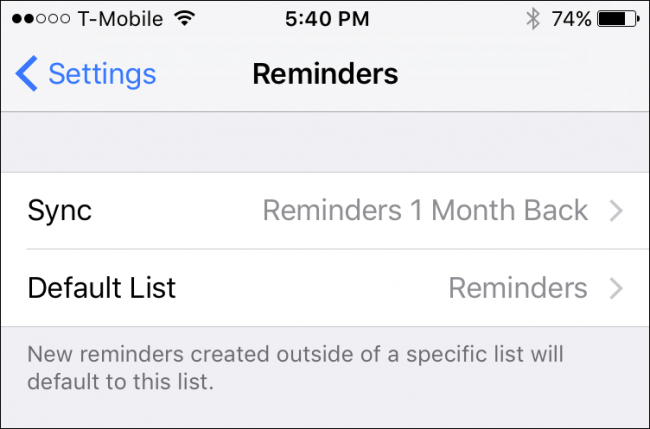 In addition to getting reminders on your Mac, iPhone, and iPad, you may also get reminder notifications on your Apple Watch. Let us take a moment then to discuss how to change your reminder notification preferences.
Adjusting Reminders on Apple Watch
To adjust how Reminders notify you on Apple Watch, open the Watch app on your iPhone and tap open "Notifications", then tap open "Reminders".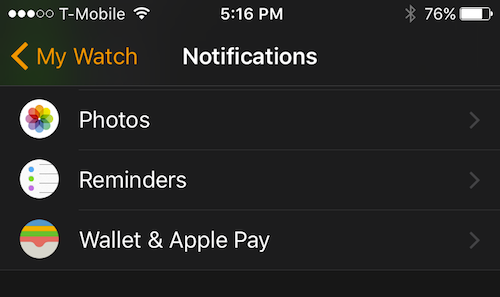 Now you can select how Reminders will notify you, either by mirroring your iPhone or setting up a custom design.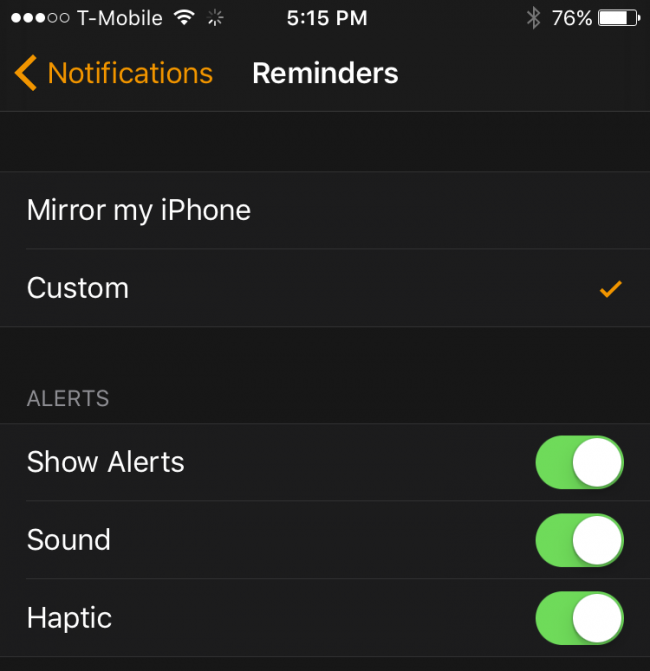 If you elect to go the custom route, you can choose whether your Watch shows you alerts, have sounds, and if there's any haptic feedback.
Making Sure it Syncs
None of this syncing stuff does you any good if it isn't actually working, which means that if you create a reminder list on your Mac and it doesn't appear on your iPhone or vice-versa, then you might not have syncing correctly enabled.
To check your Mac's sync settings, first open up the iCloud system preferences and make sure "Reminders" is checked.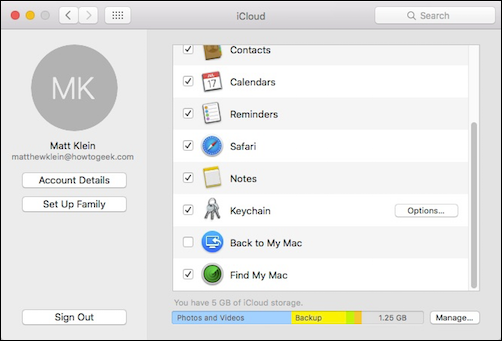 On your iPhone or iPad, open the Settings, and then tap open "iCloud" and make sure "Reminders" is enabled.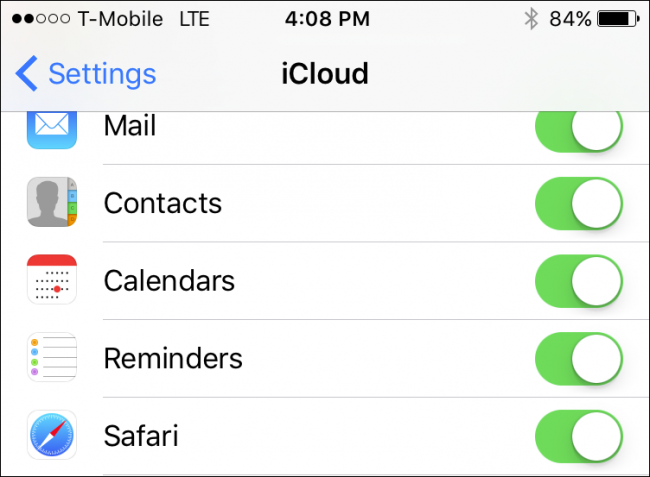 The other thing you need to ensure is that your Mac and your iOS device are logged into the same iCloud account. Obviously, if you are syncing to separate accounts, then nothing will work as intended.
With that said, you should be able to start creating to-do, shopping, grocery, and other important reminder lists. Now, next time you're out and about, you can whip out your iPhone and check to make sure you're remembering everything.
Don't forget, you can also have Siri add stuff to your reminders lists such as "Hey Siri, remind me tomorrow to pick up my dry cleaning" or "Hey Siri, add grapes to my grocery list." Siri is helpful in that regard with a lot of things and it really pays to learn how to use it.
We hope you found this article helpful, if you have any questions or comments you might like to contribute, we hope you will leave them in our discussion forum.