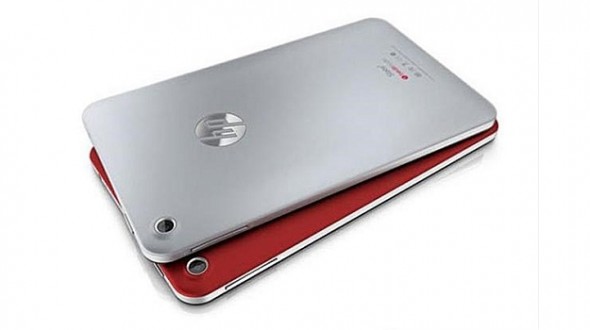 HP is busy cooking up another Android device, and this one could be a real beast. Based on the name alone, you'd figure that the HP Slate 17 is going to be a 17-inch tablet — and an early GFX Bench result seems to back that up.
That's about the same size as two of the company's Slate 8 tablets (pictured above) laid side-by-side, though it's not their biggest Android device. They already make the Slate 21, which is one of those odd "portable" all-in-ones that weighs 10.5 pounds.
The GFX Bench entry does, of course, include some basic specs for the Slate 17 — but there's no way to guarantee that they're accurate at this point. What's listed sounds pretty decent, though: a dual-core Intel Bay Trail Celeron processor, 2GB of RAM, 1080p display, and 25GB of storage (likely 32GB total with 25GB left available to the user). As is always the case with early benchmarks, it's important to remember that the specs could be for a pre-production device or may even be spoofed.
So what plans does HP have in mind for a screen this size?  By today's standards 17.2″ is a bit on the small side for a desktop display. There aren't many big-name manufacturers turning out monitors that size any more, unless they're USB-powered. A tablet with some sort of integrated kickstand is a good possibility, or it could also be a hybrid device. Asus has had plenty of success with the Transformer line, and there are bound to be more than a few consumers out there that would like to buy a similar device with a larger display.
What are your thoughts on a 17-inch Android tablet? Ridiculous? Or would you love to get your hands on one at the right price?