As Intel (and other chip makers) have been able to shrink its processors, integrate more features, and reduce power requirements over the years, manufacturers have been able to fit them into smaller and smaller form factors. That means notebooks and tablets have gotten thinner, lighter, faster and more portable over the years, of course, but it also means that desktop systems no longer need to be big boxes crammed with numerous components and cooling hardware.
In some ways, Intel's NUC series of products are the epitome of this dynamic. Intel's NUC systems are ultra-small form factor systems that pack almost all of the features of a full sized desktop, but with minimal expansion options.
Intel recently released its latest generation of NUC small form factor systems, based on the company's low-power Broadwell-U series processors. The primary advantages of Intel's 5th Generation Core Series Broadwell-U-based processors are better performance-per-watt, stronger integrated graphics, and a smaller footprint, all things that are perfectly suited to the NUC (Next Unit of Computing) products.
We got our hands on a Core i5-powered version dubbed the NUC5i5RYK. To be more specific, this little machine is packing a Core i5-5250U processor with on-die Intel HD 6000 series graphics. The system also sports built-in 802.11ac Wi-Fi, Gigabit Ethernet, USB 3.0 and USB 2.0, M.2 SSD support, and a host of other features. The machines full specifications are listed below…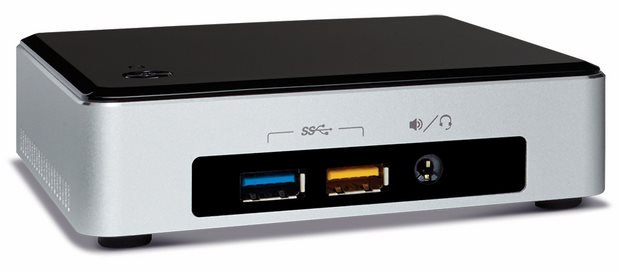 Intel NUC5i5RYK Small Form Factor System
Specifications & Features
Processor

Intel 5th Generation Core i5-5250U (1.6 GHz up to 2.7 GHz Turbo, Dual Core , 3 MB Cache, 15W TDP)

Memory

Dual-channel DDR3L SODIMMs
1.35V, 1333/1600/1866 MHz, 16GB maximum

Graphics

Intel HD Graphics 6000
1 x mini HDMI 1.4a
1 x mini DisplayPort 1.2

Audio

Up to 7.1 surround audio via Mini HDMI and Mini DisplayPort
Headphone/Microphone jack on the front panel

Peripheral Connectivity

2 x USB 3.0 ports on the back panel
2 x USB 3.0 ports on the front panel (1 x charging capable)
2 x Internal USB 2.0 via header
Consumer Infrared sensor on the front panel

Storage

Internal support for M.2 SSD card (22×42, 22×60, or 22×80)

Networking

Intel 10/100/1000Mbps Network Connection
Intel Wireless-AC 7265 M.2 soldered-down, wireless antennas (IEEE 802.11ac, Bluetooth* 4, Intel® Wireless Display)

Enclosure

Silver with Black Top and Diamond Cut around the Top
Aluminum and Plastic
Dimensions : 115mm x 111mm x 32.7mm

Power Adapter

19V, 65W wall-mount AC-DC power adapter
Multi-country plugs (IEC types A/C/G/I)

Additional Features

Support for user-replaceable 3rd party lids
NFC and AUX_PWR headers
OS certs: Windows 8 & 8.1 Logo
VESA mount bracket and mounting hole support
Low-acoustics active cooling design
Kensington lock support
Integration Guide
12-19V DC Power Input
3-year Advanced Warranty Replacement

Price

$399 (approx.) – Find It At Amazon.com
---
The NUC5i5RYK's specifications read like a cutting-edge mobile PC. There's a 5th-gen CPU inside the box, support for dual-channel memory, M.2 SSDs, 802.1ac and Gigabit networking, USB 3.0, and various other connectivity options, including Bluetooth. Where these tiny machines fall short of full-sized systems is in the expandability department—if it doesn't fit in the 115mm x 111mm x 32.7mm enclosure, it must be plugged in externally into one of the available IO ports, like USB.