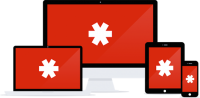 LastPass has finally expanded from your browser and your iOS device onto your desktop with its newnative app in the Mac App Store. The app brings all of the power of the mobile app to your computer, from password storage to form-filling and secure note sending. If you have already been using the LastPass browser plugins, the presence of a native, offline-capable Mac app provides some parity with the "big kahuna" password manager on the platform, the popular 1Password.
By connecting with your LastPass account, the app allows you to seamlessly share data and passwords between all your computers and browsers; while iCloud Keychain does a fine job between OS X and iOS for Safari, it certainly won't play nicely with browsers like Chrome or Firefox, or Android and Windows devices. LastPass, by contrast, is enthusiastically cross-platform, with editions for Internet Explorer on Windows, browsers on Linux, the Opera browser and even the Blackberry. It's also popular with enterprise IT departments, where it's possible to administer the app centrally and enforce baseline security requirements.
The Mac app for LastPass includes some special features, like a security challenge tool and a password generator to help you come up with a secure and obscure password (thereby avoiding the shame and general ridicule of seeing your password on a very special list). It allows you to add new passwords and sites to your account quickly and easily. Like the browser plugins, the Mac app syncs with the contents of your online password vault, so you can easily access your key security information wherever you are.
The app doesn't charge you for installation, but for $11.99 per year the Premium subscription to LastPass includes unlimited mobile access (with offline caching), family folders for shared logins, and multifactor authentication options. Setting up a LastPass account is easy and free.