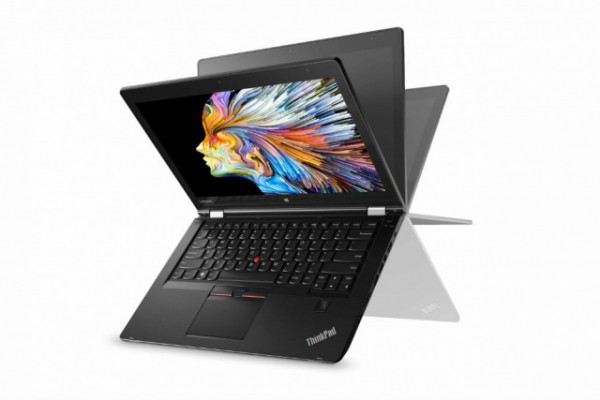 As more users find themselves in need of the serious computing power of a workstation, Lenovo is responding by presenting even more options for professional, workhorse machines. This time around, the workstations are receiving the obligatory Skylake upgrade, as well as some display and form factor upgrades to chew on.
First up is the ThinkPad P40 Yoga. This creative device achieves a hybrid status through the use of a 360-degree hinge and a high-resolution 2,560 x 1,440 IPS touchscreen with 2,048 pressure sensitivity levels – twice as many as the 3,000 x 2,000 display in the Microsoft Surface Book. Despite its portable and convertible form factor, it's still a mobile workstation, so under the hood is a Skylake Core i7 and an Nvidia Quadro m500m with 2GB of VRAM.
The other two machines are a bit more routine in their updates. The ThinkPad P50s completes the top end of the Thinkpad P series mobile workstations, with the same sixth generation Core i7 chip availability. The display measures up to a full 3K IPS, and a hot-swappable battery means you don't ever have to stop working, unless you want to. Even if you don't have spare battery the system can last more than two work days, as Lenovo quotes 17 hours of endurance with the largest optional units.
Finally, the ThinkStation P310 is the Skylake update to the entry-level P300S desktop workstation. It's available with Skylake Core i3, i5, or i7 chips, as well as the Xeon E3-1200v5, plus choice of Nvidia Quadro GPUs. If that doesn't get your engine going, there's support for Samsung M.2 drives with NVMe SSDs, plus 64GB of RAM.
Things look even brighter when it comes to price. The ThinkPad P40 Yoga starts at just $1,399, while the ThinkPad P50s starts at $1,299. If the desktop seems more appropriate, it starts at just $729, a downright bargain for a workstation, depending on what that configuration looks like. All three of the new workstations will be available starting in Q1 of 2016, but their earlier counterparts are already available directly from Lenovo.