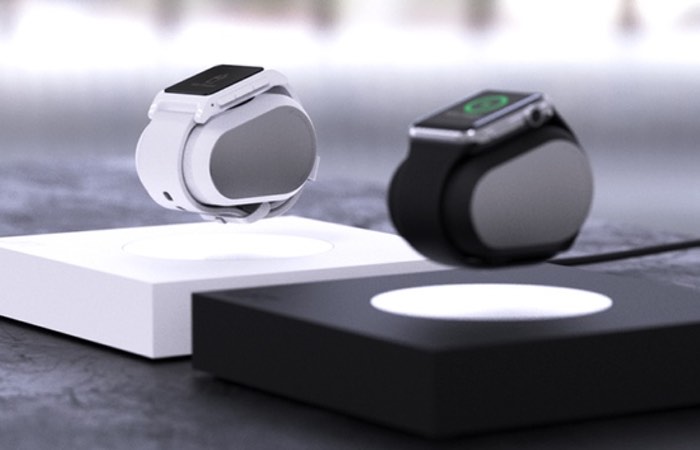 Levitation Works has this week unveiled a very unique smartwatch charger they have created, in the form of the LIFT. Which allows your smartwatch to magically hover above the charging pad.
Check out the video below to learn more about this unique smartwatch charging pad that uses magnetic technology to suspend your Apple Watch or Pebble smartwatch in midair.

The LIFT has been launched on Kickstarter this week, and has already blasted past its required pledge goal thanks to over 244 backers, with still 15 days remaining on his campaign. LIFT is available to back with pledges starting from just $149 for early bird backers. Levitation Works explains more about the unique smartwatch chargers design and features.
Introducing Lift, the only smartwatch charger that levitates in mid air while it charges. Simply place your Pebble or Apple Watch over the charging base and watch it magically levitate in mid air, all while charging via its revolutionary induction system. When it's not charging your watch, it transforms into a beautiful smart lamp.

How did we do it? Our proprietary induction system is inspired by Tesla's original ideas around transferring electricity through the ether. We took this radical concept and adapted it to be able to transfer power while magically levitating in space without the need for any wires.

Being heavily influenced by Apple, Porsche Design and simple minimalism, we have designed the Lift to show off your smartwatch and take it to a whole new level. Obsessive attention to detail, reducing superfluous details and the simplest user interface ever, Lift will be a beautiful desktop companion and talking piece for years to come.

We use only the highest standards of craftsmanship; so Lift will be a perfect match for your smartwatch in terms of quality, finishes, fit and feel. We have chosen the materials not only for their beauty, but also for their function and performance. High quality machined aluminum reinforces the main housings and structural points. It is the ideal material to achieve the finest tolerances. We have also used medical grade ceramics for the induction system. Ceramic is ideal for its non-conductive properties as well as its extremely precise tolerances. With a completely innovative materials approach to consumer electronics, this product will be the first of its kind.
For more information on the new LIFT smartwatch charger jump over to the Kickstarter website for details and to make a pledge by following the link below.