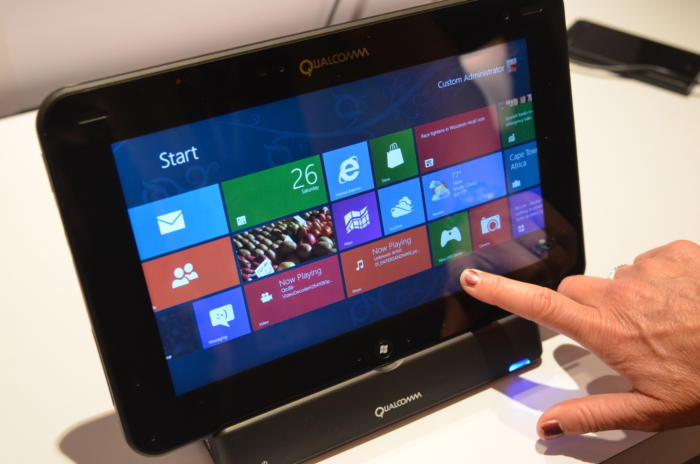 Windows RT tried, and failed, to deliver a full-fledged Windows environment on top of anemic ARM microprocessors. Now, Microsoft is trying again, with two major improvements: compatibility with the mainstream Win32 apps that PC users have enjoyed for years, and a new generation of powerful ARM chips to run them.
At its Windows Hardware Engineering (WinHEC) conference in Shenzhen, China, Microsoft said Thursday morning that it's partnered with Qualcomm to enable new, low-cost PCs. These are intended to replace Windows tablets built around Intel's Atom, a chip the company's essentially discontinued.
Traditional Windows apps can only run on X86 chips, not ARM—thus, the failed Windows RT. To get around this, Qualcomm (and only Qualcomm) is working with Microsoft to emulate X86 instructions, the companies said.
Why this matters: Though the PC may be in decline, two growth segments have been low-cost (priced between $200 and $300) and two-in-one laptops. This announcement promises that upcoming Qualcomm chips will have the chops to handle that kind of hardware, run apps like Photoshop, run efficiently on battery, and ship at consumer-friendly price points. This has us slavering for a shootout between Qualcomm and Intel's Core m—which sounds like it will happen in less than a year's time.
Finally, backward compatibility!
Sources at Microsoft and Qualcomm say the partnership is designed around the Qualcomm Snapdragon 835, a chip that's in production now and is due to ship in the first half of 2017, according to Qualcomm. The first Windows-on-ARM PCs are expected by the second half of next year.
For now, Microsoft is thinking of the Windows-on-ARM relationship strictly in terms of enabling a new class of mobile PCs with superior battery life. But backward compatibility with Windows has also been a Holy Grail of sorts for fans of Windows phones, and reopens the door for a phone that could run traditional Windows apps.
Windows RT, which shipped with the original Surface (and tablets powered by Qualcomm Snapdragon processors) never managed to escape the parched hinterlands of Microsoft's universal apps. Neither has Windows Mobile (with the exception of HP's Elite x3, which runs Win32 apps in a cloud-based environment). That's led to some frustration within the Windows community as Microsoft attempted to connect its various platforms. Ironically, Terry Myerson, who's expected to introduce the new Windows-on-ARM partnership in Shenzhen, actually seemed to tip his handin late October about Microsoft's new plans. (So did an earlier Microsoft job listing, too.)
"Technically, there are really two things that are unique about Windows Mobile," Myerson said, when ZDNet reporter Mary Jo Foley asked him about the future of its Windows Mobile operating system. "One is cellular connectivity and the other one is the ARM processors that are there."
"So we're going to continue to invest in ARM and cellular," Myerson continued. "And while I'm not saying what type of device, I think we'll see devices there, Windows devices, that use ARM chips. I think we'll see devices that have cellular connectivity." (Microsoft is also expected to announce today that it will begin selling cellular plans for WWAN-connected PCs through the Windows Store.)
The new Qualcomm-powered PCs will be able to join corporate domains, making them more than just consumer devices. The message is clear: The line between Windows 10 Mobile and Windows 10 for desktop PCs is blurring—but just not how we originally thought it would.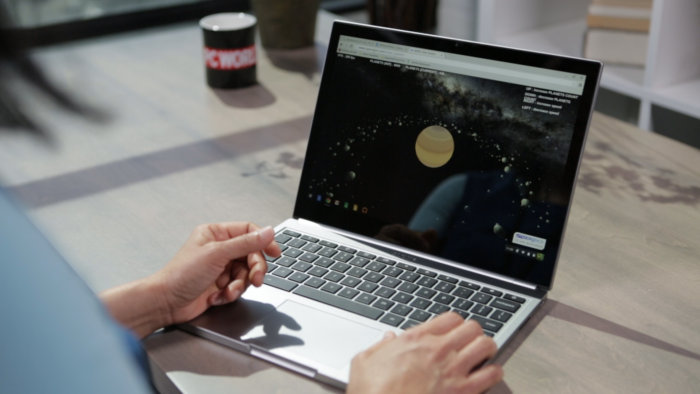 Hello again, Surface…phone?
Microsoft also isn't saying anything about the fabled Surface phone, which has been an on-again, off-again proposition for many months. The phone—which may not even be a phone—has been rumored to ship sometime next year. One of its flagship features was supposedly Win32 apps, a feature that looked increasingly doubtful when Intel killed most of its Atom chips.
In light of Myerson's earlier comments, however, the Surface phone could in fact be a small, Snapdragon-powered, cellular-connected device—not one you hold to your ear, but one you can talk to on your desk via Bluetooth or Skype.
Microsoft apparently sees Windows on ARM as a game-changing technology. But what that game actually will look like is still intriguingly hazy.