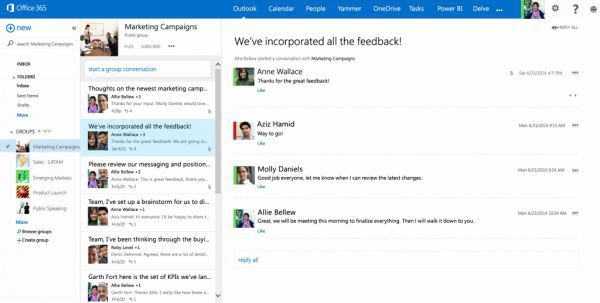 One of the most common functions that we can find within social platforms are called groups, virtual places where it invites participation of members who are part of it, either by sharing content, discussing them, etc., depending on its characteristics and possibilities depending on which social platforms are integrated. Microsoft is aware of the need for users to connect with colleagues and access to different tools, being therefore so has decided to group functionality to its Office 365 productivity suite, but the deployment will be conducted in phases , as told in his own ad.
In the first phase, the groups reach the mail and calendar as well as Office 365 OneDrive for business. In the following steps, you will reach Yammer and Lync, but has not specified any of these deployments date. Also be noted that all users will also be phased, arriving first for those customers who have opted to receive important updates Office 365 services in the first release, coming in months later to other users. The idea, in any case, is that the end of the year is available to all eligible customers of Office 365.
Users with access to group function may both create groups and invite their colleagues to join them, and also can also join other groups already created by other users. It is also possible to create private groups for projects that require it.
The rest of the release information is available in the form of frequently asked questions within the ad itself.