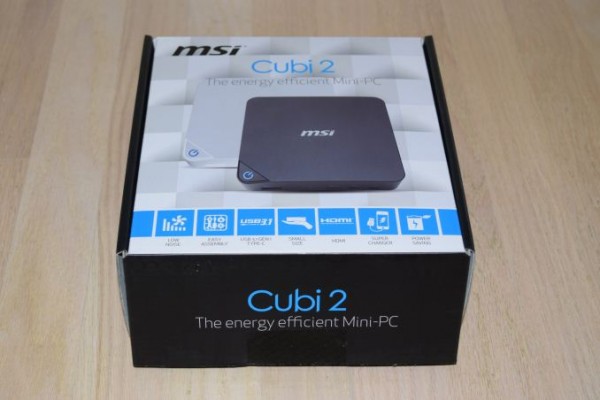 The Kaby Lake-U (KBL-U) series with 15W TDP CPUs was introduced along with the 4.5W Kaby Lake-Y ones in Q3 2016. The first set of products with Kaby Lake-U were ultrabooks. However, ultra-compact form-factor (UCFF) PCs were not long behind. There are already three vendors in the market with Kaby Lake UCFF PCs – ASRock (Beebox-S), GIGABYTE (BRIX), and MSI (Cubi 2). MSI was the first to launch KBL-U UCFF PCs in the North American market under the Cubi 2 tag. This review focuses on the build and performance of the Cubi2-005B – the KBL-U UCFF PC from MSI featuring the Core i7-7500U.
Introduction
Ultra-compact form factor (UCFF) PCs have become quite popular after Intel introduced the NUCs. They have become powerful enough to be the primary computing platform for many households. In addition to the Intel NUCs, many system vendors have come up with their own approach to UCFF PCs. These include ASRock (with the Beebox series), ECS (LIVA), GIGABYTE (BRIX), and MSI (Cubi) amongst others.
Kaby Lake-U, as per Intel's claims, is fabricated on a much more mature 14nm process and brings about a 11% improvement in performance for the same power consumption. The GPU's media engine has also been updated. On the whole, the performance improvements look good for UCFF PCs – particularly for those upgrading from the first or second-generation systems.
MSI's take on the UCFF PC market with the Cubi an Cubi 2 is interesting from two perspectives – Rather than having separate SKUs for units with / without support for 2.5″ drives (like the GIGABYTE BRIX) or compromising on the thickness of the system to include 2.5″ drives (like the ASRock Beebox), MSI allows for interchangeable bottom plates. The default one doesn't come with 2.5″ drive support and results in a system thickness of 3.7 cm (while the extension bay / thicker bottom plate version makes the system 4.9 cm thick). The extension bay is also included with the Cubi 2 package. The second aspect is that MSI is targeting the Cubi 2 towards effectiveness for the average consumer. While a M.2 NVMe SSD can do wonders in terms of performance, the reality is that the high-performance versions come in the M.2 2280 form-factor. Rather than sacrificing the size of the unit, MSI has decided only to have a M.2 2242 slot in the PC. Even though it is connected to the PCIe lanes from the PCH, we believe it is likely that consumers will be using M.2 2242 SATA SSDs in that slot, or, end up using a 2.5″ drive with the extension bay.
Similar to other UCFF PCs in the market, the Cubi 2 also comes in a version without memory or storage. The Cubi 2 can take up to two DDR4 SO-DIMMs (operating at 2133 MHz) and a 2.5″ drive and/or a M.2 2242 SATA / PCIe SSD. We completed the hardware build to result in the following specifications for our MSI Cubi2-005B review configuration.
MSI Cubi2-005B Specifications
Processor
Intel Core i7-7500U
Kaby Lake, 2C/4T, 2.7 GHz (up to 3.5 GHz), 14nm PLUS, 4MB L2, 15W TDP
Memory
Micron 16ATF1G64HZ-2G1A2 DDR4
15-15-15-36 @ 2133 MHz
2×8 GB
Graphics
Intel HD Graphics 620
Disk Drive(s)
Crucial MX200 CT500MX200SSD1
(500 GB; 2.5in SATA 6Gb/s; 16nm; MLC)
Networking
Intel Dual Band Wireless-AC 3168
(1×1 802.11ac – 433 Mbps)
1x Realtek RTL8168 Gigabit LAN
Display
1x mini-Display Port 1.2 (3840×2160 @ 60 Hz)
1x HDMI 1.4b (4096×2160 @ 24 Hz)
Audio
3.5mm Headphone Jack, 3.5mm Microphone Jack
Capable of 5.1/7.1 digital output with HD audio bitstreaming (HDMI)
Miscellaneous I/O Ports
3x USB 3.0 (Type-A)
1x USB 3.1 Gen 1 (Type-C)
Operating System
Retail unit is barebones, but we installed Windows 10 Pro x64
Pricing
$499 (barebones) / $787 (as configured)
Full Specifications
MSI Cubi2-005BUS Specifications
Buy MSI Cubi2-005B on Amazon.com
The MSI Cubi2-005B kit doesn't come with any pre-installed OS, but does come with a CD containing the drivers. In any case, we ended up installing the latest drivers downloaded off the component vendors' product support page. In addition to the main unit, the other components of the package include a 65 W (19V @ 3.42A) adapter, a US power cord, a VESA mount (along with the necessary screws), a 2.5″ drive extension bay, SATA data and power cables, user's manual and a quick-start guide.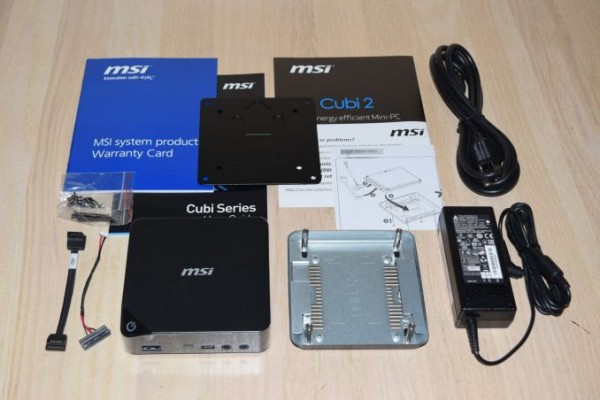 The gallery below takes us around the various chassis features.
Gallery: MSI Cubi2-005BUS Chassis Design & I/O
The PCIe lanes in our review configuration of the MSI Cubi2-005BUS are distributed as follows:
PCI-E 3.0 x2 port #3      In Use @ x1 (Realtek RTL8168 PCIe Gigabit Ethernet Adapter)
PCI-E 3.0 x1 port #4      In Use @ x1 (Intel Dual Band Wireless-AC 3168 WiFi Adapter)
PCI-E 3.0 x4 port #9      Not In Use @ x4 (M.2 NVMe Slot)
In the table below, we have an overview of the various systems that we are comparing the MSI Cubi2-005B against. Note that they may not belong to the same market segment. The relevant configuration details of the machines are provided so that readers have an understanding of why some benchmark numbers are skewed for or against the MSI Cubi2-005B when we come to those sections.
Comparative PC Configurations
Aspect
MSI Cubi2-005B
CPU
Intel Core i7-7500U
Intel Core i7-7500U
GPU
Intel HD Graphics 620
Intel HD Graphics 620
RAM
Micron 16ATF1G64HZ-2G1A2 DDR4
15-15-15-36 @ 2133 MHz
2×8 GB
Micron 16ATF1G64HZ-2G1A2 DDR4
15-15-15-36 @ 2133 MHz
2×8 GB
Storage
Crucial MX200 CT500MX200SSD1
(500 GB; 2.5in SATA 6Gb/s; 16nm; MLC)
Crucial MX200 CT500MX200SSD1
(500 GB; 2.5in SATA 6Gb/s; 16nm; MLC)
Wi-Fi
Intel Dual Band Wireless-AC 3168
(1×1 802.11ac – 433 Mbps)
Intel Dual Band Wireless-AC 3168
(1×1 802.11ac – 433 Mbps)
Price (in USD, when built)
$499 (barebones)
$787 (as configured)
$499 (barebones)
$787 (as configured)