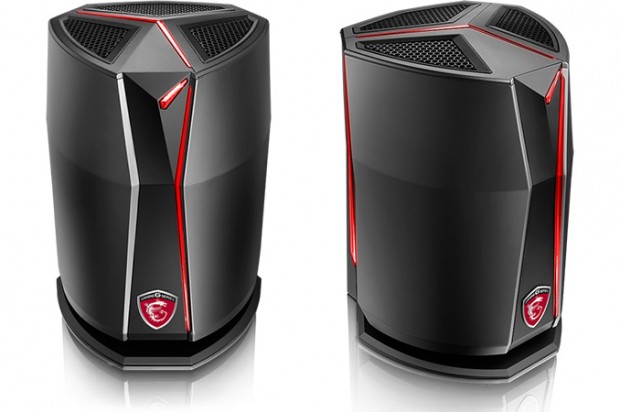 We originally laid eyes on the final design back at CES, but now MSI has begun to sell its Vortex gaming desktops in the US. The 6.5-liter systems resembles the design of Apple's Mac Pro, using a singular fan and triangular core to pack a high-end CPU along with two GPUs and a lot of memory, offering impressive performance at a premium price.
When Apple introduced its current-generation Mac Pro a little more than two years ago, the company clearly demonstrated that it was possible to build a small form-factor workstation with two professional GPUs and a multi-core Intel Xeon E5 processor with only one fan. Since then, a number of PC makers have released high-end small form factor desktops in the mini-ITX form-factor, but all of them were equipped with multiple fans and were still larger than Apple's Mac Pro, or traditionally looked like PCs such as ASUS' GR20. Last year MSI decided to take a leaf out of Apple's book and develop a gaming PC that would borrow Mac Pro's triangle arrangement of CPU and GPUs as well as round design with one blower fan. The company first demonstrated its Vortex desktop last fall and has been refining its system since then. MSI showcased near final version at CES with a heavy bent on virtual reality support, but were still tinkering with the final specifications. Now MSI is finally ready to ship the Vortex.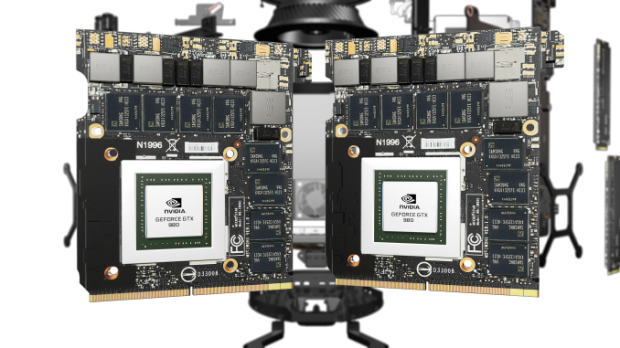 MXM Modules in play, showing Samsung GDDR5
MSI's Vortex G65 platform is based on Intel's Core i7-6700K processor as well as the Z170 chipset. With this combination, MSI will offer systems in two variants, with either two GeForce GTX 980 GPUs in SLI (the SLI-001) or GeForce GTX 960 GPUs in SLI (SLI-011). The MSI Vortex G65 systems are equipped with 32 or 16 GB of DDR4-2133 memory respectively, two 128 GB SSDs in RAID (M.2 form-factor with PCIe 3.0 x4 interface, no word on the exact models) and 1 TB HDD at 7200 RPM. The gaming machines also feature two Rivet Networks Killer Gigabit Ethernet E2400 controllers and one Killer Wireless-AC 1535 Wi-Fi controller (802.11ac) to support DoubleShot-X3 Pro as well as two Thunderbolt 3 ports (we're unsure if this is one controller or two at this point). As for external ports, the PCs have two TB 3, two DisplayPort 1.2, two HDMI 1.4 and four USB 3.0 connectors. No word on the audio codec, as the rear of the chassis only has headphone/microphone jacks. There's no word if the TB3 ports also support USB 3.1, but given that it hasn't been advertised at this time we assume not.  We can confirm that the TB3 ports do support USB 3.1.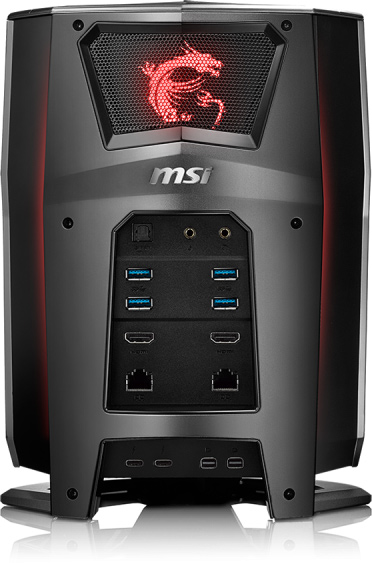 The Vortex G65 systems from MSI heavily use custom-built hardware, such as the motherboard, cooling system, power supply and so forth. Nonetheless, they still use standard Intel's LGA1151 processors, MXM graphics modules for the GPUs, PCIe SSDs, SO-DIMM modules for memory and so on, which sounds as if they can be easily upgraded at MSI select partners and retailers (in fact, select MSI's partners can even upgrade MXM modules). Still, owners should keep in mind that the PCs are equipped with 450W PSUs, perhaps indicating that the parts on offer are specially binned for the low power/voltage characteristics needed for the Vortex. The Vortex G65 platform should fully support overclocking, but given thermal and power consumption constraints, it is hard to expect the Vortex G65 to be a good overclocker, but that is a natural trade-off between performance, style and size.
Specifications of MSI Vortex G65 and Apple Mac Pro
MSI Vortex G65
SLI-011
MSI Vortex G65
SLI-002
Apple Mac Pro
CPU
Intel Core i7-6700K
Quad Core, 4.0 GHz with HT
Intel Xeon E5-1650 v2
Six Core at 3.5 GHz
PCH
Intel Z170
Intel C602/C604
RAM
4 SO-DIMM Slots
2 x 8 GB DDR4-2133
4 SO-DIMM Slots
4 x 8 GB DDR4-2133
16 GB DDR3-1866
GPU
2 x NVIDIA GeForce
GTX 960 (GTX 970M?)
3 GB
2 x NVIDIA GeForce
GTX 980 (notebook?)
8 GB
2 x AMD FirePro
D500 3 GB
SSD
SuperRaid 4
2 x 128 GB PCIe 3.0 x4 SSDs plus
256 GB PCIe
HDD
1 TB HDD with 7200 RPM spindle speed
–
LAN
2x Rivet Killer E2400 Gigabit Ethernet controllers
2x Gigabit Ethernet
WLAN
Rivet Killer Wireless-AC-1535 802.11ac
Wi-Fi + Bluetooth (2T2R) with MU-MIMO
802.11ac Wi-Fi
3-stream
PSU
450 W internal, 80 Plus Gold
DisplayPort
2 x DP 1.2
6 x TB2
HDMI
2 x HDMI 1.4
–
Thunderbolt
2 x TB3 via Type-C
6 x TB2
USB
4 x USB 3.0
2 x USB 3.1 via TB3
–
Dimensions
7.61 x 7.01 x 10.55″
6.6 x 6.6 x 9.9″
Volume
6.5 liter
unknown
Weight
8.8 lbs (4 kilograms)
11 lbs (5 kilograms)
Price
$2199
$3999
$3999
It is worth noting that there are two really interesting things here with the GPUs on offer. Firstly, the GTX 980 in 8 GB form, as far as we can tell, has not been formally announced or released by NVIDIA. So either MSI is creating its own MXM module for this as an AIB partner, or they've pre-empted an NVIDIA announcement, or the part is a GTX 980 (notebook) with 8 GB of memory, which is currently listed at OriginPC. We had feared this was the 980M, which has 25% fewer CUDA cores, but is more common in 8GB form. Using the GTX 980 (notebook) variant makes sense, with a given TDP of 145 W per card, rather than 165 W per card on the desktop variant.
Next, on the GTX 960 side: MSI puts the total VRAM at 6 GB for the SLI system, meaning 3 GB per card, which would imply a 192-bit bus. No GTX 960 variant has a 192-bit bus, nor does the GTX 960M, which means this is either a new unreleased version of the GTX 960 with an unbalanced memory allocation (which has happened before) or something more akin to a GTX 970M which does have a 192-bit bus, but they're calling it a GTX 960. It's an interesting mix of information here. We've asked for clarification.
Update from MSI: For the GTX980 SLI, this is the MXM version (not the GTX980M but the GTX980).  We are using the same graphics card as in our GT80 TITAN SLI. For the GTX960 SLI we are also using is the MXM version.  Same MXM card we are using on the GTX970M. Since this is a "desktop" product, Nvidia new naming rule will not have the "M" in there and kick down the number to 960 [and so it has the same specifications as the GTX970M as far as CUDA cores/ROPs – ed].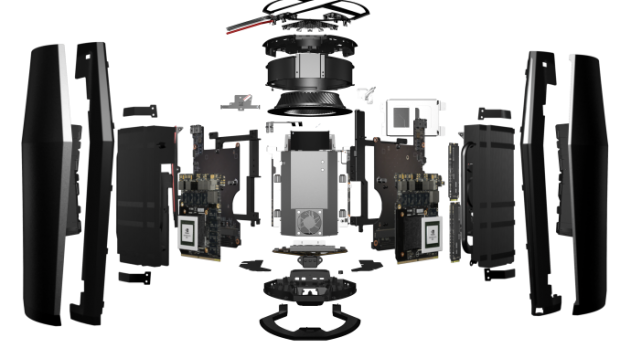 Exploded view
The MSI Vortex G65 system also comes with Dragon Center dashboard application, which allows to customize lighting of the PC case, monitor system performance, launch utilities and apps, fine-tune the system with personalized profiles and so on. Nahimic audio is also bundled in the package.
MSI positions its Vortex G65 machines as SFF PCs capable of handling virtual reality games. The two graphics adapters can drive up to four monitors (and with Thunderbolt can connect to up to six displays), hence the system can be used not only for entertainment but also for work. At present MSI does not position its Vortex for professional applications, but it should not be a problem to build a workstation-class system of similar dimensions for the company and we would imagine some top-tier customers are already inquiring.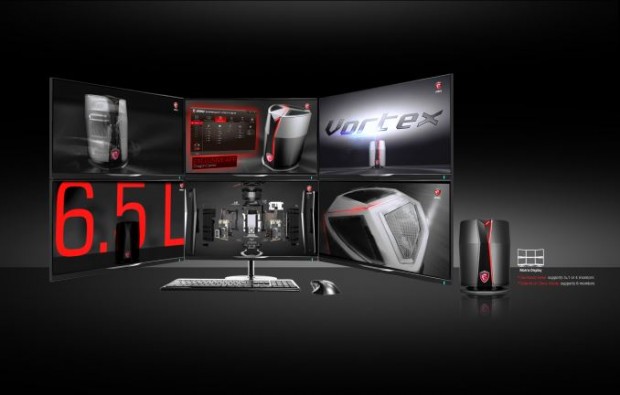 MSI charges $2199 for the Vortex G65 SLI-011 system with two GeForce GTX 960 graphics adapters. The top-of-the-range Vortex G65 SLI-002 with GTX 980 in SLI costs $3999, which is in line with the price of an advanced Apple Mac Pro.