NVIDIA just wrapped up an event in San Francisco, where the Game Developers Conference (GDC) is currently underway. The company unveiled a new Android TV streamer, game console, and supercomputer as NVIDIA's Jen Hsun Huang calls it, all wrapped up in a single, ultra-slim device—the new NVIDIA SHIELD.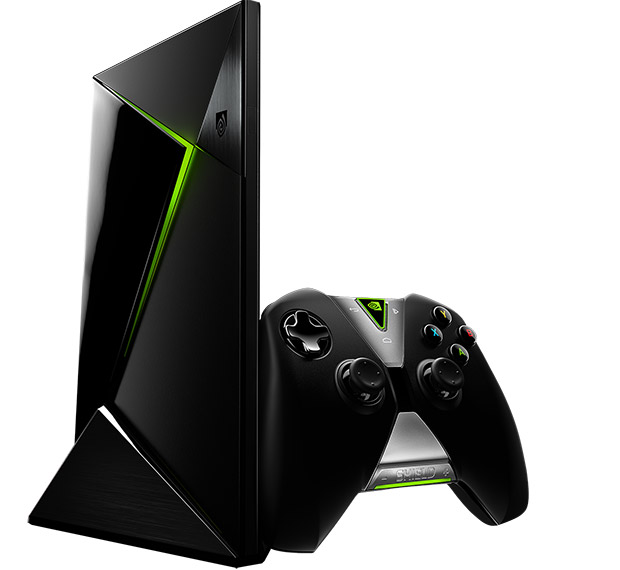 The NVIDIA SHIELD Console And Wireless SHIELD Controller
In the lead-up to tonight's event, an invitation from NVIDIA's CEO was sent out with the title "Made To Game", claiming that the product that would be shown was "more than 5 years in the making" and that it would "redefine the future of gaming". That five year development cycle surely harkens to more than just the SHIELD device itself. The time spent working on multiple technologies it leverages, like NVIDIA's Tegra SoCs, virtual GeForce GPUs, and the GRID game streaming service and servers, are all accounted for here.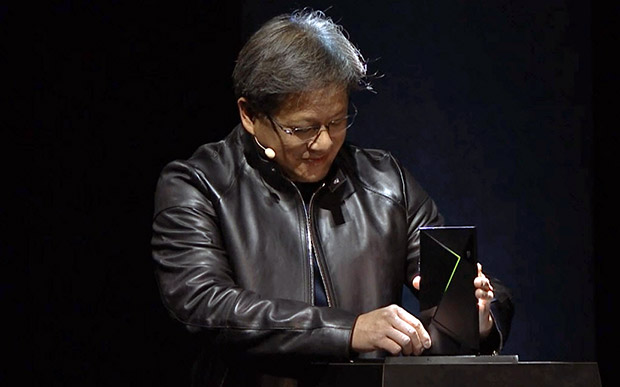 NVIDIA CEO Jen-Hsun Huang With The NVIDIA SHIELD Console
According to NVIDIA's CEO, one of the reasons the company developed the SHIELD console is because it believes the cloud will revolutionize how people watch television and play games. And to leverage the cloud on their televisions, consumers need a powerful, smart device—which NVIDIA hopes will be the new SHIELD.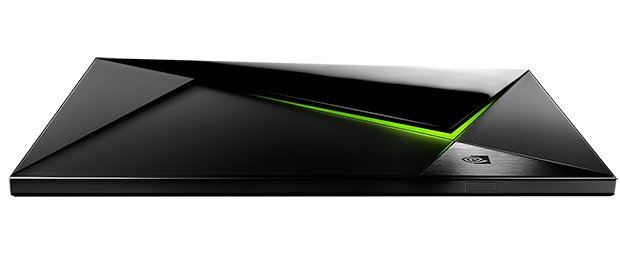 The NVIDIA SHIELD Console
The new SHIELD console is a relatively small, thin device. It has angular lines across its lid, with a lighted green right-angle strip running along the top. The SHIELD console is powered by the NVIDIA Tegra X1 SoC, which we talked about here. The rest of the device's main features and specifications include:
---
| | |
| --- | --- |
| Processor | NVIDIA Tegra X1 processor with 256-core Maxwell GPU with 3GB RAM |
| Video Features | 4K Ultra-HD Ready with 4K playback and capture up to 60 fps (VP9, H265, H264) |
| Audio Features | 7.1 and 5.1 surround sound pass through over HDMI |
| | High-resolution audio playback up to 24-bit/192kHz over HDMI and USB |
| | High-resolution audio upsample to 24-bit/192hHz over USB |
| Storage | 16GB |
| Wireless | 802.11ac 2×2 MIMO 2.4 GHz and 5 GHz Wi-Fi |
| | Bluetooth 4.1/BLE |
| Interfaces | Gigabit Ethernet |
| | HDMI 2.0 |
| | Two USB 3.0 (Type A)2 |
| | Micro-USB 2.0 |
| | MicroSD slot (supports 128GB cards) |
| | IR Receiver (compatible with Logitech Harmony) |
| Gaming Features | NVIDIA GRID streaming service |
| | NVIDIA GameStream |
| Weight and Size | Weight: 23oz / 654g |
| | Height: 5.1in / 130mm |
| | Width: 8.3in / 210mm |
| | Depth: 1.0in / 25mm |
---
The Tegra X1 is the star of the show on the SHIELD Console. In addition to its relatively powerful 256-core Maxwell-based GPU, the SoC is capable of full 10-bit, 4K encode and decode at up to 60Hz. The combination of the Tegra X1's multiple ARM cores, Maxwell-based GPU, and video engine, make the device about twice as powerful and an Xbox 360, while consuming only about 1/5 of the power.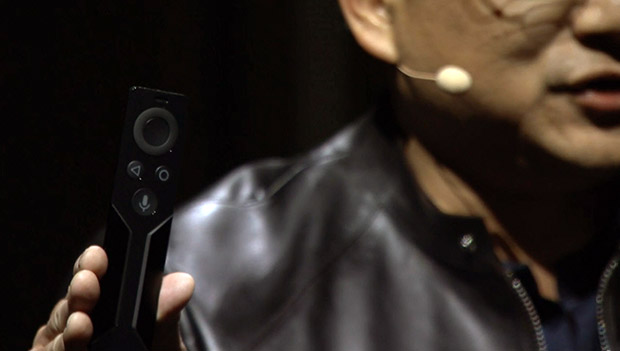 The NVIDIA SHIELD Bluetooth Remote
There will also be a few accessories available for the SHIELD, including a one-piece, anodized aluminum stand and a rechargeable Bluetooth remote, which has a built in headphone jack for plugging in a headset and a microphone for performing easy voice searches.