Earlier this year, Nvidia recalled its Shield Tablet over problems with the lithium-ion battery. The company has put the tablet back on sale and given the base model a whopping price cut, from $299 to $199 for the 16GB flavor. At that price, the Shield Tablet is a steal, considering its overall performance, build quality, and features. Even better, this new version seems to fix the nagging touch-screen issues that were widely reported on Shield 1.0.
While I didn't review the first Shield Tablet for ExtremeTech, I do own one, and the touch screen has always been a little dodgy. It works perfectly in the desktop or in-browser, but often had trouble picking up multi-touches in the one Android game I play on a regular basis — Castle Clash. This was an issue unique to the Shield — the game ran perfectly well on multiple Android smartphones and devices. The issue would typically resolve itself after I attempted a multi-touch zoom-in / zoom-out several times, but reoccurred each time a new area of the game was loaded. While it didn't prevent play, it was annoying. Factory resets, new OTA updates, and reinstalling the game never had much impact on the issue.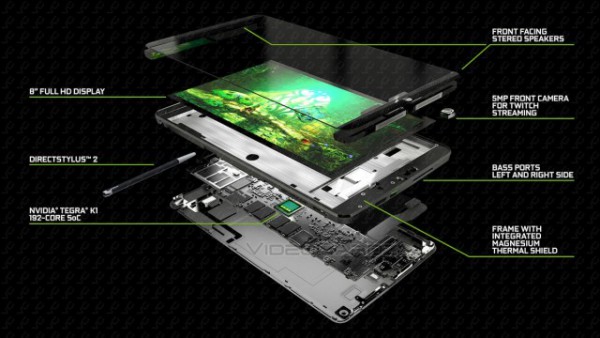 The replacement Shield I received in the mail doesn't have this problem and I'm hoping that means Nvidia quietly corrected whatever caused it in the first place. It appears, however, that there are at least two subtly different SKUs shipping out to market. The replacement tablet I received is externally identical to the original device in every particular, but over at Ars Technica UK, Mark Walton reports that his replacement tablet lacks a stylus garage and has a slightly different case and branding.
What $199 buys you
Back in 2013, Google unveiled the Nexus 7, a $199 tablet with killer specs for the price and very solid overall features at the time. Since then, however, the market has stabilized. There are plenty of serviceable devices in the segment — Amazon's Fire 8 and Fire 10 family aren't great, but they get the job done for many people, while companies like Acer, Asus, and Dell manufacture a variety of Intel-based devices in this price band.
The Shield's quad-core Cortex-A15 CPUs might be getting a bit long in the tooth (and are limited to 32-bit processing), but Nvidia's 192-core, Kepler-derived graphics solution remains extremely potent. Graphics-wise, it competes well against the iPad Air 2, which puts it in the upper end of the tablet market. It's certainly far faster than the Intel-based solutions that often sell in this price bracket.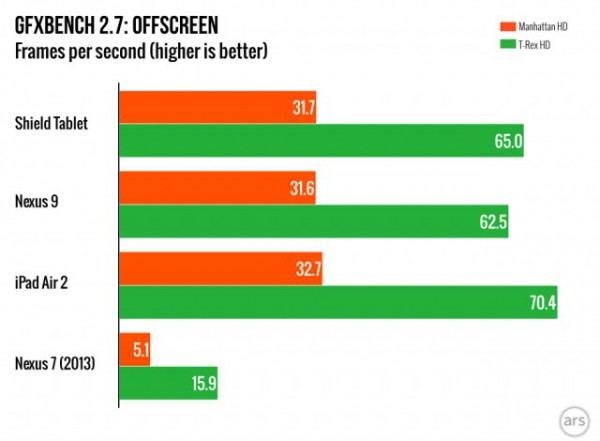 The 1920×1200 screen gives the Shield a 294 PPI, the device includes a microSD slot for additional storage, and it supports Bluetooth 4.0, 802.11n, micro-USB, and mini-HDMI. Current versions of the device are still on Android Lollipop, but Nvidia has promised to update it to Marshmallow. Other features, like the controller, are still extra, and Nvidia isn't bundling the $199 version of the hardware with a power adapter, USB cable, or the aforementioned stylus. The Shield supports Nvidia's GameStream (though you'll want the controller to use it), which allows you to stream local PC titles to your tablet.
The bottom line is this: If you want an Android gaming tablet with flexible streaming options, Nvidia's GeForce Now, a handful of high-end titles that showcase the chip's overall performance, Twitch streaming, and a stock Android installation that isn't cluttered up with cruft, it's very hard to beat the Nvidia Shield Tablet. Now that they seem to have fixed the multi-touch issue, I'd recommend it to anyone looking for a sub-$200 Android tablet that wants more performance than you'll get from a MediaTek or Intel SoC.
One caveat to note: If you buy a Shield controller, it will not work in wireless mode with your PC — and it won't work if you have an AMD GPU in your system. Despite being a standard USB peripheral, the controller only works if GeForce Experience is running on your system.