OCZ is launching a brand new series of solid state drives today, dubbed the Trion 100. Early prototypes of the drives were shown off at CES a few months back, but the drives are now ready for primetime. We should note that the Trion 100 series breaks some new ground for OCZ. Not only are they the first drives from the company to use TLC NAND, but they're also the first to use all in-house Toshiba technology with the drive's Flash memory and controller both designed and built by Toshiba.The OCZ Trion 100 series is targeted at budget conscious consumers and users still contemplating the upgrade from a standard hard drive. As such, they're not barn-burners in the benchmarking department, but performance is still good overall and a huge upgrade over any hard drive. Pricing is going to be very competitive as well.
We've got the full specifications for the Trion 100 series line-up below. And on the following pages we'll take the 480GB and 960GB versions for a spin to see how they compare and contrast to an array of other SATA SSDs currently on the market…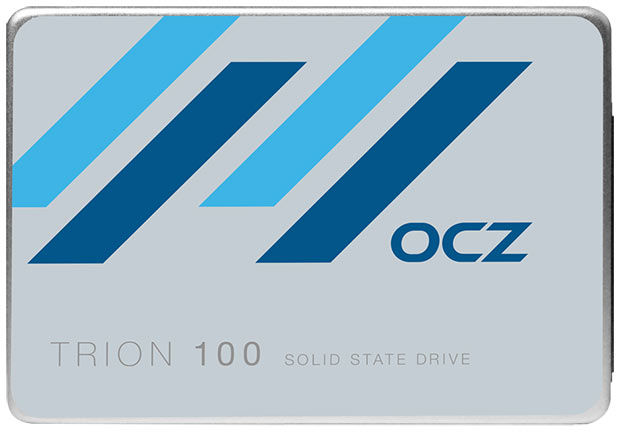 OCZ Trion 100 Series Solid State Drives
Specifications & Features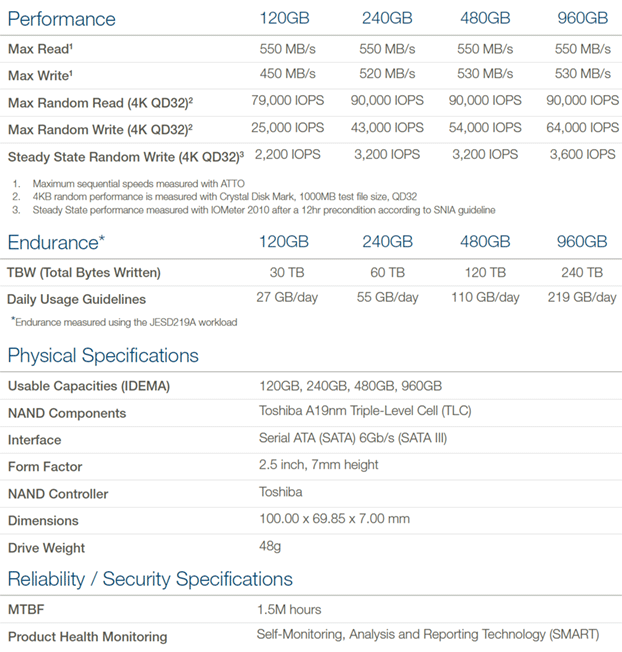 Pricing: As low as $59 – 480GB @ $179, 960GB @ $359 – as tested
---
Just like OCZ's other consumer-class Solid State Drives, the new Trion 100 features a sturdy, anodized aluminum housing, though it's not quite as sturdy as previous offerings. The enclosure isn't held together with screws (it snaps together) and it is definitely lighter weight than Vector andVertex series.
All of the drives in Trion 100 family conform to the 2.5" form factor common of today's SSDs, and they all have slim 7mm Z-Heights. The enclosures used on the drives are all metal (top and bottom) and there are really no external features to speak off other than a few decals and the standardSATA power and data connectors, but that's par for the course with a drive of this type.