Looking for a way to open several webpages at once when you start up your browser? I had previously written about how to set multiple home pages in IE and Firefox back in early 2008, but that post is so old that the options in the browser are not even the same anymore. Also, at that time Google Chrome was released in beta and now it's almost the second most popular browser in the world. So time for an update!
In this article, I'll show you how you can setup IE, Firefox, Chrome and even Opera to open multiple web pages or tabs when the browser starts up. You can use the built-in options in the browser or you can pick from some add-on and plugins that also get the job done.
Google Chrome
Let's start off with Chrome since I use that as my primary browser. In Chrome, you have a couple of different options, which is nice. First off, if you're one of those people that never close your browser, then you might want to check out the Continue where I left offoption. Click on the three-line button at the right, then click on Settings.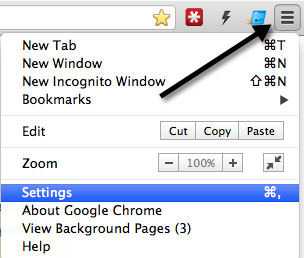 Under Settings, you will see On startup and a couple of radio buttons. You can either have a new tab page open, which will show you your most visited websites by default in Chrome. You can also use this radio button if you have an extension like SpeedDial2 installed, which reconfigures your new tab page.

If you want several tabs to open, you'll need to choose from Continue where I left off orOpen a specific page or set of pages. Continue where I left off is nice if you always keep the tabs you want to use open anyway in Chrome and don't close Chrome. In the event of a crash or a restart, Chrome will just load back up with all the tabs you had before it shutdown. So if you like to pin tabs and that sort of thing, this might be a good alternative.
If not, you can always choose the last option and then just type in as many URLs as you like.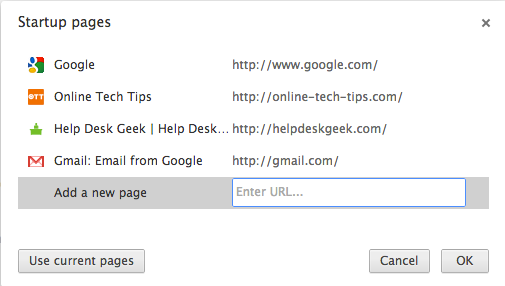 In Chrome, all your session data is saved, so you won't have to log back into sites like Facebook or Gmail unless you configure them that way. Chrome has a setting under Advanced that let's you delete the session data too if you like.
Firefox
In Firefox, you can use the built-in option or download from a plethora of plugins and add-ons. I personally like using the built-in option because it fits my needs, but for those who need more advanced options, I'll mention a plugin or two you might like.
As opposed to Chrome and other browsers, in Firefox you first need to open the tabs that you want to set as your home pages. Once you have the tabs open, go ahead and click on the Firefox button and then choose Options – Options.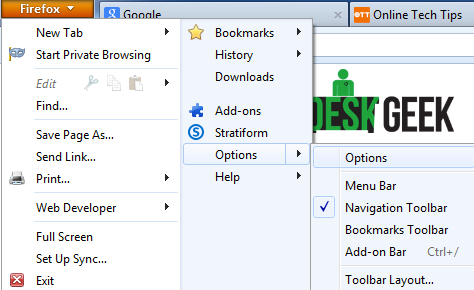 Click on the General tab and then choose Show my home page for the When Firefox starts option.

Now just click on the Use Current Pages button and you're good to go! There are some add-ons that add extra functionality like opening certain links only on certain days. Morning Coffee is one that comes to mind. You can search for others too.
Internet Explorer
For IE 9, all you have to do is click on the gear icon and then click on Internet Options. Then go to the General tab.
Now just type in each URL on it's own line and then click OK to close the Internet Options dialog. That's about it for IE 9. What about IE 10?Well, if you are running Windows 8 with IE 10, you will be happy to know they have a few more options than previous versions of IE.
Again, go to the General tab and you can still enter multiple web pages like previously, but now you also have some other options below that.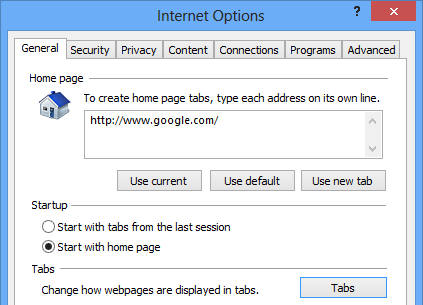 You can choose Start with tabs from the last session, which is the same as Continue where I left off in Chrome. You also have more options to configure your tabs in IE 10. Click on the Tabs button and you get a whole bunch of stuff.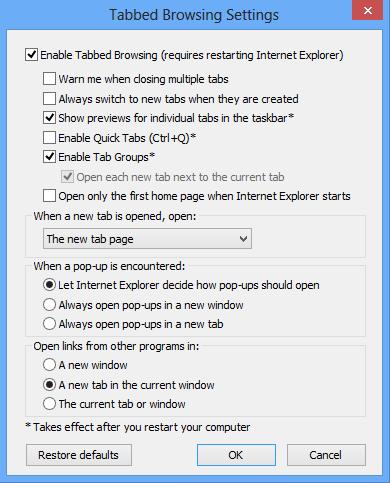 You can choose to open the new tab page when a new tab is opened or your first home page or a blank page. You can also choose to open the first home page when IE 10 starts up, but that kind of defeats the purpose of opening multiple pages when the browser loads. Note that this is for the desktop version of IE 10. For Metro IE 10, there doesn't seem to be a way to do this yet.
Opera
Opera is a little different than the other browsers when it comes to setting up multiple home pages. First open all the pages you want to have load on startup and then click on the Opera button, click on Tabs and Windows, Sessions and then Save This Session.

You can then check the Show these tabs and windows every time I open Opera box.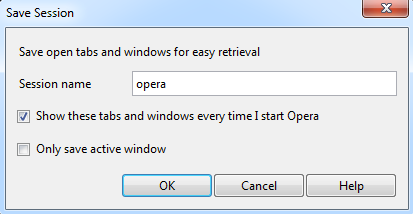 You can also click on the Opera button, go to Settings and then Preferences.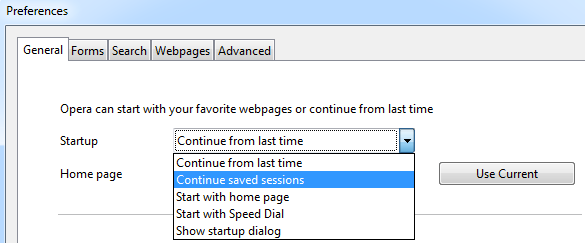 Here you can choose from Continue from last time, continue saved sessions, Start with home page and more. Opera has a lot of options, which is kind of cool. That's about it! If you have any questions or know of any better plug-ins or add-ons for any browser, let us know in the comments. Enjoy!