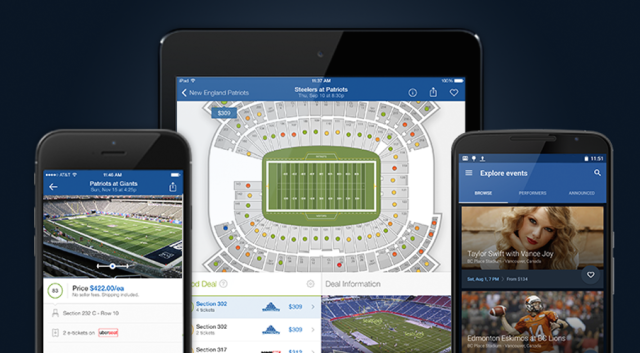 Whether you're doing it via Facebook or Craigslist or your shady friend Greg who has a penchant for "small-scale capitalism," buying tickets to a sold out event is usually not a pleasant experience. With that in mind, ticket search engine SeatGeek is rolling out an update today that should make those ticket transactions less of a headache.
Until now SeatGeek has only dealt one-sided ticket sales, but starting today it's dipping into the two-sided selling (aka direct ticket sales from SeatGeek users) with SeatGeek Marketplace, which is geared towards making it easier for individuals to find and sell tickets. It's not necessarily meant for someone looking to buy up a bunch of tickets and jack up prices for a profit. Intended to be a peer-to-peer network, the Marketplace is positioned to be a quick, simple alternative to the time-consuming and often messy processing of listing tickets on Facebook or Craigslist.
It works like this: after fans purchase tickets through SeatGeek, they'll have the option to transfer tickets to friends via downloadable PDFs or sell tickets if they find themselves no longer able to attend. Say you, for example, were smart enough to wake up early and hop on the Beyoncé pre-sale and managed to snag tickets for yourself and two of your friends. With SeatGeek's new features, you'll be able to sell and transfer those tickets to your friends so they have their own tickets on their phones come day-of-show. Direct ticket transfers are free, meaning that there are no fees tacked on if you sell and transfer tickets to friends directly.
Fans will also have the option to sell tickets publicly in the Marketplace in the event that they need to offload tickets. Using the tech behind SeatGeek's DealScore algorithm (which essentially ranks available tickets based on the quality of the seat and price), sellers will get recommendations on listing prices to help them sell the ticket quickly and get the best price for it. Tickets sold in the SeatGeek Marketplace will come at a 15 percent fee to the seller, but buyers won't incur any additional fees beyond list price.
"The aim is creating a dead-simple, intuitive mobile ecosystem where people can buy and sell and transfer tickets," says SeatGeek co-founder Jack Groetzinger.
The mobile part of that statement is key. The SeatGeek Marketplace is designed to be clean and easy to use, meaning that you don't have to spend hours searching for the right ticket, deciphering fees and decoding transaction methods. You simply find the ticket you want, purchase either via the usual methods or through Venmo, and the seller transfers the PDF ticket to you, which you can pull up on your phone when entering the event.
Right now, StubHub offers a similar service, letting fans buy and sell tickets through its marketplace. Groetzinger tells me that SeatGeek's real advantage is the simplicity and ease-of-use of the platform. With the DealScore algorithm and SeatGeek's comprehensive interactive mapping feature (which helps buyers get a better idea of where their seats are located and what the venue looks like through photos), SeatGeek's buying and selling experience is focused on fans who are looking for the best way to get the best seats for their budgets.