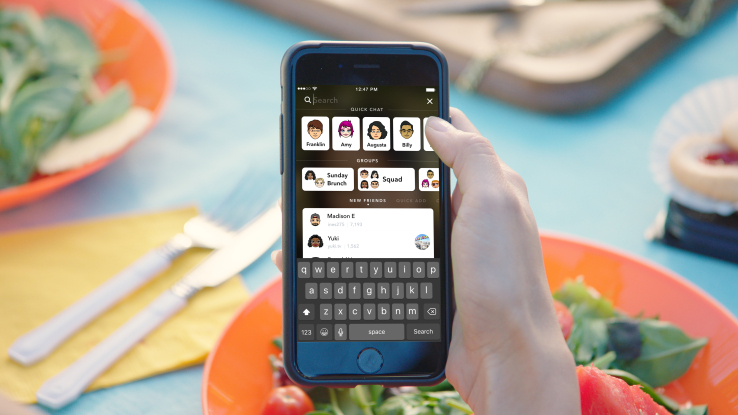 Snapchat just made it much easier to navigate the app and find friends, groups, Discover publishers and Our Stories with a universal search bar that's always accessible at the top of the app. Launching today for some people on Android and rolling out soon to all iOS and Android users, the search bar lets you dig out of Snapchat the best content and conversations.
The company tells TechCrunch the interface is designed for speed, so you can locate what you're looking for and keep snapping. It might not be a coincidence that last year Snapchat was said to have acquired mobile search startup Vurb, which mysteriously shut itself down recently.
First and foremost, the visual style and "Quick Chat" suggestions will let you hop to a particular friend's message thread or story a lot faster. Snapchat has been derided as confusing to some because of its unique layout and how it originally relied on users knowing how to swipe around. It only added navigation buttons in June 2016, but now users will be able to get around via search.
Improved search could be a huge boon to brands, businesses and influencers hoping to build their Snapchat audience. Previously, Snapchat only offered a fractured search interface, with boxes for finding specific conversations, accounts to follow and Stories or Discover channels scattered in three different places.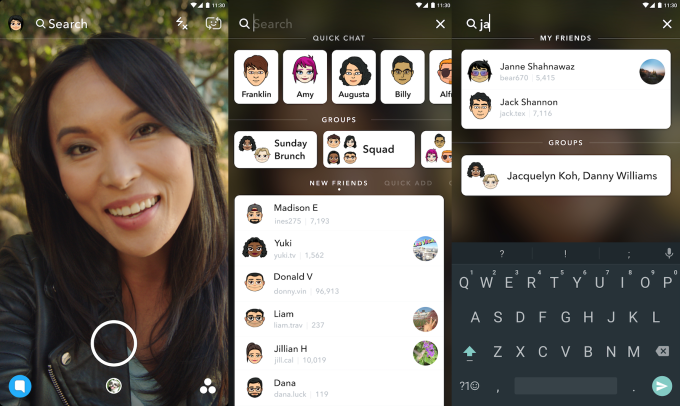 With universal search also comes new revenue opportunities. Snapchat could potentially let advertisers pay for sponsored placement atop search results, or as suggestions in the search interface. This could allow Snapchat to directly monetize the desire of brands to build an audience on its network. When asked if ads were coming to search, the company declined to comment on future plans. As Snap Inc. heads toward a 2017 IPO at an expected valuation around $25 billion, it needs to prove it has plenty of different ways it could earn more money in the future.
With the new search bar, you can jump to your own profile by tapping your Bitmoji on the left. If you tap a friend's auto-suggest card or search result, you'll start a chat with them, or you can tap their Story thumbnail to instantly start watching it full screen. Tapping and holding on someone's card shows their mini profile. Beyond accounts, you can find specific daily editions of Discover channels or particular Our Stories by searching for their titles. You'll also now be able to see in your profile your "best friends" that you Snap with often.
Snapchat is also now allowing people anywhere at any time to submit to Our Story, the app's curated and themed slideshows for holidays, events and more. Users won't have to pick a specific Our Story to submit to and instead just opt in to Snapchat being able to use their posts as it wants. Snapchat can then figure out how it wants to aggregate the content, allowing it to create Our Stories based on submission trends. Snap Inc. tells TechCrunch that now it won't be restricted to building Our Stories only from pre-selected events or locations where it expects something special to happen.
Snapchat has long been criticized for making it too tough to find new accounts to follow, as it lacks any suggestions or recommended user list. It's maintaining that "we won't tell you what's cool" philosophy here. But at least now people don't have to pull up the formerly buried tools, and having the search box persistently visible could spark people to seek out more accounts to watch.
Still, if it wants to avoid people's Story lists going stale with the same old boring friends, Snapchat might need a way to highlight great accounts you should add. It already offers profile QR codes, and the ability to send accounts or Discover content to friends. But a more top-down way to find accounts relevant to your interests would more directly attack the problem.
While five months ago things looked good for Snap's IPO, the surprisingly swift success of the Snapchat Stories clone Instagram Stories now poses a threat. Instagram's version just hit 150 million daily users — the same number Snapchat touts — and is already starting to show full-screen photo and video post-roll ads similar to Snapchat's. To keep creators and common users loyal to its platform, Snapchat needs to help them keep building their audience. Meanwhile, it must demonstrate potential money-makers beyond what Instagram has copied. Universal search could provide an answer to both.