Sony's 2015 flagship smartphones will go on sale at Australia's three largest carriers.
Sony's 2015 flagship smartphones will go on sale next week at Australia's three largest carriers.
Vodafone and Optus will offer the Z5 on postpaid contracts respectively starting from $85 and $90 per month.
Telstra will be offering both the Z5 Compact and the Z5, with postpaid pricing expected to be announced closer to the on sale date.
The Xperia Z5 Premium, which is the first smartphone in the world to have a 4K screen, will go on sale next month.
Outright pricing is $849 for the Z5 Compact, $999 for the Z5 and $1199 for the Z5 Premium.
Retailer JB Hi-Fi has picked up all three smartphones, while Dick Smith will offer only the Z5 Premium.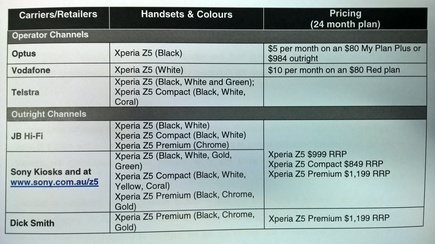 Pricing for Sony's Z5 series
Critics have long praised Sony's range of Xperia smartphones. Customers were less receptive because, on paper, they trailed the flagships from Samsung and HTC. That's not the case with the company's 2015 flagship.
The Z5 Premium is the first smartphone in the world to boast a 4K display. Odds are its 5.5-inch screen packs four times as many pixels as most living room televisions. For the first time in the smartphone space, Sony is leading.
Publicity generated from the milestone adds to the company's existing momentum. Research firm Telsyte claims Sony overtook HTC in the first half of 2015 to become the third largest smartphone vendor in Australia.
Other improvements are shared with its companion smartphones, the 5.2-inch Z5 and 4.6-inch Z5 Compact. All three devices pack the first Sony camera in two years to be "completely reimagined", which captures photos at 23-megapixels and records videos in 4K.
Another addition is the finger scanner integrated into the power button on the side. Its compatibility with the fast identity online (FIDO) standard promises the Xperia Z5 range could be used to make everyday purchases.
Few changes have been made to the styling. On the one hand, these familiar designs are growing tiresome. On the other, not deviating has helped Sony retain its dust-and-water resistance rating.
All three smartphones are powered by an octa-core Snapdragon 810 processor pack 32GB of storage and, unlike Samsung's Galaxy S6 and Note5, supports microSD cards up to 200-gigabytes.
The Z5 and Z5 Premium have 3GB of RAM, while the smaller Z5 Compact settles for 2-gigabytes.