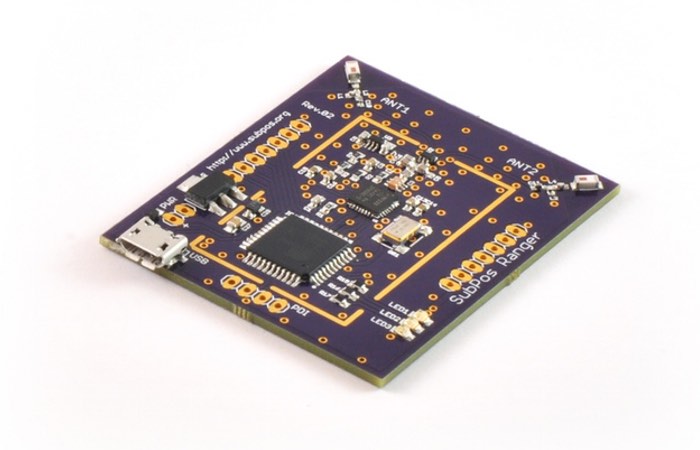 Developers, makers and hobbyists that are looking for an indoor positioning system, might be interested in a new piece of hardware that has been created called the SubPos Ranger.
The SubPos Ranger has been specifically designed to provide an accurately measured distance or obtain positional data indoors and can be used for robotic applications and is priced affordably for hobbyists and makers alike.

Check out the video below to learn more about the SubPos Ranger development board and indoor positioning system, which is taken to Kickstarter this week to raise the AU$50,000 the team requires to take the concept into production.
The SubPos Ranger is a node and client based, open source development system for accurate distance measurement and positioning. The Ranger is designed for hobbyist robotics and educational applications, to enable you to realise your project's positioning potential.
Specifications of the SubPos Ranger indoor positioning system include :
– Supports 2D and 3D Positioning – not just x and y, but z also.
– 2.4GHz ISM Spectrum – supported worldwide.
– Standards Compliant Hardware – supports 802.15.4 and can also utilise Zigbee or 6LoWPAN communication protocols.
– Reconfigurable RF Chipset – enables many different 2.4GHz ISM applications.
– Firmware Updates over USB – no need for any extra programming hardware.
– Open Source Hardware and Software – hack, repurpose and play to your heart's content.
– Modular Design – the Ranger Board's headers allow all sorts of connectivity options.
– Low Level Raw Data and Parameters – access to all low level measurement data and parameter tweaks are available to discover interesting new applications (such as radar motion detection).
– Node Position Calibration – get the position of nodes automatically; no manual fixed node measurements required.
– 9-Axis Accelerometer – the client expansion board contains a 9 axis accelerometer for increased positioning accuracy.
For more information on the new SubPos Ranger jump over to the Kickstarter website for details by following the link below.