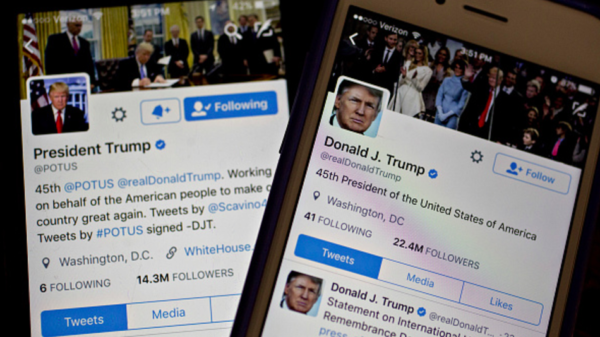 Thanks to President Donald Trump, Twitter has basically served as the center of political universe for the past six months.
And yet, the company still can't make money.
Twitter has never been profitable. It bleeds money and those losses are growing despite the platform being nearly omnipresent in the current moment.
There had been some hope that the renewed interest would help boost Twitter's business, which is almost entirely based on advertising. Instead, the company's losses deepened. Its net loss grew to $167.1 million from $90.24 million a year prior, despite Twitter's team saying their main goal is to be profitable.
These poor financial results also come amid a turnaround plan to curb abuse on the network and bring in more money and user attention through live video deals. Clearly, despite Twitter's real-time and breaking news focus, its turnaround plan is not moving quickly.
Twitter is now pleading to investors that better days are ahead. The company spent the last year making moves that it believes improved the user experience. Now, they will — and desperately need to — focus on revenue.
"Transformations are difficult and this one was especially challenging," Twitter CEO Jack Dorsey told analysts Thursday.
The low revenue is not good news and unfortunately not surprising for Twitter. The company has long had a contentious relationship with Wall Street due to stagnant user growth and an inability to turn a profit.
Meanwhile, its similarly aged foe Facebook pulled in $8.8 billion in revenue over the same quarter, sending its stock to new heights, and investors are eager for Snap Inc., Snapchat's parent company, to go public in the next month.
The high executive turnover is also quite discomforting. Most recently, Twitter's head of diversity and inclusion and the head of human resources left the company. Twitter also still doesn't have a chief financial officer, despite its focus on revenue. Anthony Noto serves as CFO and COO.
And, in case you forgot, Twitter CEO Jack Dorsey has to split his time between two CEO jobs in San Francisco.
At least Twitter added new users. A year ago, Twitter reported it had actually lost more users than it gained. Over the last three months, Twitter added 2.6 million monthly active users, bringing its total up to 319 million.
Other important engagement factors look alright for Twitter. The site had more activity from daily active users and more growth in tweet impressions (views) and time spent, which Twitter credited to product improvements. Last year, Twitter introduced more algorithms to the once purely chronological feed, and it's been experimenting with breaking news alerts.
What Twitter struggles with is people still don't see a need to be on the platform. Tweets are publicly available and distributed, which helps with impressions and publicly. But it doesn't make Twitter a necessary service to go to, and therefore, it doesn't help as much as it could with revenue.
The company, which has never turned a profit, wants to reach profitability in 2017. Twitter brought in $717 million this past quarter, quite overwhelmingly missing analysts' expectations of $740.1 million.
So here comes the 2017 turnaround plan. Priority number one for Twitter is still to curb abuse on the platform, however. Earlier this week, Twitter released new product changes that make it more difficult for banned users to create a new account and easier for users to report offensive tweets.
Dorsey said changes for user growth have been working and next up to revamp it's way of making money. Twitter is looking to attract more video ad dollars and expand its data licensing business.
"The whole world is watching Twitter," Dorsey said.