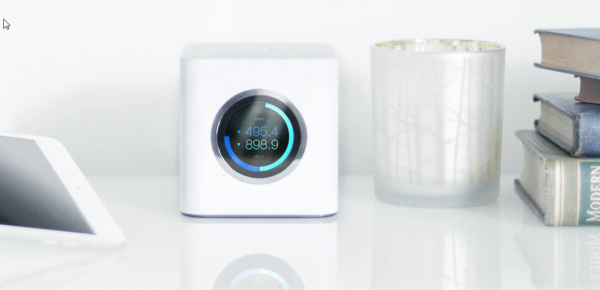 HIGHS
Sleek design
Simple setup
Plug-and-play mesh points
Good app for iOS and Android
Bandwidth indicator on base station screen
LOWS
Mesh points overkill in smaller condos
No parental controls or QoS
No remote access or active USB port yet
No MU-MIMO
The more devices and the larger the home, the more important Wi-Fi range becomes. But there's more to range than just upping the power of a router. Wi-Fi dead zones can be caused by obstacles or interference that are best addressed by finding a new avenue of transmission between devices and the router.
That's where the Ubiquiti Amplifi HD Router comes in. Rather than just a single box to do it all, this is more like a mesh networking system. It includes two separate antennas for spreading the signal out as efficiently as possible. We gave it plenty of bandwidth to funnel through, to see how well it spreads its wings.
CASTING A WIDE MESH
Mesh networks are somewhat of a niche for homes because they can be overkill in many instances. Living in a condo, apartment or smaller home, the Amplifi HD system is probably good enough with the base station alone. Of Ubiquiti's three tiers of routers, this is the most powerful, designed to penetrate and weave around tougher building materials, like dense walls, brick, concrete and any other obstructions that weaken signal strength.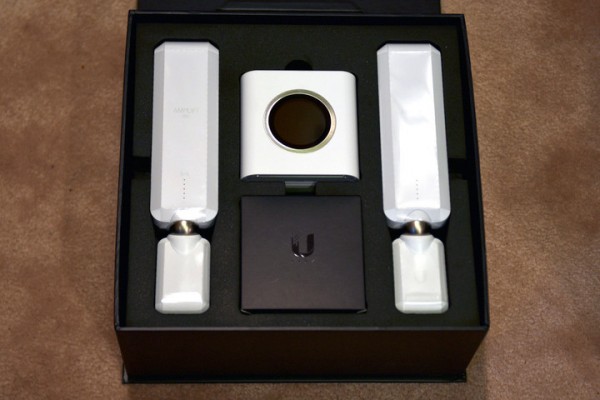 The Amplifi HD comes with a base station and two antennas that serve as mesh points. This is a distinction worth noting, in that they are neither antennas in the traditional sense, nor the equivalent of Wi-Fi extenders. The reason why is because, as mesh points, they are inherently part of the same router and network. Those points not only communicate back with the router, but also with each other, to cast a wider net.
Compared to the alternative, this is all a pretty attractive proposition. Instead of going out and buying range extenders or bridges to spread out and strengthen the signal into weaker areas, this system is already designed for that purpose out of the box. Up to 20,000 sq. ft. can be covered, with purely theoretical speeds of up to 5.25 gigabits per second (1.75Gbps each for the base station, plus the two mesh points). On its own, the base station is a dual-band AC1750 router with theoretical speeds of 450 megabits per second on the 2.4GHz band, and 1300Mbps on the 5Ghz band.
The 1.6-inch diameter screen on the front is meant to be out in the open because of the contextual information it displays. Real-time bandwidth traffic always appears, like a digital counter that constantly changes to show the downstream and upstream.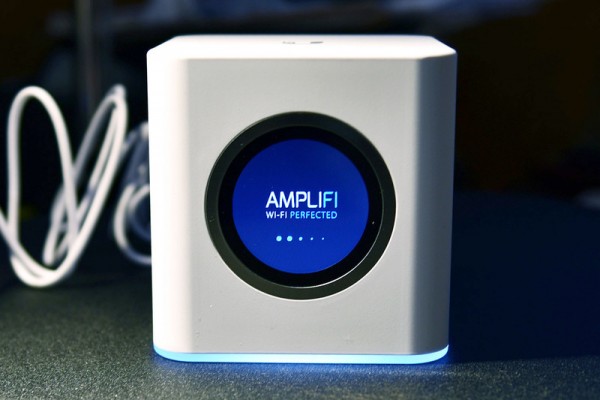 There are six high-density antennas inside the base station, hidden away to maintain its form factor. On the back is an Ethernet port (in blue) to plug in from the modem, plus four LAN ports to network devices with wired connections. Ubiquiti says the USB 2.0 port is reserved for printers and storage, though the functionality hasn't been unlocked yet (a firmware update is on the way). A reset button is at the bottom.
SETUP IS A BREEZE
Setting up the Amplifi HD took about five minutes, and was done entirely through the step-by-step guide offered by the free iOS app (there's also one for Android). The base station itself is small enough to nestle into any area, though Ubiquiti clearly designed it to fit in to any home décor.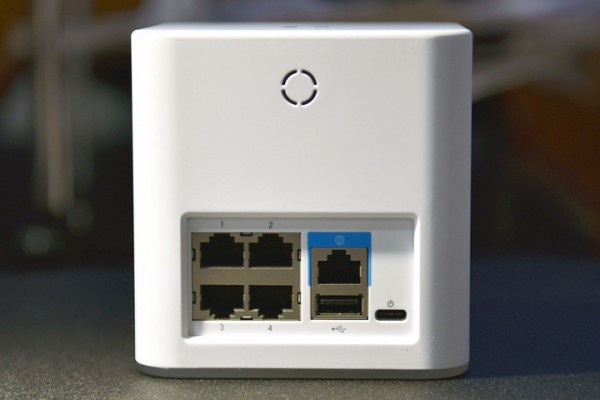 The mesh points are like long 10-inch antennas that have prongs to plug in directly to an outlet. It truly is plug-and-play because there is nothing to configure. Once the app recognizes the mesh point, it shows up visually and becomes active on the network.
Ubiquiti recommends placing the mesh points in places where the router's signal starts weakening the most, and yet it also needs to be close enough to create a seamless signal. To maximize the connection, the antenna needs to be angled towards the router. It rests on a magnetic ball that simplifies the angling, while the five blue LEDs along the stem indicate signal strength (five is full strength).
PACKED FULL OF CONTENT, BUT STILL MISSING ODDS AND ENDS
The Amplifi HD beats out the likes of Eero and Luma when it comes to more advanced administrator features that include port forwarding, MAC filtering, and DHCP server settings, except it doesn't offer parental controls, Quality of Service (QoS), or any other particular feature to prioritize bandwidth to a device or application. Moreover, it doesn't do MU-MIMO (multiple user, multiple-input, multiple-output), an intrinsic method in allocating bandwidth to all devices at once, instead of in a queue.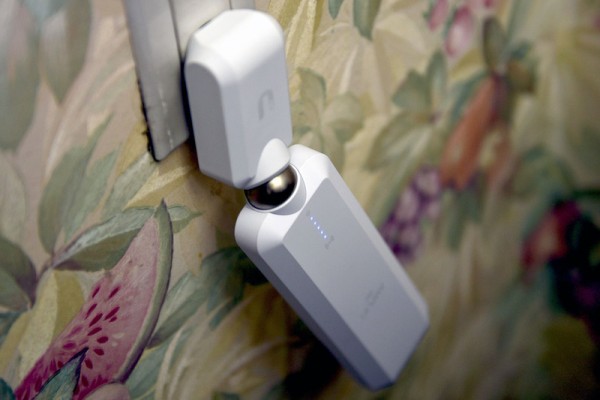 When we asked about that, Ubiquiti pointed to the lack of devices that can support the upcoming industry standard. But it still comes off as a lost opportunity. Routers tend to hang around for years, and MU-MIMO will probably catch on in the Amplifi's life span.
At least there's something useful that can be done. In cases where connecting to a mesh point directly is preferable, tapping it on the app allows you to set up a separate SSID and password for it. That won't necessarily improve speed, but it could improve congestion, and make it easier to manage which device is connected to what.
THERE'S AN APP, OF COURSE
The app is designed to be straightforward, though we found it took a little time to get used to. It works a lot on visual cues that aren't always obvious. For example, router and mesh point settings are accessible by tapping on an image in the app, since there is no shortcut to them in the menu at the bottom. Discovering them was trail-and-error.
The app offers real-time data like the base station's screen does, and bandwidth testing was always a tap away. Unfortunately, as of this review, there is no remote access to control or manage the router away from home. Ubiquiti says that feature is coming, and we hope it is, because the whole setup here will benefit. As is, any troubleshooting or administering has to be done within the router's Wi-Fi range.
While there are no parental controls to automate access, there is a way to pause access to a specific device on the app, so if kids don't get the message, they can be shut out and have no way to get around it. It's not the most ideal solution because it's fully manual, but at least it's something.
Guest network access is entirely elective, and off by default. It's easy to configure and manage, as the network can be turned off with a quick tap from the Guest tab in the bottom menu.
PEDAL TO THE METAL
We placed the base station in the basement of a 1,900 sq. ft. house. One mesh point was placed one level above at the end of a hallway about 30-40 feet away, with the other in the kitchen right above the basement. The blue LEDs were fairly strong on both, so we set about testing the overall connection in various parts of the house.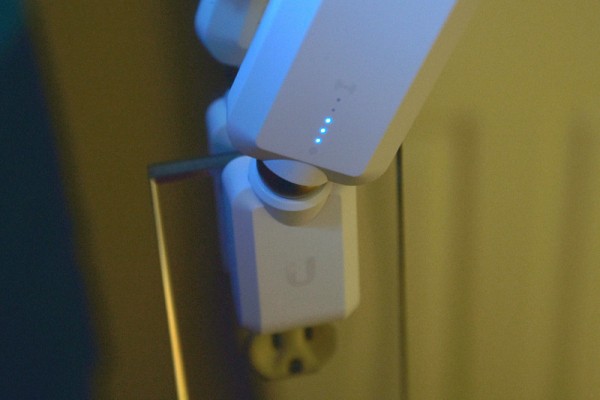 At 30-feet away from the router in the kitchen, the Amplifi blew away the Eero on the 5GHz band with a speed of 45.5Mbps, compared to 18.1Mbps from the same spot. However, in closer quarters to the router, it couldn't beat the Linksys EA7500 or Google OnHub SRT-1900, which consistently hit higher marks.
Connecting to the mesh points directly through their own SSIDs didn't always turn out to be a good idea, unless the device doing so wasn't a bandwidth hog. While designed to boost the base station's signal to reduce latency, we found the points to be far more sensitive to location when they had their own SSID. This still made for a better signal in the backyard than the Eero, or even the Linksys EA7500, but it was clearly more beneficial to try limiting what devices would connect that way. For the most part, we let the mesh points do their thing by leaving their respective SSIDs off.
Ultimately, the base station was able to cover much of the house on its own because the obstructions weren't as significant. On the flip side, if they were, we could have added extra mesh points on top of the original two. An older home made with materials that are tougher to penetrate is the ideal environment for this. Even apartments in older buildings — Manhattan comes to mind — are ideal settings for all of the pieces because of how notoriously bad signals can drop from one room to the next.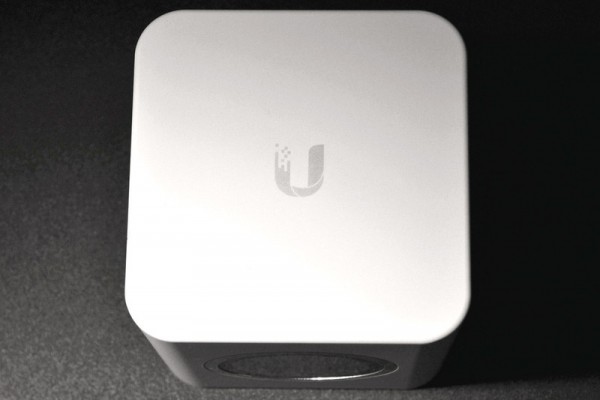 CONCLUSION
It would've been nice to have a usable USB port and remote access, but if Ubiquiti delivers on those, then the Amplifi HD becomes even more compelling. The easy setup and user-friendly controls via the app make the system highly manageable for users who may not consider themselves networking experts.
Sticklers for advanced features will probably find too much missing, though. The lack of MU-MIMO is a miss, and it's also surprising to see such limited support for parental controls and quality-of-service features.
Still, the Amplifi HD was a solid performer, and more consistent than the Eero or Luma, particularly as range grew within the network. For anyone looking into mesh networking as a go-to choice to blanket a home in Wi-Fi access, this is a strong choice.
It's currently available now for $350, though the Amplifi LR is $300, and the entry-level Amplifi is $200.