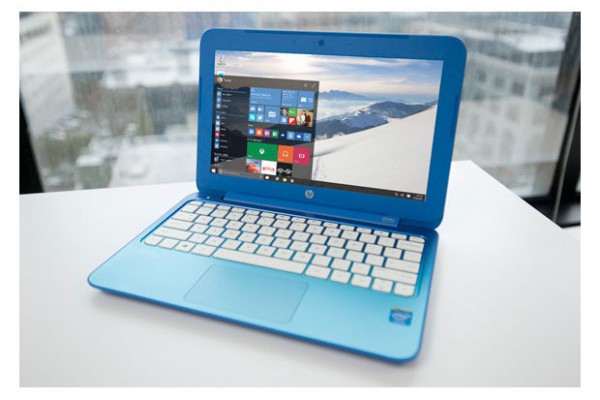 Anyone can use 'Windows Update for Business' controls to delay changes and patches to Windows 10 Pro
Microsoft has not advertised the fact, but anyone with a copy of Windows 10 Pro can postpone upgrades and defer updates using the Windows Update for Business service.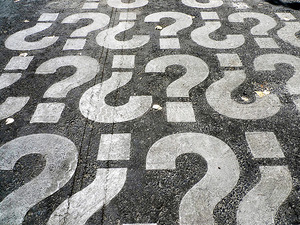 4 Interview questions for data security analysts
Data security analysts are a hot commodity with a rising salary. Here are four interview questions you
READ NOW
The options for controlling the arrival of Windows 10upgrades and updates — the words mean different things under Microsoft's rules — arrived as part of Windows 10 version 1511, the refresh that began rolling out Nov. 12. But while the settings — and Windows Update for Business — are intended for corporate customers, there's nothing to stop any PC owner running Windows 10 Pro from leveraging the deferments.
That's because Windows Update for Business (WUB) isnot a cloud service, nor a product per se: It's really just a set of controls for managing the timing of how Windows Update — the update and patch service Microsoft's run for consumers for two decades — delivers upgrades and updates to business-grade editions of Windows 10.
Users have clamored for more flexibility in taking Windows 10's upgrades and updates, in part because they grew up on older editions that were upgraded on a much slower pace and were given ways to delay or even ignore security updates, which all too frequently caused nasty side effects.
Microsoft's compromise was Windows Update for Business, a way to soothe the concerns of its biggest and best customers. But there's no reason why others — power users, sole proprietors and small businesses — shouldn't have the same rights. Fortunately, they can get in on the action, too.
The easiest way to monkey with Windows 10 Pro's upgrade and update timetable is with Local Group Policies, a subset of the Group Policies that enterprise IT administrators use to manage hundreds or even thousands of far-flung PCs.
Because Windows 10 Pro comes with the Local Group Policy Editor, anyone can fire it up and postpone upgrades and updates to their heart's delight.
Run the Local Group Policy Editor
To begin, type gpedit.msc into the Windows 10 Pro search field, then press Enter once the result shows "Microsoft Common Console Document." You should have launched the editor.
Dig up the Defer Upgrades and Updates Group Policy
The Local Group Policy Editor relies on an old-school user interface (UI), but it shouldn't be beyond anyone who has browsed Windows Explorer looking for a file in a nest of folders on Windows 7.
In the pane on the left, under "Computer Configuration," click on "Administrative Templates" to expand that folder, then on the "Windows Components" that appears, and next on "Windows Update."
A list of 19 different group policies will appear in the right-hand pane. Find "Defer Upgrades and Updates" and double-click it.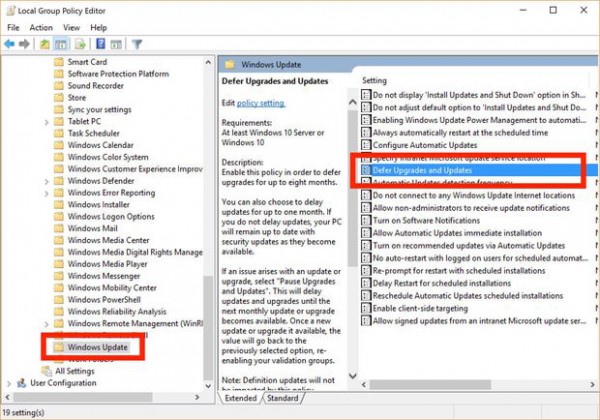 Start deferring and delaying
The window that opened contains the Local Group Policy settings. To make any changes, select "Enabled."
There are two fields and one checkbox in the bottom half of the window.
Defer upgrades for the following duration (months)
Using the up- and down-arrows at the right of the field, or by typing a number using the keyboard, enter the number of months to defer upgrades. (In Microsoft's vocabulary, an upgrade is one of the two-to-three-times-a-year feature and functionality upgrades Microsoft plans for Windows 10. Version 1511, released Nov. 12, was an upgrade.)
Users may defer upgrades from one to eight months in one-month increments by entering a number between "1" and "8" into the field.
According to Hammoudi Samir, a Microsoft field support engineer, the 1-8 months entered in the editor are in addition to a four-month delay that's produced, because once a delay has been requested, the PC is automatically shifted from the consumer-level "Current Branch" (CB) to the enterprise-oriented "Current Branch for Business" (CBB) upgrade track.
"By just enabling this GPO [Group Policy Object] setting and not delaying anything (leaving both durations to 0), it will turn the target computers to CBB," Samir wrote in a Nov. 15 blog post.
In other words, setting a Windows 10 Pro PC to "8" in "Defer upgrades…" delays the upgrade from reaching the system for a total of 12 months (4 + 8) from when it was first released to those on the CB track.
Computerworld was able to confirm, in at least a circumstantial fashion, that Samir's claim was accurate: Simply enabling the policy, without changing the default "0" in the field, flipped the "Defer Upgrades" switch in Windows Updates' Advanced Options screen.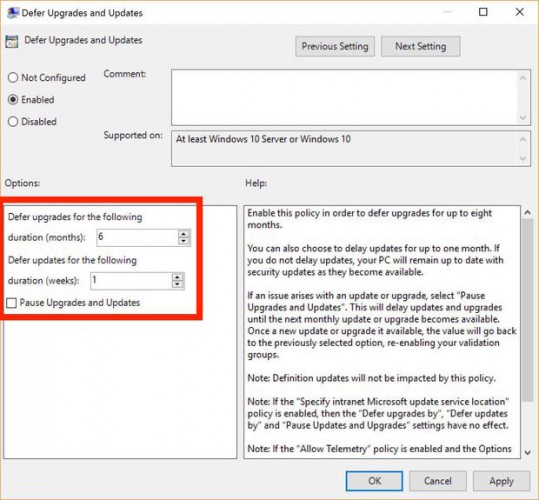 Defer updates for the following duration (weeks)
Using the up- and down-arrows at the right of the field, or by typing a number using the keyboard, enter the number of weeks to defer updates. (In Microsoft's vocabulary, anupdate is one of the frequently-issued security and non-security fixes that Microsoft ships for all Windows' editions, including 10. The most familiar to users are the vulnerability patches the company releases each month on Patch Tuesday, like this one of Nov. 10.)
Users may defer updates from one to four weeks in one-week increments by entering a number between "1" and "4" into the field.
Pause Upgrades and Updates
Checking the box will put a temporary hold on all upgrades and updates.
The hold lasts until the next monthly update shows up, or until the nextupgrade makes an appearance. "Once a new update or upgrade is available, the value will go back to the previously selected option, re-enabling your validation groups," the accompanying text in the editor reads.
Click Apply
Click on the "Apply" button when the settings are up to snuff, and close the editor.
Done.