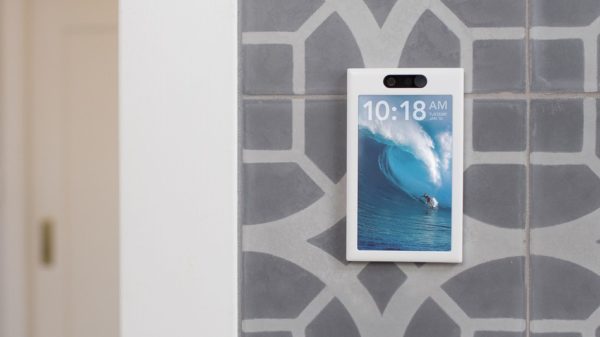 Out of all the home appliances you'd expect could be smart-ified as part of the connected home, the classic light switch might be last on the list. It's basic, with no apparent need for bells and whistles in smart homes where lights are controlled by smartphone — but when you add some connectivity and a color display (who doesn't love touch screens?) it can become a smart light switch system that controls the whole house.
Brilliant Control looks to replace plain old-fashioned light switches with mini smart hubs, complete with 5-inch LCD touch displays, Wi-Fi, motion and Amazon Alexa voice control built-in. Instead of just turning on and off the lights, the system can act as a manager for an entire connected home, bringing security, music, lighting and climate tech all under one domain.
Unlike more complicated connected home hub systems, Brilliant's makers claim it only takes about five to 10 minutes to switch out your current light switch for the new rig. Just like your old school setup, you can swipe your finger up and down to turn the power on and off, or you can pinpoint the exact amount of lighting you want through its dimming feature. By better managing your lighting, Brilliant's maker's claim it can save most users five to 18 percent on lighting costs.
The setup also includes a camera and microphone, so it can provide video intercom functions between multiple units — but it has privacy covers to close the connection for some alone time, too. The screens can be personalized to fit the room's decor, so you're not just stuck with plain white light switch covers anymore.
With connectivity to Sonos, Nest, Phillips Hue, SmartThings, Ring and other notable smart home systems, Brilliant's centralized system could simplify the management of a connected home without having to depend on a smartphone full of separate apps (the hub itself can by managed via iOS or Android connected apps, though).
Brilliant Control is projected to hit stores at the tail end of this year, with the first 10,000 preorder units set to ship at the end of the summer. For a sneak peek, a fully connected hub will be on display starting Feb. 10 as part of the Target Open House in San Francisco. If it all works as advertised, the connected system is sure to put on quite a show and have homeowners ready to retire their old light switches.